About one month ago, I wrote an article discussing how options expiration day and the theory of maximum pain could impact some of Wall Street's most-watched and heavily-traded stocks. Based on the comments and emails it received, a large enough number of Seeking Alpha readers found the rundown and analysis useful enough to warrant doing it again ahead of the May 21 options expiration day. (The last day to trade May monthly options is the May 20.)
Max pain basically states that an underlying stock will gravitate towards the strike price where the greatest number of options contracts will expire worthless. I use OptionPain.com's calculator to compute the maximum pain price for relatively volatile and/or highly-watched and traded stocks. I have used this calculator for awhile and found that it performs reliably. It uses a formula close to the one outlined in the above-referenced article. By "reliable," I don't mean that it necessarily predicts where a stock will land on options expiration day; rather, I mean that it calculates the max pain price correctly based on the available information.
Given the movements by several of the stocks I looked at last month, it makes sense to revisit them in May. Apple (NASDAQ:AAPL) might be the most interesting case. After reporting blow-out earnings, shares of Apple have consolidated right around the $348 level. After Amazon.com (NASDAQ:AMZN) inspired confidence in investors with its earnings report, the stock broke the key $200 level, notching new 52-week highs on several occassions. And, speaking of key levels, Sirius/XM (NASDAQ:SIRI) looks safer than it has ever been above the $2.00 level.
In each case, think counter-intuitively. The max pain price reflects the strike at which options contracts, both calls and puts, are worth the least. If you write options, you want the contracts you sell to expire worthless. In this case, they have no value; the seller wins and the buyer loses. Options at the max pain strike price present the least value to the collective universe of option contract owners.
[Click all to enlarge]

Apple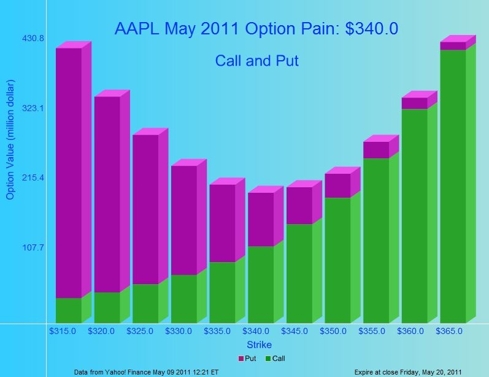 Amazon.com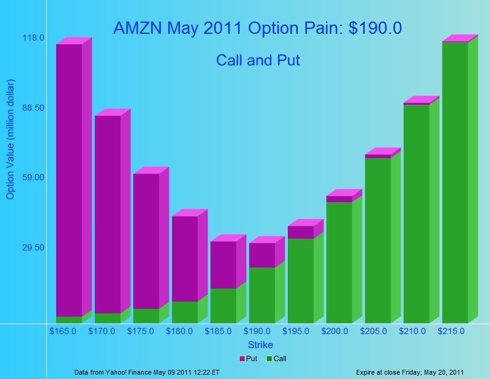 Sirius/XM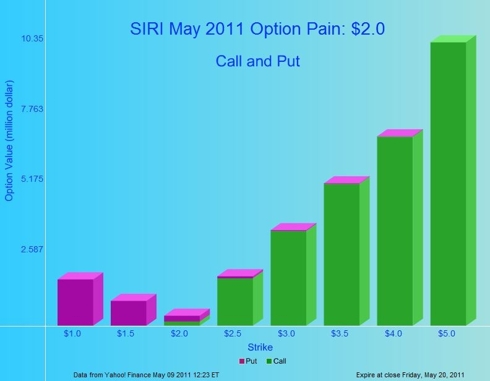 I take several things out of these charts as instructive. In the cases of AAPL and AMZN, the max pain prices for May fit nicely into the theory. If AAPL and AMZN retrace to $340 and $190, respectively, max pain could be the culprit. If nothing else, it will keep the academics busy.
As for SIRI, it's no surprise that $2.00 represents max pain. What will be interesting to watch is what the stock does during options expiration week next week. If it indeed does retrace back to $2.00, does this represent a natural pullback from impressive post-earnings euphoria or a grand conspiracy involving the options market? I don't have an answer to that question; it's precisely what makes following max pain and pin prices so interesting and potentially useful.

Research in Motion (RIMM)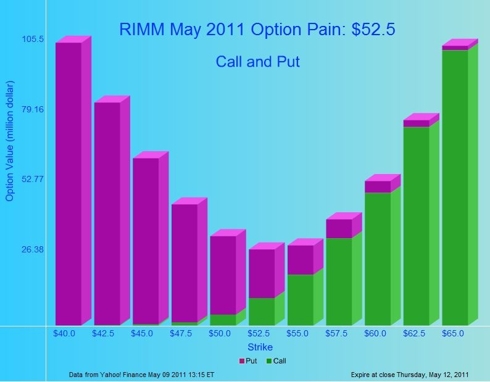 RIMM's max pain price of $52.50 tells me several things. Most importantly, it shows that you don't always lose buying options. In this case, of course, you would have to be on the bearish side of the coin. RIMM's recent and ongoing implosion threw a wrench into its max pain graph. It also highlights something we often overlook as traders and investors: Every trade has a winner and a loser.
Investors who hold RIMM May $52.50 puts took the party who sold them the contracts for a ride. I don't think a group of souls strong enough to "manipulate" RIMM up to a more favorable price for put sellers exists. On the other hand, if you bought RIMM calls expecting a rebound, it might make sense to cut your losses, as time decay does a number that only it can on you.

iShares Silver Trust (NYSEARCA:SLV)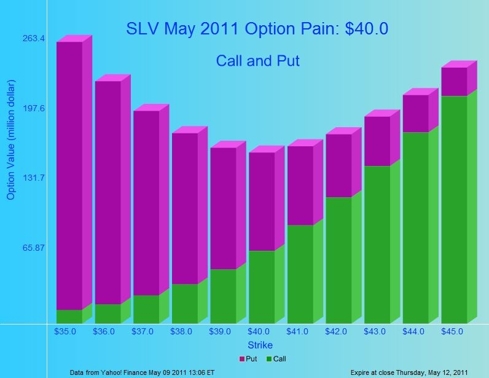 Given the recent sell-off in silver, I thought it would be interesting to see the max pain calculations for the iShares Silver Trust ETF. By the looks of SLV's chart, the ETF could be ready to take out its 50-day moving average and gravitate toward that $40 max pain-marker.
(Chart courtesy of Schwab's StreetSmart Edge)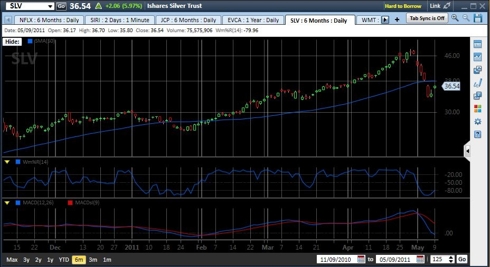 If nothing else, keeping tabs on max pain prices helps inform the ongoing debate about whether or not large and influential traders "rig" the options market. For the record, I don't think they do. I do believe, however, that there's something to max pain theory. It's more than a statistical coincidence. I keep these numbers at least in the back of my mind, particularly if I hold options contracts anywhere near their expiration dates.
Disclosure: I have no positions in any stocks mentioned, but may initiate a short position in RIMM over the next 72 hours.
Additional disclosure: I may initiate a long or short position in AAPL, AMZN, or SIRI at any time.