Choose your favorite commodity sector right now and you've most likely seen it have a powerful correction. This is part of the "new normal," because in the past 2 years we've seen many commodities triple and quadruple.

The prices for many commodities suffered the worst week in recent memory last week. Oil prices dipped below $100 per barrel, gold fell below $1,500 an ounce and silver gave back much of the past month's gains by falling to the $35 an ounce level.

The prices for other commodities such as sugar, tin, nickel, aluminum, lead and copper also corrected significantly.

Stocks like Freeport-McMoRan Copper & Gold (NYSE:FCX), United States Steel Corp (NYSE:X),Silver Wheaton (NYSE:SLW) and Barrick Gold (NYSE:ABX) corrected as much as 30% from their 52 week highs.

Some energy companies, for instance ConoccoPhillips (NYSE:COP) Hess Corp (NYSE:HES) and Chesapeake Energy (NYSE:CHK) corrected 12 to 15% off their 52-week highs.

The smaller cap stocks took an even worse beating with companies like Alexco Resources (NYSEMKT:AXU), Hecla Mining (NYSE:HL), Advantage Oil & Gas (NYSE:AAV) and Linn Energy (LINE) finally falling far enough to hit my buy limit orders.

Despite the selloff, commodities were still the year's top performing asset class as of last Thursday. You can see from the chart that the year-to-date return for commodities has greatly outperformed the return for foreign exchange, bonds and emerging markets.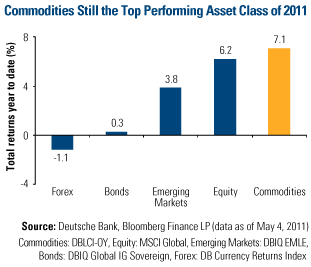 Looking out on the horizon, very little has changed for the long-term bull case for commodities.

The U.S. is still struggling to come up with a feasible solution to its multi-trillion budget and fiscal deficits. Emerging markets are still seeing steady increases in demand for nearly all commodities. And, the supply of many commodities is still barely keeping up with this demand.
The bottom line of what happened this week was that we experienced more of a "technical correction" than a fundamental shift in the long-term dynamics for commodities.

"The party's not over for commodities, so don't turn out the lights just yet. While it's impossible to predict the future, we think in a month or two investors may look back and see this downdraft as a good buying opportunity," said Frank Holmes, the CEO of U.S.Global investors last Friday.

This doesn't mean more pressure on commodities may not be applied. If the dollar rallies or rumors about a global economic slowdown were to resurface, commodities may experience another leg down on their "technical correction."

This could be also impacted by computer trading programs, short-selling and other "interventions" and manipulative factors.

We've been beating the drum about the "manipulation" factor of High Frequency Trading (HFT) and algorithmic computer programs in both the commodities markets and the stock markets over the past few years.
The Commissioner of The Commodities Futures Trading Commission told CNBC last Friday that they will be looking at the role of speculators in recent volatile commodities pricing.
Commissioner Bart Chilton said, "We're not price setters but we're supposed to make sure these markets are efficient, that they're effective, and they're devoid of any fraud, abuse or manipulation, and I get particularly concerned about that last one, manipulation," he said. He said speculators won't be the sole focus of the probe.
"This is extreme volatility that we've seen and I don't think that's good for markets, for traders or, most importantly, for consumers. We just need to make sure that prices are based upon fundamentals."

The Commissioner said he understands commodities are commonly used by investors as safe havens but "everything can't be a safe haven against the dollar. I understand precious metals may be a safe haven, maybe crude oil, but coffee, cocao, sugar? I think it begs the question to make sure these markets are operating under the fundamentals."

Chilton acknowledged that HFT and "algorithmic trading technology" contributes to "flash crashes" and that "cheetah traders" can cost investors a great deal of money as their computer programs distort the normal ebb-and-flow of the markets and pricing.

He called for more "accountability" and the implementation of "testing and kill switches" to stop these massive interventions and any unfair trading practices.

By the way, Citigroup (NYSE:C) is doing a 1-for-10 reverse stock split today (May 9th). Not that financial institutions are "commodities," but they do make a powerful difference in the economic environment and investment outcomes, to say the least.

So when you think of "commodities" that haven't really performed well in the past 5 months, you may want to start looking at the financial sector. Their valuations and their "commodity" could suddenly soar as the Fed's monetary easing and policies are factored in to their worth and price-per-share.

Disclosure: I am long SLW, LINE, AAV, HL, AXU, CHK, COP, HES.