Suddenly everything was just so out of control
Now I want some answers, mister, I need to know
I hear all the talk but I don't know what you're sayin'
But I think I got a good idea of the game that you're playin'

Roulette, that's the name
Roulette, that's the game now
Roulette, I don't know what they're sayin'
Roulette, everybody's playin'
-Bruce Springsteen, Roulette
When a situation spins seemingly out of control, I like to take a step back just to ensure I have my head on straight. It's official: Research in Motion (RIMM), the company and RIMM the stock, have both lost it. Let the implosion begin. Or should I say, continue?

If you have any doubt that RIMM is headed into the abyss, have a look at activity in the options market. Options traders often portend a stock's fate before its sealed or, in this case, as that fate is being sealed. As I note on most Fridays, Andrew Wilkinson's Seeking Alpha articles supply me with a great deal of options information. Today, Wilkinson wrote about frenzied activity in RIMM puts:
Investors purchased around 3,500 puts at the January 2012 $40 strike for an average premium of $3.77 each, sold 7,000 puts at the January 2012 $37.5 strike at an average premium of $2.83, and picked up 3,500 puts at the January 2012 $35 strike for an average premium of $2.10 apiece. Net premium paid to initiate the put 'fly amounts to just $0.21 per contract. The parameters of the strategy imply an average breakeven share price of $39.79. Maximum potential profits of $2.29 per contract are available on the spread should shares in RIMM plunge 16.1% from the current price of $44.71 to settle at $37.50 at expiration in January. The strategy employed substantially reduced the overall cost of taking a long-term bearish view on the Blackberry provider. Investors long the butterfly spread paid an average of just $0.21 per contract, but could make up to $2.29 per contract if shares behave as they anticipate. The reward-to-risk ratio is a sweet 10.9-to-1 on this strategy.
As the last hour of trading commenced on Monday, you can see evidence of the trades Wilkinson pointed out. The volume in the RIMM January 2012 $60 calls looks interesting as well. While options traders could have bought those calls anticipating a turnaround, the volume could also represent a bearish bet - traders selling RIMM calls hoping to pocket all or part of the premium collected.
Click to enlarge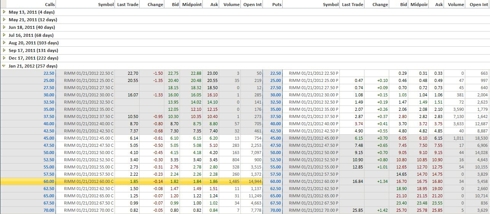 (Quotes and Charts courtesy of Schwab's StreetSmart Edge, as of Noon, Eastern Time, Friday, 5/09/2011)

As for RIMM's chart, it's nothing less than an unmitigated disaster.
Click to enlarge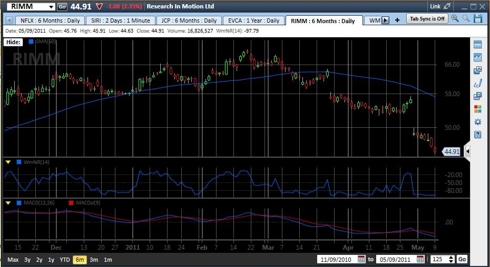 All signs point to more carnage. I wholeheartedly agree with this sentiment. I do

not expect RIMM to step out of the fast lane to irrelevance anytime soon. In fact, preparations are likely underway to place RIMM's headstone next to that of Nortel Networks in the Southern Ontario Hall of Shame. In fact, I would not be surprised that come 2013, we'll know of RIMM as either a part of Microsoft (MSFT), Nokia (NOK), Amazon.com (AMZN) or some other giant OR the next shell that's overturned for some Chinese-Canadian shady reverse merger.

I don't believe in dichotomy much, but I truly think RIMM gets bought out or fades into obscurity followed by oblivion. That said, don't put your shorts on too soon. Even a dead cat has some bounce. I did not expect RIMM to start this week where it left off last. There could be a short-term bounce here. With that mind, there's no need to get into the trade too soon.

Because I believe in playing RIMM with LEAPS options, there's no real reason to jump into the trade just as the weakness intensifies. If the stock does not rebound, you'll likely have not missed out on the further anticipated downside.

I suggested a bullish LEAPS options strategy with Apple (AAPL) that involves the purchase of a deep in-the-money AAPL January 2013 call as well as an out-of-the money call with the same expiration date. If you believe that AAPL is easily a $400 stock in 2012, it's really less risky than going long Apple stock simply because you put up less capital (and possibly margin) to play the options. If you're equally as bearish on RIMM as most people are bullish AAPL, you could pull off the inverse strategy.

The fact that the options trader Wilkinson highlighted made a bearish bet using January 2012 puts indicates that the trader does not think the worst will be over any time soon, if ever. I have the same view with respect to RIMM January 2013 puts. To flip-flop the Apple options strategy with RIMM, you could buy the RIMM Janaury 2013 $55 put on a pullback (meaning a temporary rebound in RIMM shares) as well as the RIMM January 2013 $35 put. This strategy requires an extremely bearish view on RIMM as well as the ability to act quickly and take profits long before 2013 if and when the opportunity presents itself. Just as the uncertainty surrounding Steve Jobs elevates risk on the Apple trade, you should factor the possibility of a RIMM buyout into an aggressive bearish play on the stock.

While good arguments exist in favor of a RIMM long-term rebound, I don't think they hold up to the primary reasons I am so bearish:
RIMM has lost the hearts and minds of both retail and enterprise customers, as more make the move to Apple and Android devices.
RIMM, once again, is late to the party. They'll release new iPhone imitators come later summer and, apparently, a 10-inch PlayBook by the end of the year.
RIMM's FY2012 guidance is the stuff shareholder anger is made of. I see no way in the world, after lowering Q1 guidance and the poor timing of inferior product launches, RIMM can meet its own projection of beating consensus EPS estimates for the year by nearly $1.00.
You can read about more bearish and near-dated options plays on RIMM in Monday's options recap posted by Fredrick Ruffy on Seeking Alpha.

Disclosure: I have no positions in any stocks mentioned, but may initiate a short position in RIMM over the next 72 hours. Author may initiate a long or short position in AAPL or AMZN at any time.