Global growth over the last 100 years has been possible because of an abundance of energy, mainly crude oil and coal. To maintain our current course, new energy sources are required. As the world faces limitations on its resources, we are increasingly faced with the reality that, with current energy supplies and technologies, we won't have unlimited growth.
Demand
Oil demand is swinging from west to east. Although, the western countries currently use more energy, demand among emerging markets is growing quickly. India and China, in particular, show a growth in demand for energy that the world is not ready to supply.
The financial crisis in 2008 caused a drop in demand among western countries while the emerging economies continued to show strong growth. Emerging markets account for almost half of the world's energy demand, and by the year 2030 they will account for more than two thirds of all energy consumption, according to projections by Royal Dutch Shell (NYSE:RDS.A).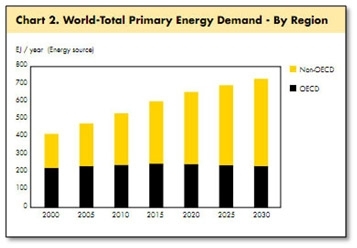 Source: Shell.com
Supply
Crude oil production is currently not expanding and may not be able to expand much in the future. A scenario of flat production until 2030 may be optimistic with a high probability of declining production. New energy sources need to be developed as oil will no longer be able to supply an ever growing demand for energy.
Whether we are facing a scenario of peak oil or not, we can say with certainty that we need to produce more energy, whether its oil or alternative energy, to keep up with growing demand from emerging markets.
There has not been a major "easily accessible" oil discovery in the world since 1970, and many of the older large discoveries are drying up, including the oil discoveries in the North Sea and the giant Cantarell field in Mexico. Both the United Kingdom and Mexico, which have been major oil exporters, are expected to turn into oil importers in the not so distant future.
The chart below shows oil discoveries by year starting in 1930 (click to enlarge images):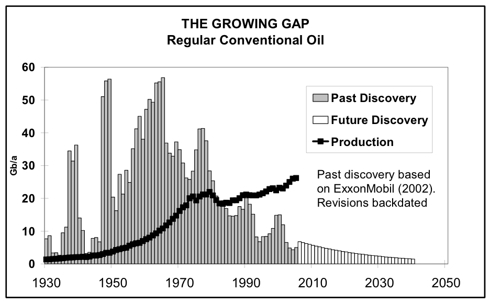 New oil discoveries are still occurring but they are mostly in geographically undesirable locations, which make them difficult to access and very expensive to develop.
In northern Canada, large oil reserves in the form of oil tar sands have been found. The reserves of oil tar sand available in Canada are massive and rank close behind Saudi Arabia. However, extracting oil out of the tar sands in Canada's cold and unfriendly climate is highly energy intensive and expensive.
Other large oil fields were discovered in the deep waters outside Brazil. These three oil fields called Tupi, Jupiter, and Sugar Loaf were found 180 miles outside the coast of Rio de Janeiro. It is estimated that they contain around 80 billion barrels of oil, enough to make Brazil a major oil producer. However, the fields are located 2.5 miles below the seabed, making oil extraction a challenging task, to say the least.
Current supply trends reveal that non-OPEC production is in decline, has been declining over the past several years, and is likely to continue. The rate of decline may be slowed with the recent discoveries in northern Canada and Brazil. Supplementary sources, including unconventional oil, biofuels, and natural gas liquids (NGLs), along with high oil prices and new technologies, may further slow the rate of decline and add additional supply to the market.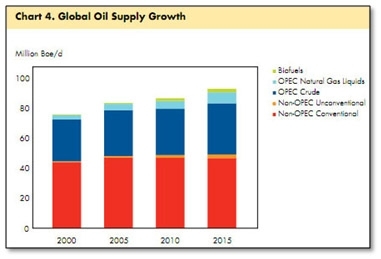 Source: Shell.com
Alternative Energy
Alternative energy will grow in importance as it picks of up the slack that oil production can no longer fill. Natural gas in particular will play an important role, and the recently developed fracking techniques brings it one step closer to being a reliable alternative to oil. Based on the amount of heat obtainable from natural gas, it's a bargain at current prices. It is also a low carbon, clean burning fuel, is preferable to coal for electricity generation, and is much cheaper than crude oil.
Other sources of energy production are also likely to grow, including geothermal, solar, wind and biomass, among others. As most alternative energy sources are more costly than crude oil, upward pressure on energy prices should be expected.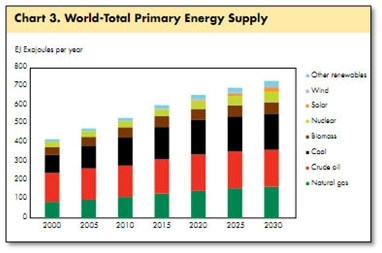 Source: Shell.com
Based on the current trends of growing demand and limited supply, the energy sector should be very profitable in the years to come. The following ETFs and ETNs should give investors broad exposure to the entire sector.
Disclosure: I have no positions in any stocks mentioned, and no plans to initiate any positions within the next 72 hours.