A surefire way to find efficiently-priced stocks is to look in the places that currently have the market's attention. The more bloodshot investor eyeballs there are on a stock, the more likely it is that market forces will properly assimilate all of the available information and drive the stock towards its fair value.
Conversely, the best opportunities in the market can be found in the places that have been forgotten and ignored by investors. Typically these stocks are not glamorous, do not invoke illusions of grandeur or promise to change the world, have nothing to do with cloud computing, nanotechnology, decoding the human genome, or nuclear fusion. These companies are often boring at first glance; however, in value investing, as well as my mother's assessment of my younger sister's boyfriends, boring is good.
I think Telephone & Data Systems (NYSE:TDS) fits this bill exactly and offers investors an underfollowed story that is significantly mispriced with considerable upside.
Company Overview
Telephone & Data Systems provides wireless, local and long-distance telephone, and broadband services to 7.1m customers in 36 states. TDS is comprised of two segments, a wireless business and a wireline business. The wireless business operates under the name US Cellular and is responsible for 84% of company revenue. The wireline business, TDS Telecom, generates the remaining 16% of company revenue. US Cellular is the nation's fifth largest wireless carrier with over 6m customers. US Cellular was spun out of TDS in the 1990's and trades separately under the ticker "USM" however TDS owns 83.1% of the company and consolidates financial results into the TDS results. TDS was founded in 1969 by the Carlson family and remains mostly under the control of the family.
Investment Thesis
A complex capital structure combined with a relatively small market cap has kept this stock off investors' radar. TDS trades below book value and looks compelling on both an absolute and relative basis to the peer group (EV/EBITDA: 3.7x vs. peer group 6.4x). TDS has a collection of assets that are being assigned zero value by the current stock price. The 83.1% USM stake alone is worth $34.50 per share which means the market is implying almost zero value for the wireline business which is expect to generate $90m in operating income this year. The wireline business has seen stable results over the past several years and I think is worth ~$13 per share.
In addition TDS owns a 5.5% stake in Verizon's Los Angles market partnership, this stake generates roughly $65m annually in FCF and I think is worth ~$6 per share. The recent M&A activity in the telecom space coupled with the undemanding valuation suggest TDS could be a possible acquisition target as the telecom industry consolidates. M&A multiples paid in the most recent telecom deals suggest both TDS and USM are significantly undervalued.
Complex capital structure resulting in significant discount to sum-of-the-parts
TDS has a somewhat complex ownership structure which I think has caused investors to stay away from the name however this is precisely the type of situation were equities become mispriced. TDS has three share classes outstanding, all with equal economic interest but different voting powers. TDS has 49.9m common shares outstanding, which have 1 vote per share, they also have 47.2m Special common shares (NYSEMKT:TDS.S) which have an equal economic interest but limited voting rights (can only vote for directors), and 6.51m Series A shares which have 10 votes per share and are owned by the Carlson family voting trust. USM was spun out of TDS twenty years ago although TDS retained an 82% ownership in the company and +90% of the voting power so the company is effectively a subsidiary of TDS with a 18% non-controlling interest (public USM shareholders) which is accounted for on the TDS financial statements.
Quick background on how this quagmire came to be; Roy Carlson (95 years old now) founded TDS in the 1960's and prior to forming TDS he had a company "taken away" from him. With that experience fresh in his mind he set up the Series A shares to ensure he would retain control of TDS. In the early 2000's TDS contemplated acquiring the remaining 18% of USM that they did not already own. As part of this process TDS announced a special stock dividend (effectively a stock split) whereby the owners of the TDS common would be given, on a 1:1 ratio, a new Special common share.

The Special common shares have the same economic interest as the common however they have limited voting rights and are only entitled to vote for directors. The plan at time was to use the Special common shares as a currency to acquire the USM shares without giving up any voting control. The TDS.S shares currently trade at a -12% discount to the common shares however liquidity is lacking with only about 20% of the trading volume of the common shares. The opportunity in TDS is that all of these moving parts have likely kept a lot of investors away from the name. The 82% stake in USM alone is worth $34-35 per share which is roughly the current price for TDS meaning the market is attributing little value to the wireline business which generated $800+ million in revenue last year and $95m in operating income. Over the past 12 months the USM stock has outperformed the TDS stock significantly despite this ownership linkage.
I estimate the wireline business is worth $13 per share if it were valued similar to the wireline peer group. If we apply this $13 value to current value of the USM stake, TDS should be worth $42 per share.

Return of M&A activity in telecom, TDS significantly undervalued on a subscriber basis
In March, AT&T (NYSE:T) announced their intention to acquire T-Mobile from Deutsche Telecom for $39 B which could mark the renaissance of the consolidation of the wireless industry that has, for the most part, been put on hold since the start of the financial crisis in 2008. Wireless consolidation makes sense as there are significant benefits to having a larger network (handset/infrastructure purchasing power, lower roaming expenses, duplicate corporate overhead and advertising, etc.) and fewer competitors (less churn).
TDS is one of the last remaining independent wireless carrier and given the undemanding valuation would make an attractive acquisition target. Assuming the AT&T/T-Mobile deal closes, that combined entity would have 43% of the market which would make any union between VZ and Sprint (NYSE:S) unlikely due to anti-competition concerns leaving TDS as the only viable acquisition target. TDS is currently trading at an EV per subscriber of $838 which is significantly lower than the recently announced T-Mobile deal which is being done at $1,156 per sub or the Alltel acquisition in the summer of 2008 at $2,134 per sub. If we discount both of these multiples and assume US Cellular sells for $900 per sub, the USM stake alone would be worth $43 per share.
click to enlarge images
In addition to the USM stake, TDS owns a 5.5% stake in Verizon's Los Angles market partnership which generates roughly $65m annually in FCF. This partnership has no expiration date and requires no CAPEX. I think this stake is worth ~$6 per share if we calculate the present value of this FCF stream into perpetuity. Add in the $13 per share for the wireline business and TDS is worth $57 per share.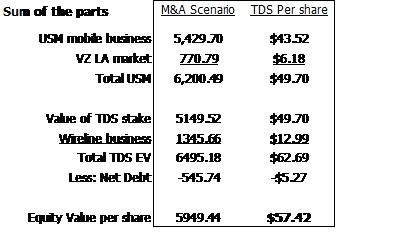 The wildcard here is the behavior of the Carlson family which controls 57% of the voting power. It is pretty clear that Roy Carlson does not wish to sell TDS however he is now 95 years old and his children (Ted is the CEO) are 60-64 yrs old. Given everyone's age I think the odds of a liquidity event are greater now than at any time in the past. At the current valuation I think investors can buy undervalued assets with a free kicker on a take-over deal.
Wireless subscriber base stable, wireline business stabilizing
Both US Cellular and TDS Telecom have a relatively stable subscriber base which suggests the 3.7x EBITDA multiple is undeserved. The number of US Cellular subscribers has been firm leading to stable revenue levels. Keep in mind US Cellular is 84% of TDS revenue.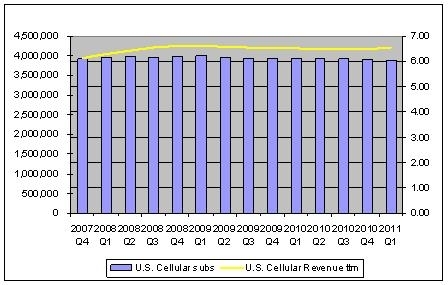 Predictably the wireline business has seen some subscriber decline although an increase in DSL subscribers has helped mitigate this to some extent. The business bottomed in Q1 2010 and now appears to be improving however the market is currently attributing zero value to this asset.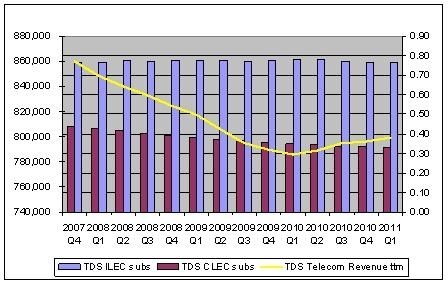 Negative Wall Street analyst sentiment
TDS is covered by 8 sell-side analysts and currently only 1 has a Buy rating versus 6 Holds and 1 Sell. This bearish sentiment suggests expectations are low which should limit our downside as well as provide possible upward catalysts as sentiment improves.
Risks
Technological obsolescence for the TDS network. TDS appears to be keeping pace with the big players, they are launching 4G services this year in certain markets and expect to have 25-30% of their subscriber covered by November.

Wireless competition grows more intense leading to margin pressure and increased churn. If anything I think the AT&T/T-Mobile

deal makes the wireless space less competitive with one less player in the mix.

Wireline business declines more rapidly than expected. While certainly there has been some decline in the TDS Telecom business it appears to be stabilizing and should throw off significant free cash flow for the foreseeable future. At the current stock price we are getting this business for basically free.

TDS makes a bad acquisition which destroys shareholder value. Management has a significant ownership stake which coupled with the fact that this company is somewhat of a "family heirloom" I expect them to continue to be good stewards of the business.
Disclosure: I am long TDS.