It's a good question. The kind of question than long-term investors like you and I really want to know the answer to.
Is the market a long term buy?
To help us answer it we're going to look at some charts, including one that might be the most important chart of all. The King of the Charts! It's the one that every long-term investor should be interested in.
Overbought & Overvalued? Underowned & Fundamentally Cheap?
We're already on record as believing that stocks are a tricky value proposition over the short run. The market has gone up for eight straight months since the QE2 program was announced and anything that moves that far in a straight line faces an increasingly large risk of reverting back to mean. Moving to a slightly longer time horizon -- the medium term -- one of our Predictions for 2011 was that the market would end basically flat for the year. So far, I've been dead wrong on that one though the rest have panned out nicely, nailing it on gold, oil, Paul Ryan, and real estate. I expect to finish the year about 50/50 on my predictions. That's the best that any of us who lack crystal balls can really hope for.
But what about over the long-term? Is it OK to ignore the short and medium term risks and buy?
Long-term investors nowadays sort themselves into two basic camps. I'll bet dollars or donuts that you already have a view on the matter and what we discuss today won't change your mind one way or the other. But that's how it goes with investment research -- we look for stuff that confirms our preconceived notions and discard information that refutes it. Trying to change minds in this business is just asking for trouble.
Most likely you're already either in the camp that thinks that stocks are cheap and a fantastic buy or you think that they're expensive and you're waiting for them to fall back to lower valuations. But maybe you're in the middle. Who knows. Maybe you just own gold or GLD and are hiding out in your bunker cranking out angry manifestos about how stocks are a fraud and Treasuries are a fraud and so, incidentally, is the Dollar and it's nebbish champion, Timothy Franz Geithner.
That's cool too. Hopefully you like charts:
click to enlarge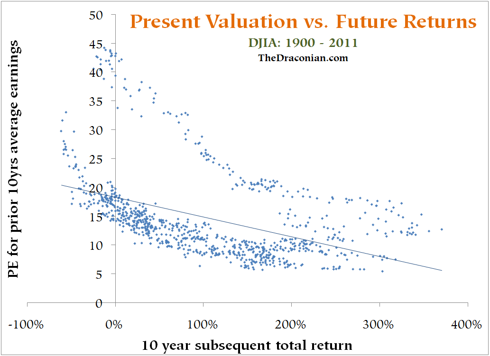 I love this chart. It's my time machine chart.
What this chart does is start at the very beginning of the year 1900. It takes a look at the Price/Earnings ratio for the market at that exact moment. Then it fast forwards through time to exactly ten years later and it measures how much the market went up in down over that ten year span. The chart plots those two bits of information against each other as one data point. Then it goes back to February of 1900 and repeats the process for every single month and every single 10-year window in the 20th century.
The chart measures present valuation against future return. Pretty snazzy, huh?
For this kind of study, it's important to use some kind of normalized earnings to smooth out the volatility of corporate earnings. Personally, I like Bob Shiller's simple "average 10 year earnings". But there are bunch of different ways you can normalize earnings. It all tells basically the same story.
If you look back at that chart again, you'll probably say, "whoah, that's cool." You can see that there is a definite relationship between present valuation and future return. High valuations correlate with low future returns and low valuations correlate with higher future returns. Always be skeptical if you hear people denying this relationship or that you should always buy (or sell) the market regardless of its valuation. The data doesn't lie. As a long-term investor, it really pays to get a sense of whether the market is cheap or expensive before investing because it can make a HUGE different over the long run.
In other words: if you buy when stocks are fundamentally cheap and hold them for a while, there is a very good chance you'll make decent money. If you buy stocks when they are expensive and hold them for a while, there is a very good chance you'll get a whole lot of heartburn and your wife will wonder why you're always using so much profanity.
Looking back at that chart, you'll also notice that there are two different curves. That probably makes you say, "whoah, that's weird." What's going on here?
The entire upper curve is pretty much the 1990's through now. Valuations were really high in the early 90's and the market did great for the next decade. In the late 90's valuations were really, REALLY high and the market pretty much broke even for the next decade. That brings us to right around today.
What was the reason for that? How was it that the stock market did so well, doubling or better from a 20+ P/E ratio when every other instance like that in history stocks had gone down?
Some of it had to do with the tech bubble. Investors bought the market at a time when it was kind of pricy but the 10-year window happened to close during the peak of the bubble days. Then there is also the collection of points that started in the mid-90's when the market was starting to get really expensive and ran through the peak of the credit bubble in 2007.
Do you want to blame Alan Greenspan for those points, distorted by the bubble windows? You can if you want. I won't get in your way.
We all kind of freaked out when we had 9/11 and the little 2001 recession and when the stock market went down for a few years in a row we got desperate and cut interest rates to basically zero percent. When you do that, real interest rates usually go negative and that gives people a serious incentive to invest in anything that's not cash, regardless of the price. I wrote a much more in-depth piece about the effect of negative real interest rates right here. It boils down to "Risk or Die."
Because interest rates have been so low for so long, and real interest rates have been negative or close enough to it, the market is behaving in a manner totally discordant with the bulk of recorded history.
It's a policy-driven world
You can make a pretty good case that a lot of those points have been driven entirely by modern policy -- both Fed policy and political policy. We can argue about whether or not this goal to inflate asset prices is the prudent or appropriate policy. But it's kind of silly to debate whether or not it actually works. It does.
Will this super-aggressive, asset-stimulative policy continue? That's the big discussion right now and it's why so many people pay so much attention to those two little words -- "extended period" -- in the Fed minutes. If the policy doesn't continue then the market might start behaving like it did for the century prior to the credit bubble.
UH OH.
What might that look like? Let's revise our chart. Let's take out all of these modern data points, the ones from this era of unprecedented and aggressive monetary & fiscal policy. It'll be what an investor should expect if they think they next few decades will resemble the first 90% of the 20th century and not this recent era since Greenspan and Bernanke took over.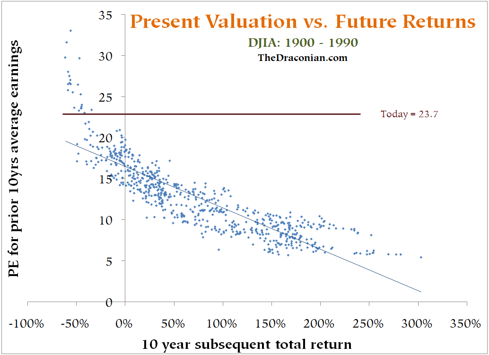 In this chart, our time machine basically stops before we get too far into the buy-at-any-price psychology of tech boom and subsequent credit bubble.
I also marked the today's Price/Earnings ratio. As of last week, the Shiller PE stands at around 24. Again, you can use other flavors of normalized earnings, but they all tell pretty much the same story. The numbers are different but the relationship is the same.
Stocks: Overbought & Overvalued
The data show that stocks right now are overbought and overvalued. That's not dogma or my opinion or the narrative I'm trying to promulgate; it's just what the data show.
With the exception of the bubble 90's, the stock market has never had a positive 10-year return that began from valuation levels like the present. Now, I want to emphasize that that's not to say that stocks will go down over the next decade. They could go up. These are crazy times!
There are plenty of convincing arguments to buy stocks for the long run, but relative to historical valuation data, stocks are expensive. In a sense, buying them is a bet that policy will continue to be asset-stimulative and that we won't have any technical or economic hiccups along the way.
This condition won't last forever. I'm one of those guys that doesn't like to buy things that are expensive and if they are things that fluctuate in value (like stocks) I am happy just being patient until they get cheap again. Don't worry, they will get cheap again. The history of the stock market is one where it moves in big cycles from "expensive" to "cheap" and back again. When stocks do get cheap I'll go shopping. Until then, I'm avoiding the risk and saving myself the heartburn.
How to play it
If you think that the arguments against using historical valuation as a compass are outweighed by other arguments then go ahead and load up on something like the SPDRs (NYSEARCA:SPY) or Diamonds (NYSEARCA:DIA) and just hold them for as long as you'd like. Or buy an actively managed growth fund. Over the long-run, most of them are pretty much the same and they'll all do well if the market does well.
Go on ahead and bet on systemtically-important U.S. stocks like Apple (NASDAQ:AAPL), Microsoft (NASDAQ:MSFT), Exxon (NYSE:XOM), Wal-Mart (NYSE:WMT), or Johnson & Johnson (NYSE:JNJ). Odds are, over the long run those stocks will grow by at least GDP. I probably wouldn't use a bank stock like Citgroup (NYSE:C) or Bank of America (NYSE:BAC) to make a bet like this on the broader market. There are a lot of factors idiosyncratic to that industry that may produce extra volatility and more-difficult-to-predict returns.
If you don't like to buy the market when it's expensive... then don't buy it! I probably wouldn't recommend shorting it just because that's a tough thing to successfully manage over the long run. Try and be patient and hold your cash as you wait for that opportunity. Hang out in bonds or something. Heck, go play golf and check back in a year or so.
You can also narrow your focus. Just because the market is expensive doesn't mean that every stock is expensive. There are plenty of cheap stocks out there and this is the kind of stuff that people talk about on Seeking Alpha every day.
In fact, if you're going to draw one conclusion from this article, I hope it's not that you should buy the market or sell the market. It's that this is an environment where you'll probably be better off with active strategies and picking specific stocks than with passive strategies and positioning yourself like an index.
When to go all in
If that red line ever gets below 10, I am going to load the freakin' boat with domestic equities. It will be a long-term trade, and the bad news is that it's the kind trade that most investors get only one shot to make in their entire careers. It's like buying stocks in 1908 or 1933 or 1947 or 1982. I wasn't in the business in 1982, so I'm still waiting for my chance. It will come. But I can tell you right now that it won't be an easy trade to make. The world will feel like it's ending and people will hate stocks with a violent passion. (Sort of like real estate today.) Stocks will sell for 8 or 9 times the previous decade's earnings and everybody in the world will think they should be selling at 4 or 5x.

That sounds like it will be an easy thing to do. But trust me, it will take some serious cojones.

Everyone in the world will have a reason for why investors shouldn't buy the market despite the historically cheap valuation.

Psychology is a funny thing.

Disclosure: I have no positions in any stocks mentioned, and no plans to initiate any positions within the next 72 hours.

Additional disclosure: Our firm happens to be short JNJ at present strictly for short-term technical reasons. Additional disclosure and information should be referenced in conjunction with this article at TheDraconian.com/legal-notice/