Frontier (NYSE: FTR) announced a deal with Verizon Communications (NYSE:VZ) in May 2009. Frontier acquired approximately 4.8 million access lines from Verizon, tripling the size of the company. The all-stock transaction was valued at approximately $8.6 billion and closed July 1, 2010. Go here for more detail.

In our first article we concluded, "The dividend is safe in the near term. Longer term depends on how successful they are at integrating the remaining parts of SpinCo and whether they fall short of their 2011 guidance." This article examines two areas the dividend is dependent on; operational results and pension liabilities.

FTR released their first quarter results on Thursday, May 5, 2011. Below is a table showing our 2011 projections from our last article and a yearly run rate based on the first quarter release.
FTR
guidance

2011 IIEX
projection

Q1/11
Run
Rate
Revenue
5,453
5,388
EBITDA
2,672
2,504
Free Cash Flow (FCF)
1,150 - 1,200
1,165
1,012
numbers in $millions
At first glance it appears Frontier is falling behind but this is not the case. Quarterly FCF has started to trend back up as shown below (click to enlarge).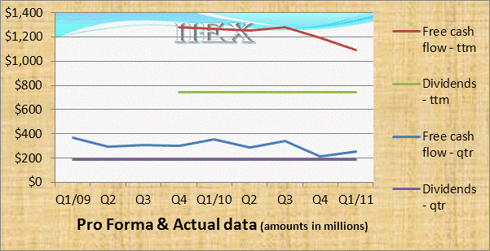 Click to enlarge

The trailing twelve month (ttm) FCF will bottom next quarter then start to trend up as quarterly FCF continues to improve. The quarterly and ttm FCF remain above the dividend payout line, but there is not a large margin of safety when looking at the quarterly data above. This could be one reason the yield remains high.

Incremental synergies in the first quarter were $16 million and are expected to reach $100 million for the year as per this exchange on the conference call:
Scott Goldman - Bear Stearns: ... I think last quarter, you guys said you expected $100 million of incremental synergies this year. Perhaps $16 million, I think are incremental in the first quarter. Sounds as though, with the network stuff and with the systems conversions coming in early 4Q, are we still on pace for $100 million? Can we beat the $100 million?

Donald Shassian - CFO: We're definitely on pace and don't want to change the guidance at this point, Scott. The second and third quarters are the big quarters for us to be a cost out. Our fourth quarter can be very focused on making sure these conversions are right. And we want to make sure that the customer experience is going very well. So right now, I'll keep it at that level. And we'll see what we deliver for you in Q2 at that time.
Based on the recent FCF trend and expected synergies, the quarterly run rate should continue to improve, increasing both FCF and EBITDA. On an operational basis, the integration effort is on track. FCF is trending up and the dividend is safe in the short term. Longer term is dependent on total synergies realized and pension funding. The CEO had this to say about synergies, FCF and the dividend:
We continue to realize incremental cost synergies in Q1 2011 of $16 million. This brings our annualized run rate to $368 million, which is well on the way to achieving our $550 million target... I want to reiterate that we will remain confident in achieving our cost synergy objectives and in delivering revenue improvements in these markets. We are still on track to achieve consolidated margins of over 50% when we exit fiscal year 2012. Free cash flow during the quarter of $253 million reflects the continuing ramp-up in broadband and capital expenditures. Our dividend payout ratio, as expected and by design, was higher at 74%. We expect this payout ratio to come down in the future, as revenues and expenses improve and as capital expenditures decline....
Next, the pension plan liabilities and why it could affect the dividend. First, pension expectations from the 10-K filing:
...our expected long-term rate of return on plan assets was 8.0%. Our actual return on plan assets in 2010 was 12.1%. For 2011, we will continue to assume a rate of return of 8.0%. Our pension plan assets are valued at fair value as of the measurement date. We expect that our pension and other postretirement benefit expenses for 2011 will be approximately $70 million to $80 million before amounts capitalized into the cost of capital expenditures (they were $68.4 million in 2010 before amounts capitalized into the cost of capital expenditures, including the plan expenses of the Acquired Business for the second half of 2010), and that we will make a cash contribution to our pension plan of approximately $50 million in 2011.
There was very little said about the pension's status this quarter. Two important points from the 10-K filing with dividend implications are:
We will continue to assume a rate of return of 8.0%.
We will make a cash contribution to our pension plan of approximately $50 million in 2011.
Any event requiring larger cash payments would put the safety of the dividend in doubt. We checked to see if there were any surprises by reviewing the recent 10-Q filed for the first quarter. Here is what we found:
The Company's pension plan assets have increased from $1,290.3 million at December 31, 2010 to $1,304.6 million at March 31, 2011, an increase of $14.3 million, or 1%. This increase is a result of $42.8 million of positive investment returns and cash contributions of $2.6 million, less ongoing benefit payments of $31.1 million, during the first three months of 2011. We expect that we will make cash contributions to our pension plan of approximately $50 million in 2011, including payments of $2.6 million made through March 2011.
We take away the following:
The plan assets increased; good news.
First quarter return of 3.3%; extremely high return considering the yearly assumption is 8%.
Cash contribution of $2.6 million, far below the $50 million budgeted.
There are no negative surprises that would lead us to believe the dividend is at risk. All good news, but we are only one quarter in and have three more to go in fiscal 2011. Any market setbacks could make it difficult to realize 8% returns, but so far so good.

The bottom line: Integration appears to be on track to meet 2011 expectations and no problems have appeared, to date, in relation to pension funding that would have an adverse effect on the dividend.
Raw pro-forma data from past FTR filings reflected in this article in Excel format can be downloaded here.
Frontier's first quarter slide show presentation is here.

Disclosure: I am long FTR.