It might be time to pull out the Mercedes commercial from several years ago where the tagline stated, "Perception is not always reality." Trading this week in the precious and base metals clearly personifies this statement.
Copper prices were rebounding on Monday, helped initially by a weaker U.S. dollar and a decline in Shanghai stockpiles to a five-month low. CPI and import data from China due out on Tuesday should give the market a sense of demand and will likely provide the direction of trade. Thus far, global data has led to the conclusion that overall demand has slowed.
First Quantum Minerals (OTCPK:FQVLF) reported a 37% rise in first quarter profit, noting that declines in copper production were more than offset by the rise in the price of the metal.
First Quantum mines are focused in Africa, where copper production declined 13.5%. The company stated its first quarter copper production would be hit by a shutdown at its mine in the Democratic Republic of Congo. Quarterly sales rose 27.9 percent to $705.2 million, due to a more than 40 percent increase in its average realized copper price.
The company said it continues to expect copper production of 300,000 tonnes and gold output of 200,000 ounces in 2011. Its full-year average copper production cost forecast has increased to $1.15 per pound from $1.10 per pound.
Correction Picks Up Steam But Remains on Course
The perception was that fears about global economic growth and inflation triggered strong selling that was seen across not only the precious and base metals but also several other commodities. Fueling those fears is economic data from top metal consumers (United States, China and Europe) turning the picture from robust growth to a more lukewarm growth.
The correction we've been tracking in copper remains well within expectations and should begin to dip into the support zone at 392-395. What should expectations be? There is no doubt that reality cannot be avoided and the market may need additional time to digest and process all the latest economic data before committing to picking up the rally again. Keeping an eye on fundamental changes is important, and as far as I can see, what has taken place thus far is nothing more than an across the board reigning in of irrational exuberance. The weak hands get washed out, which is unfortunate, but the underlying fundamentals should put a solid floor of support under the market and build the base from which the advance can resume.
The updated chart suggests additional downside should drop prices into the 392-395 zone. A clean break (with follow-through and volume) below 392 would turn the short-term and possibly the long-term picture negative and drop stronger support down to 272-300. Should this occur, it would most likely come on the heels of the global economies stalling out completely. Can this occur? Of course -- but I wouldn't be looking for it at this juncture.
The futures have again slipped into oversold reading; the Stoch oscillator hasn't turned higher just yet, which supports the bounce higher on Friday (May 6) with an additional downleg (smaller) into support expected.
[Click all to enlarge]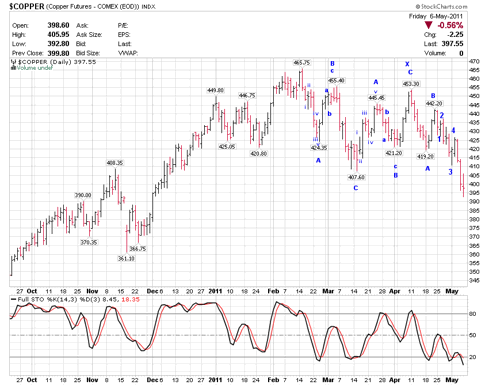 The COPX remains within expectations as well. After drifting above resistance at the 20 level, prices followed the broader market lower, picking up steam and appearing "ugly" at times. Support lies just below at 18.38, with Thursday's 18.67 low providing a point to give some breathing room. As with copper, expectations remain for the small rally in progress on May 6 to be just that -- "small" and limited -- followed by an additional leg down, which should be contained at support. Again, a break below 18.38 with follow-through and volume would negate the near-term picture and suggest that a drop back to 17.30 support was underway.
The Stoch oscillator is touching oversold, which adds support to the near-term analysis for a move to support at 18.38. However, it would not be unusual for this oscillator to move into and hold oversold (or overbought) readings for a longer period of time.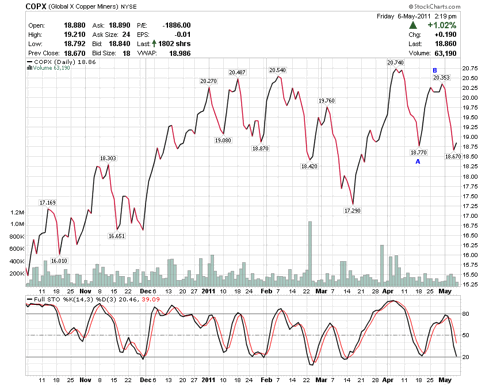 Disclosure: I have no positions in any stocks mentioned, but may initiate a long position in COPX over the next 72 hours.