Gold prices have set considerable new highs since late 2010, but the gold miners continue to lag behind.

After dropping from the all-time-high price of $1435.70/oz set in December 2010, gold has since broken out to new all-time-highs above $1550/oz. Over the same time, however, the stocks of many gold miners and especially the broad gold miners ETFs (NYSEARCA:GDX)(NYSEARCA:GDXJ) have not made new highs in the same fashion – and may be signaling an upcoming drop in gold.
Compare gold to the miners: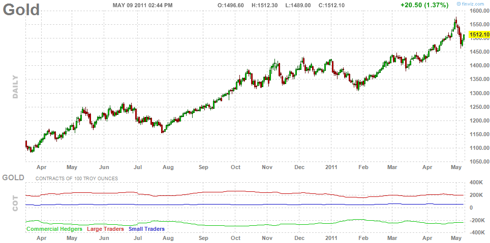 Click to enlarge
(Click to enlarge)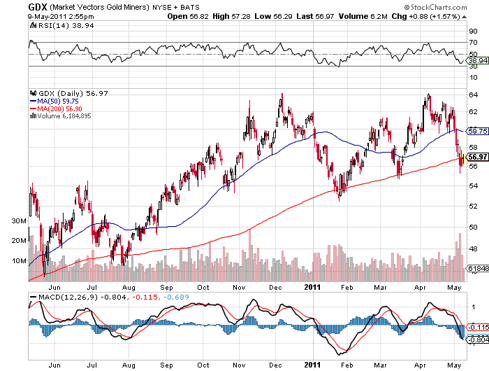 Shares of companies related to the underlying commodity tend to move together with the commodity itself. Rising oil shares tend to accompany rising oil prices, rising gold miner shares tend to accompany rising gold prices, etc. Furthermore, the stocks of the related companies usually change direction before the commodity itself does. Therefore, when related companies start rising while the commodity has been falling, it is a good buying opportunity before the commodity itself turns up. On the flip side of that, as the related company shares start to drop while the commodity continues to rise, it is an early warning of a possible trend change. It can be said, therefore, that energy shares are a leading indicator for oil and that gold mining shares are a leading indicator for gold.
If, in fact, stocks tied to a certain commodity (like oil or gold in our case) do lead the underlying commodity itself – the direction of those stocks can serve as the leading indicator of the upcoming direction of the commodity. In our case, since the gold miners have been lagging behind gold itself, we may be seeing the beginning of the turn down in gold.
Gold miners have been significantly lagging behind gold as of late: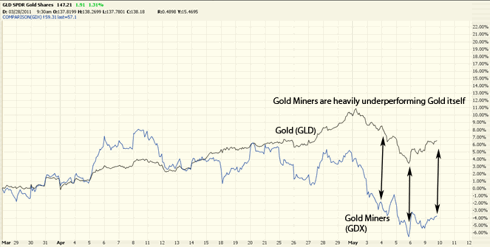 Click to enlarge
(Click to enlarge)
The same could be said for Silver (NYSEARCA:SLV) and the Silver Miners (NYSEARCA:SIL). The divergence between the miners and silver itself could even have alerted investors to be wary of silver BEFORE the big drop of last week: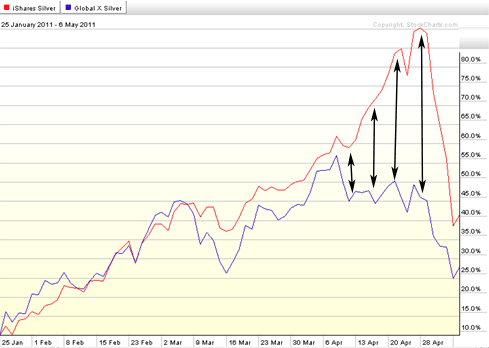 Time will tell if the recent divergences in gold/gold miners (NYSEARCA:GLD)/(GDX) and silver/silver miners (SLV)/(SIL) were only warnings for the corrections we saw last week, or if they stand as stark warnings of a much greater upcoming reversal that could see the bursting of the precious metals bubble.
Disclosure: I have no positions in any stocks mentioned, but may initiate a short position in GLD, GDX, SLV over the next 72 hours. After selling out of our bearish positions in SLV and GDX following last week's correction, we are awaiting a good entry point to short again (assuming gold and silver don't make a run to new highs).