Shares of MannKind (NASDAQ:MNKD) are down roughly 12% today on heavy volume following the company's lackluster Q1 2011 earnings conference call. The sell-off comes after a two week long 17% run-up leading into yesterday's call, which seems to have been predicated on speculation that positive material news would be unveiled concerning the company's recent meetings with the FDA about its type 2 diabetes product candidate, Afrezza. There was also a bit of speculation that the company would announce a partnership to assist with the financial burden associated with its ongoing regulatory struggles.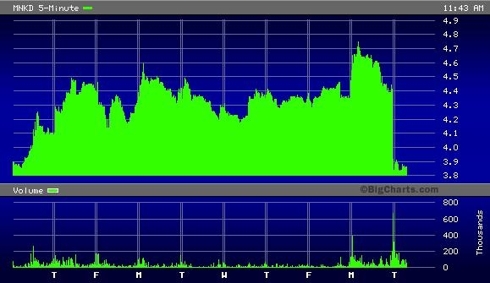 Click to enlarge
(Click to enlarge)
Despite CEO Alfred Mann's optimistic tone during his introduction yesterday ...
The delay in approval of AFREZZA as a result of the January TRL presents issues for MannKind. Yet, we view the recent exchanges with the FDA and the agency's response to our pre-meeting briefing book to be especially significant, helping us to better understand the potential labeling for the product, and as implications for promotions and potentially positioning us to expand the market opportunity for AFREZZA.

The May 4 meeting itself was positive and collaborative, resulting in a redirection of the Type 2 trial that should enable us to support use of AFREZZA as an alternative to oral therapies in early Type 2 diabetics. If the trial data is supportive, I view this as a substantially increased opportunity for MannKind and for patients.
... investors seemed to have walked away from the call focused on his closing remarks.
While the primary regular issue in the CRL related to the impact on safety and efficacy resulting from substitution of the Dreamboat inhaler, the CRL also cited the need for several additional human factor studies with the new device. We have moved forward quickly regarding the CMC, human factor matters raised in the CRL, and those studies are now mostly completed. We are planning to meet further with the FDA this year to close out all these matters so that the only known remaining requirements going forward will be the requested clinical trials.

Of course as we get the clinical development of AFREZZA on track, we still must deal with the reality that the delay due to the CRL will require additional funding for the company. I remain committed to MannKind and I'm exploring ways to make moneys available.

We are also studying several non-dilutive as well as dilutive financing opportunities. We will keep you all informed as these plans progress.
Though MannKind's pipeline seems promising enough, the reality for the development stage biopharma company is that it has a long and uncertain road ahead of it with the FDA before it will ever have the chance to become profitable and the cost of its upcoming trials will inevitably give way to some form of financing. Many investors believe future dilution is already a foregone conclusion.
Being that Afrezza's upcoming clinical trials are expected to conclude near the end of 2012 and taking into consideration that there are many other promising bios out there, some of which currently trade near or just below book value, I have no interest in tying up any of my finances with a long MNKD position at these levels.
Disclosure: I have no positions in any stocks mentioned, and no plans to initiate any positions within the next 72 hours.