Barron's recently published a list of potential Leveraged Buy-Out targets compiled by two equity analysts from UBS. The article noted that LBO activities in Q1 2011, has jumped 23% over Q1 2010, as private equity companies have stockpiled some cash and are looking to put it to use. These UBS analysts published a similar list of potential targets in 2010 that had decent hit ratios, so we thought we would put the current list through the AFG meat grinder to see which companies on the list compiled in Barron's would make the most attractive dates for the next cash heavy equity firm looking to go to the prom. Using this valuation model to measure the intrinsic value of each firm compared with its peers, we found that only half of the companies listed in Barron's were attractive buys. The valuation metric is used as the starting point for all of our investment decisions as it is backed by AFG's Economic Margin methodology.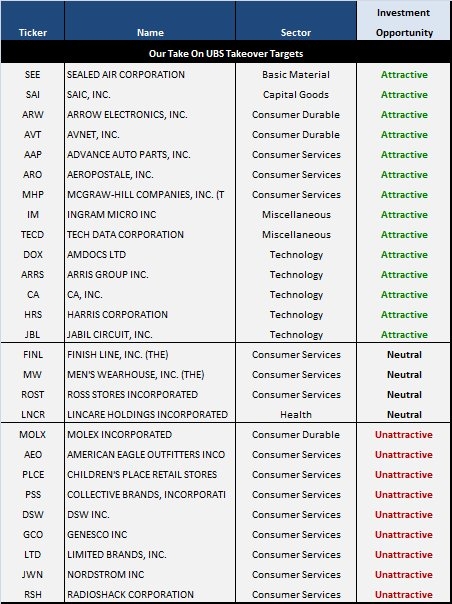 The analyst team recently tried their hand in a similar report highlighting companies that would make attractive takeover targets for larger companies that have cash stacked away.
After 4 months, the list of 13 potential acquisition targets has fared pretty well. Of the 13 companies, 2 have considered putting themselves up for sale and another is in the negotiation process of merging with another firm.