In finance, a contrarian is one who attempts to profit by investing in a manner that differs from the consensus when the consensus opinion appears to be wrong. A contrarian believes that certain crowd behavior among investors can lead to exploitable mispricings in securities markets. For example, widespread pessimism about a stock can drive a price so low that it overstates the company's risks, and understates its prospects for returning to profitability. Identifying and purchasing such distressed stocks and selling them after the company recovers can lead to above-average gains. As Warren Buffett says, "We simply attempt to be fearful when others are greedy and to be greedy only when others are fearful."
The table below lists five micro-cap healthcare stocks trading at book value providing potential buying opportunities due to possible oversold conditions. Some are selling at a discount to consensus estimates while others are not covered. My instincts tell me these healthcare stocks have been beaten down and have bottomed. The healthcare sector is starting to show signs of leadership. The sector is up approximately 12% YTD. Additionally, healthcare typically performs well in a Fed tightening cycle which I believe is about to start. With the Fed ending QE2 in June and central banks across the globe already raising rates, I see healthcare stocks regaining past glory and reaching new highs.
The following are two charts detailing the summary and fundamental information of these healthcare stocks. I believe these stocks are possibly oversold and stand to gain as the Fed policy stance shifts from dovish to hawkish to combat inflation.
(Click to enlarge)
Company Fundamental Statistics



(Click to enlarge)
Detailed Review
Please review the following details regarding the healthcare stocks on the above lists. Consensus estimates were provided by Yahoo Finance. I believe these stocks have bottomed and present excellent buying opportunities. I am considering starting a position in one or all of these stocks depending on the market's reaction to current events and other news items.
CardioNet, Inc. (NASDAQ:BEAT) provides ambulatory, continuous, and real-time outpatient management solutions for monitoring relevant and timely clinical information regarding an individual's health in the United States.
CardioNet has developed an integrated technology and service – Mobile Cardiac Outpatient Telemetry (MCOT) — which enables heartbeat-by-heartbeat, ECG monitoring, analysis and response, at home or away, 24/7/365. CardioNet is focused on helping physicians diagnose and treat patients with arrhythmias.
Time is of the essence in diagnosing and treating arrhythmias. Delays can lead to increased morbidity and mortality and cause significant anxiety for patients. But rapidly diagnosing and effectively treating patients with arrhythmia can be challenging. Some arrhythmias occur too infrequently to be detected through 24-48 hours of monitoring. Event recorders pose problems with asymptomatic patients and those who have difficulty triggering monitoring equipment. Correlating events with symptoms is often difficult. CardioNet offers physicians a powerful diagnostic and patient management tool to address these challenges.
BEAT has a median price target of $6 by five brokers and a high target of $9. The last up/downgrade activity was on Apr 6, 2010, when Roth Capital upgraded the company from Hold to Buy. Please review the illustration for BEAT's summary and key statistics.


Daxor Corporation (NYSEMKT:DXR) operates as a medical device manufacturing company in the United States. The company manufactures and markets blood volume measurement equipment.
Daxor is one of the highest dividend-paying stocks in the healthcare sector. Daxor recently announced earnings for the year ended December 31, 2010. The company had basic and diluted earnings of $1.17 and $1.17 per share, respectively, in 2010, versus basic and diluted earnings per share of $1.37 and $1.36, respectively, in 2009. This reduction can mainly be attributed to the increase in income tax expense to $3,381,892 in 2010 from $1,329,114 in 2009. More than 99% of the company's other income consists of income from investments.
Operating revenues decreased by 6.5% in 2010 to $1,579,257 from $1,688,826 in 2009. The significant reduction in Medicare reimbursement for diagnostic radiopharmaceutical products such as Daxor's Volumex Kit that became effective in 2008 continues to negatively impact the sale of Blood Volume Analyzers.
No analyst coverage or estimates could be found regarding DXR. Please review the illustration for DXR's summary and key statistics.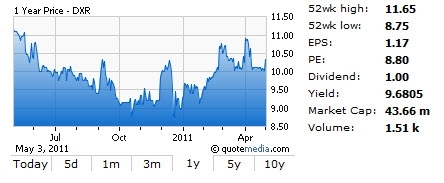 iCAD, Inc. (NASDAQ:ICAD) provides image analysis and workflow solutions that enable radiologists and other healthcare professionals to identify pathologies and pinpoint cancer earlier.
ICAD recently reported financial results for the first quarter of fiscal year 2011. Total revenue for the three months ended March 31 was $7.3 million, compared to $6.5 million in the same period last year, an increase of $0.8 million or 13%.
Ken Ferry, president and CEO of iCAD, commented:
"First quarter sales growth was led by the addition of the Axxent® eBx™ Electronic Brachytherapy System and higher service and supply revenue offset by softness in the digital mammography and film-based segments. We continued to advance our product development efforts with the introduction of SecondLook® Premier*, our next generation digital mammography computer-aided detection (NYSEARCA:CAD) system in Europe, and the presentation of positive data in support of the clinical utility of VeraLook® in virtual colonoscopy at a major European medical congress. In addition, we made significant progress with the integration of the Xoft business, which broadens our footprint in oncology and allows us to bring targeted technologies to cancer patients throughout the continuum of care, including detection, diagnosis, treatment and therapy monitoring.
ICAD has a median price target of $2.50 by one broker and a high target of $2.50. The last up/downgrade activity was on Feb. 14, 2008, when Sun Trust Rbsn Humphrey initiated coverage on the company at a Buy. Please review the illustration for ICAD's summary and key statistics.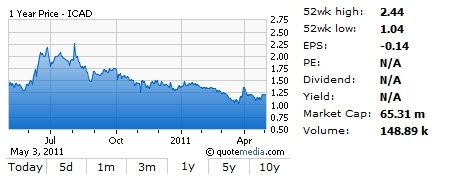 Medical Action Industries Inc. (NASDAQ:MDCI) develops, manufactures, markets, and supplies disposable medical products primarily in the United States to healthcare providers with a vast array of high-quality disposable medical products. Medical Action is the leading manufacturer/distributor of operating room disposable supplies, containment systems for medical waste, minor procedure kits and trays, bedside products and disposable supplies for medical laboratories. Although MDCI products have been primarily marketed to acute facilities in domestic and international markets, Medical Action over the recent years has expanded its end-user base to include physician, dental, veterinary offices and out-patient surgery centers and long-term care facilities.
David Miller, manager of the five-star Catalyst Value Fund, employs a process that focuses on earnings yield and return on invested capital. Over the past three years, it has been a top performer, achieving this success through genuine value investing. One of its Top 10 holdings is Medical Action Industries.
MDCI has a median price target of $13 by three brokers and a high target of $15. The last up/downgrade activity was on Dec 17, 2009 when Roth Capital downgraded the company from Buy to Hold. Please review the illustration for MDCI's summary and key statistics.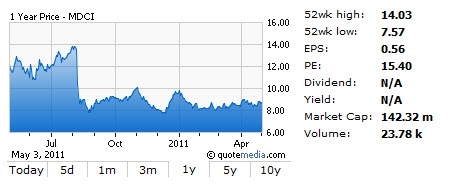 Misonix, Inc. (NASDAQ:MSON), together with its subsidiaries, designs, develops, manufactures, and markets therapeutic ultrasonic medical devices and laboratory equipment worldwide.
Misonix has long been at the forefront of ultrasound technology and is a world leader in the design, development, manufacturing, and marketing of ultrasonic surgical devices. MSON's innovative, ultrasonic platforms for surgical applications include aspirators for the removal of both soft and hard tissue, instruments for laparoscopic cutting and coagulation, devices for wound cleansing and debridement, products for precision bone cutting and sculpting, and liposuction instrumentation for improving body aesthetics.
Misonix scheduled its third quarter 2011 financial results conference call for May 10 at 11:30 A.M. Eastern. MSON has a median price target of $8.50 by one broker and a high target of $8.50. Please review the illustration for MSON's summary and key statistics.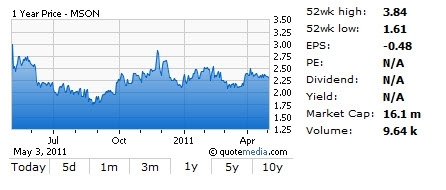 Information was gathered from CNBC, Yahoo Finance and respective company websites.
Disclosure: I have no positions in any stocks mentioned, but may initiate a long position in BEAT, DXR, MDCI, MSON, ICAD over the next 72 hours.