Since QE2 was strongly hinted at in Jackson Hole, Wyoming, in late August 2010, watch maker Fossil (NASDAQ:FOSL) has quietly tacked on a 200% gain. I am not sure if this is the best performance in the consumer discretionary space, but it has to be near the top during that time frame. Despite a nearly $7B market cap, this is a name you almost never hear about in the financial media. The company reported another good quarter this morning, beating estimates by 20 cents, and the stock is off to the races again.
Click to enlarge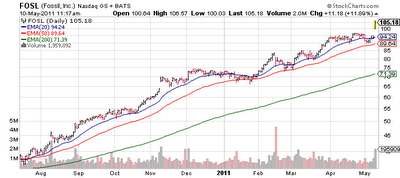 Via AP:
Fossil Inc. said Tuesday that its first-quarter earnings surged 55% on 37% revenue growth led by its performance in Asia. The results from the apparel and accessories retailer beat Wall Street forecasts, and Fossil shares climbed $11.79, or 12.5%, to $105.79 in morning trading.
The retailer reported net income of $55.8 million, or 86 cents per share, for the quarter that ended April 2l, compared with $35.9 million, or 53 cents per share, in the first quarter of 2010. Revenue jumped to nearly $537 million from $393.2 million a year earlier.
The company attributed its results to strong broad based growth, led by a 57% jump in revenue in Asia. Revenue in North America and Europe each grew by 34%.
Online sales rose 27%.
Analysts surveyed by FactSet expected earnings of 66 cents a share on revenue of $513.8 million.
For the second quarter of fiscal 2011, the company expects to earn between 70 and 73 cents per share. It's predicting the impact of a higher tax rate to hit earnings by about 26 cents per share. It sees revenue growth from the same quarter last year of between 28% and 30%. Analysts expected earnings of 76 cents a share.
It's forecasting full year earnings of $4.44 to $4.54 per share on revenue growth of between 21% and 23%. That's up from its previous prediction of $4.22 to $4.32 per share, with revenue up 19% to 21%.
Fossil is a global design, marketing and distribution company that specializes in consumer fashion accessories. The Company's principal offerings include an extensive line of men's and women's fashion watches and jewelry sold under proprietary and licensed brands, handbags, small leather goods, belts, sunglasses, soft accessories, shoes, and clothing.
Disclosure: No position.