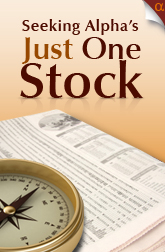 Several times a week, Seeking Alpha's Jason Aycock asks money managers about their single highest-conviction position - what they would own (or short) if they could choose just one stock or ETF.
---
Mark Hillman is president and chief investment officer of Hillman Capital Management, a Bethesda, Md.-based RIA that he founded in 1998. He brought into the firm assets of predecessor companies he established in the early 1990s, Custom Asset Management and Menocal Capital Management, where he was the chief investment officer.
If you could only hold one stock position in your portfolio (long or short), what would it be?
Microsoft (NASDAQ:MSFT) - the largest provider of software products worldwide. The company is organized in five segments:
Windows and Windows Live: $18.5 billion (29.5% of revenues)

Server and Tools: $14.9 billion (24.4%)

Online Services Division: $2.2 billion (3.5%)

Microsoft Business Division: $18.6 billion (29.8%)

Entertainment and Devices Division: $8 billion (12.8%)
We believe that Microsoft has a solid and sustainable core business and a compelling line of new products that position the company well for future growth. Since 2009, Microsoft has had the most prolific product release schedule in the history of the company, including: Windows 7 operating system, Microsoft Office 2010, Microsoft Server R2, Kinect for Xbox, Bing, Azure cloud-based technology, and Windows 7 mobile.
Tell us more about the company behind the stock.
Microsoft's competitive advantage stems from the dominance of its Windows operating system, its Microsoft Office suite of products and the company's financial flexibility. Microsoft's Windows operating system is used in over 97% of the world's computers with an estimated installed base of over 1.5 billion units. Microsoft's dominance in operating systems has created significant barriers to entry for competitors as many companies have created whole technology systems designed specifically for Microsoft-based operating systems and products.
The Windows Division's revenue growth is closely correlated to the growth of the overall PC market, as the original equipment manufacturers (OEM) distribution channel accounts for approximately 80% of total Windows Division revenue. Microsoft Office products are part of the Microsoft Business Division (MBD), which generates around 30% of the company's sales and 49% of the its operating income. Revenue from this category is much less dependent on the sales of PCs and generally relies upon the number of users in a licensed enterprise. Over 80% of MBD's revenue is generated from sales to businesses. This part of Microsoft's operations generates a steady stream of recurring revenue.
What else is beyond the flagship products?
Microsoft has a solid offering in server software, a dedicated and growing user base of Xbox Live users and increasing market share gains in Bing.
Microsoft Server and Tools division is a growth platform for the company. Approximately 50% of Server and Tools' revenue comes from volume licensing agreements, which generate a recurring source of cash flow to the company. The Server & Tools division generates around 23% of Microsoft's operating income. As data centers expand, Microsoft should benefit.
Microsoft's Xbox 360 continues to be a success. Some argue that Microsoft is at risk as more gaming moves online, but Xbox has over 25 million online subscribers.
In the fall of 2010, Microsoft launched the Kinect, a device that recognizes body movements and voice commands to control games on the company's Xbox 360 console. Kinect is the fastest-selling consumer electronics device ever, with 8 million units sold during its first 60 days. That is more than Apple's (NASDAQ:AAPL) iPhone or iPad sold in their first 60 days. While this division generates around 3% of the company's operating income, we believe that the technology used in Kinect can be leveraged into other devices and user interfaces.
Microsoft's Bing search engine has steadily gained share since its introduction. The company continues to add new features like incorporating friends' recommendations from Facebook into search results. We believe that the financial results generated by Bing will continue to improve as the integration with Yahoo (NASDAQ:YHOO) improves and advertisers get comfortable with the new system.
How does your choice of MSFT reflect your investment approach?
At Hillman Capital Management, we take a long-term approach to investing, focusing on the identification of companies with sustainable competitive advantage. We believe that companies with a sustainable competitive advantage will outperform the broader market over time. Our goal is to purchase securities of advantaged firms when they sell at a discount to our estimates of intrinsic value. We believe that our approach offers a prudent way to control risk and outperform the market over time.
While many firms screen for certain valuation characteristics, we pride ourselves on our deep understanding of the fundamental forces affecting a company's competitive posture within its market. Over the long term, a company's intrinsic worth is determined based on its sales, earnings, book value and the present value of its future cash flows discounted at an appropriate rate. It is our view that companies that maintain a long-term sustainable competitive advantage in their industry tend to outperform as business over several economic cycles.
How much is your selection based on industry, as opposed to a pure bottom-up pick?
Our process focuses on identifying strategically advantaged companies from the bottom up. An in-depth look at industry dynamics is part of the research process. Companies we identify for possible investment are often in industries that have favorable underlying economics.
How is Microsoft positioned with regard to competitors?
We believe that Microsoft has a strong core business that is positioned well to compete against rivals. The company's Windows and Office products are embedded platforms that we believe will remain the mainstay of PC operating systems and business productivity software for the foreseeable future. While the advent of tablet computing has received a fair share of the headlines, we believe that the demise of the PC has been greatly exaggerated. We believe that concerns over a recent slowdown in PC shipments are shortsighted and that a multi-year PC refresh cycle is under way.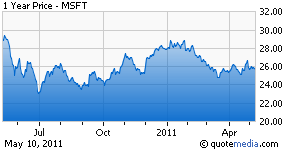 PC unit growth and IT spending are directionally closely correlated to GDP growth and as the global economy continues to recover, we believe that Microsoft will benefit. We think that the combination of the Windows 7 release, an aging installed PC base and improving global IT spending will result in meaningful upgrade activity going forward. Microsoft has sold over 300 million Windows 7 licenses to date, which represents less than 20% of the installed PC base. We expect that sales of higher-priced premium versions of Microsoft's products should increase as business customers increase their purchases, which could positively impact Microsoft's margins.
Investors appear concerned over Microsoft's competitive position as it relates primarily to Apple and Google (NASDAQ:GOOG). While Apple's Macs have gained popularity in the U.S., units sold globally have a low, single-digit market share. We don't anticipate this changing in a meaningful way anytime soon. The greater concern is the effect the sale of tablets will have on PC unit sales. While the tablet has proven itself useful for consuming content, given its current limitations, it is still uncertain whether users will utilize the form factor as their primary device for content creation. If tablets end up serving in that capacity, we believe that Microsoft Office productivity software will be an integral part of content creation and that Microsoft products could grow with the category.
We think that Google's Chrome OS is best suited for use on secondary devices like netbooks, due to certain technical issues that we believe will initially limit its use as a primary device. Google Docs, a Web-based office applications suite, has gained limited traction. We believe that Microsoft's installed user base will make it difficult for other competing products to gain meaningful share for the foreseeable future. Microsoft is positioned well in server software, where Microsoft has a lead over competing server software operating systems. Sales of server hardware are expected to grow in the mid-teens through 2014 and we think that Microsoft should benefit from this growth.
When it comes to Windows-running PCs vs. Macs, my question is always about margins. While you note low market share for Macs, they are taking ownership of the high end; won't that crimp MSFT margins further? Or is it still about Microsoft having a big advantage in the enterprise?
There are a few research firms that have indicated that Apple's Mac computers have anywhere from 75% to 90% of the market for "premium" computers - those with a price of over $1,000. According to research firm NPD Group, the price for an average Windows laptop in November 2010 was $453 while Windows desktops had an average selling price of $508. However, computer manufacturers are installing the premium version of Windows 7 on over 70% of the computers that they ship. We believe that this trend will continue, and could improve as the corporate refresh cycle builds momentum.
Corporations have historically purchased premium versions of Windows software. We think that these factors should help Microsoft maintain its margins. We believe that the main factor behind low PC prices is due to the falling price of the hardware components and that Windows OS pricing should hold steady. We don't believe that Microsoft needs to be attached to computers with a selling price over $1,000 to sell premium versions of Windows OS.
How does MSFT's valuation compare to its competitors?
We value each company in our qualified universe individually, not on a relative basis. We think that understanding the underlying dynamics of each company and their competitive position in the industry helps us to ascertain the strength of a company's competitive advantage and how our underlying assumptions could change over time.
Some of Microsoft's competitors include Apple, Google, Oracle (NASDAQ:ORCL) and IBM, each of which has different competitive strengths. Microsoft continues to generate industry leading cash flow and margins and since 2000 has generated 7% CAGR in net income and 9% CAGR of EPS, with the difference approximately equal to the net reduction of shares outstanding.
We believe that some investor reluctance to allocate capital to Microsoft is somewhat the result of its own history. Investors who have held shares of Microsoft from 2000-2010 have seen revenue increase at a CAGR greater than 10%, operating income grow at a CAGR of over 8%, while the share price has remained essentially flat. This is reflected in the contraction of Microsoft's P/E, which went from around 47x earnings in 2000 to the current 10x earnings—a contraction of over 13% annually. Microsoft's valuation in 2000 was arguably disconnected from the underlying fundamentals and long-term growth prospects of the company. We believe that dynamic has reversed and that currently the shares are meaningfully undervalued. We are not modeling for explosive growth, even though we believe that the company has exposure to fast-growing market segments.
Microsoft is currently trading at 10.6x trailing earnings and around 9x fiscal 2012 consensus estimates (7.8x, excluding net cash). We believe that these low valuation levels are unwarranted given the prospects for the company. In 2010, Microsoft generated over $20 billion in free cash flow and continues to retire around 3% of the shares outstanding annually. The share price is supported by a dividend yield of 2.6%.
Does your view differ from the consensus sentiment on Microsoft?
Consensus outlook for Microsoft is overly pessimistic in our view. It seems to us that investors are currently valuing shares of Microsoft based on the belief that the company will generate little if any growth after 2011. To us, that's a pretty bold assumption. We believe that the company is still exposed to growing end markets where Microsoft has competitive product offerings. We believe that Microsoft is slowly but effectively positioning itself for a changing competitive environment where it can leverage both legacy and new products through a variety of channels.
We believe that Microsoft is trading at a discount to its intrinsic value. Although we believe that Microsoft has a solid competitive position, our net margin assumptions are meaningfully lower than those of consensus. It is our belief that the company can generate sizable returns on equity over the long term and that the company has the ability to generate earnings growth over the long term at a low- to mid-single-digit rate. Since we are using conservative operating assumptions and what we think is a higher-than-consensus discount rate for a company like Microsoft (the company maintains a triple-A credit rating), we believe that our assessment that the shares are meaningfully undervalued has quite a bit of margin for error.
Does the company's management play a role in your selection?
Yes. Our primary criteria focus on whether management has been prudent and proactive over various economic cycles. We believe that management has to exhibit measurable results such as constancy in ROIC and ROE exceeding the company's cost of capital, with the belief that over time this will benefit shareholders. We believe that while ROIC has increased by almost 10 percentage points from 2000 through 2010, the company's decisions on allocations of capital have been good - but not perfect.
Even with some missteps, we think that the company has competitive product offerings and has discovered a new sense of urgency. The period since the end of 2009 has been the most prolific product release schedule in the company's history. We think that the company has the building blocks in place to leverage those advances.
What catalysts, near-term or long-term, could move MSFT stock significantly?
We believe that investors are not appreciating Microsoft's ability to leverage its installed base. As services and functions move to the cloud, Microsoft's large installed customer base will be a strategic positive. Azure is Microsoft's cloud-based platform that provides the hardware, operating system and software apps needed for a cloud-based infrastructure. Azure allows ample flexibility for clients to migrate gradually to the cloud and allows customers to decide the mix between on-premises and cloud based services. This flexibility limits disruption for clients by maintaining the software and systems that are familiar to a large installed base of users. Microsoft has ample opportunity to extend and integrate these cloud-based benefits to their mobile platform in the future.
In mobile, we think that Microsoft has many opportunities. The recent agreement between MSFT and Nokia (NYSE:NOK) gave some investors pause, believing that any potential product release will be too little, too late. We disagree. We think that this agreement should allow Microsoft to gain meaningful scale and leverage its Office, search and gaming products across a mobile platform while helping Nokia to differentiate its products from competitors.
The penetration rate of smartphones in the U.S. is around 25% and in the low teens globally. We think that the market for smartphones is still in its growth phase and that a Win-Nokia combination could gain meaningful share. While many view Apple's and Google's commanding lead in the number of apps they offer as a huge hurdle for any meaningful adoption of a Windows-based platform, we think that, in general, most users use a couple dozen apps and that Microsoft could develop a viable ecosystem even by offering relatively few apps compared to competitors. We think that as more growth comes from emerging markets, Nokia's low cost manufacturing expertise could help a Windows-based mobile platform generate meaningful share gains.
It is our view that a major headwind that has faced the company over the past 15 years should mitigate. Since the mid-1990s, Microsoft has been under intense scrutiny from regulators both inside and outside the U.S. regarding its dominant market position. As the industry has changed and competing products and methods of distribution have surfaced, we think that these regulatory issues lack the validity they might have possessed in the past. Going forward, we think that allegations of Microsoft's market dominance will be harder for competitors to prove, allowing Microsoft added flexibility in developing, integrating and distributing new products while removing uncertainties that have surrounded the shares in the past.
Microsoft's cash and equivalents are 43% of assets and the company generates $24 billion in operating cash flow and $22 billion in free cash flow annually. We expect Microsoft to continue to return capital to shareholders going forward, which should have a positive impact on the stock.
Microsoft beat earnings expectations last month (though a tax benefit helped), and while Windows sales dropped, Business Division grew solid revenue and even better profits. Do you see this as support for the idea that the company is building a substantial cloud-computing future?
Microsoft's Business Division and Server & Tools division continued to show strong sales and profit growth in the latest quarter. We think that both of these divisions should benefit as computing moves to the cloud. It is our belief that the strength of the Business Division in the latest quarter is more an indication of the strength of the corporate refresh cycle. We think that the Server & Tools division could be an early beneficiary of investment in data centers that will facilitate cloud computing. Microsoft's Azure cloud computing platform, although in the early stages, is ramping quickly. We think that Microsoft has competitive product offerings in this area and should benefit as more companies migrate to the cloud.
What could go wrong with your pick?
It is possible that our analysis overstates Microsoft's advantages and that there is an eventual acceptance of competing operating systems and software. There could also be a paradigm shift created by new technologies that lessens Microsoft's competitive advantage in its core businesses.
In the latest development, Microsoft is paying $8.5B for Skype; how does MSFT turn this money loser into a revenue generator?
We think that Microsoft is putting in place the foundation to integrate a social network where it can leverage multiple points along the value chain. Skype will support Microsoft devices like Xbox, Kinect, and Windows Phone, and Microsoft will connect Skype users with Lync, Outlook, Xbox Messenger, and Hotmail. We think that there could be opportunities for Microsoft to create a network effect between Microsoft's products and Skype that grows more valuable as its user base grows.
Microsoft is paying roughly $50 per Skype subscriber/connected-monthly user. We view this as a customer acquisition cost. While not a pure apples-to-apples comparison, it is a similar amount to what Netflix (NASDAQ:NFLX) was paying to acquire customers in 2006. Microsoft is paying over 32x EBITDA for Skype, similar to the current EBITDA multiple that Netflix commands. Currently, investors are valuing Netflix with an Enterprise Value of $12.44 billion, or over $600 per Netflix subscriber. While Skype's current EBITDA margins are twice those of Netflix, we believe that the difference in the estimated ARPU generation over the life of the relationship is currently higher for Netflix.
We do think that there are opportunities to direct Microsoft's large installed customer base to Skype, where the company can leverage its Bing advertising platform to monetize user traffic. We also believe that Microsoft's ad platform could benefit from the detailed information provided by Skype's registered users. We think that this is a good strategic fit for Microsoft, and we believe that effective integration will be key to success.
Thanks, Mark, for sharing your ideas with us today.
Disclosure: HCM's clients hold long positions in MSFT.
Read more Just One Stock interviews »
If you are a fund manager and interested in doing an interview with us on just one stock or ETF position you'd hold, please email us at Just One Stock.