A lot has been written already about both of these topics, but I was reminded again, while exploring the new Forbes Global 2000 rankings, of the dominance of the largest banks and oil companies: they constitute eight of the Forbes top ten biggest companies in the world. I wondered if this was unique to the methodology the magazine chose (after some filtering, equal weight on sales, profits, assets and market cap). Is Forbes' view of the 10 "largest" companies in the world the same as the market's?
The answer turns out to be: pretty much. With the notable exceptions of Apple (NASDAQ:AAPL) at #2 and Microsoft (NASDAQ:MSFT)at #6, the top 10 when sorted by market cap remains dominated by big oil and big banks.
Putting aside the related public policy questions on big bank rescues and the future of energy in the developed world, the Forbes rankings got me wondering about a different question. How is the concentration of banks and oil companies tilting my U.S. large cap exposure?
Here the news is a bit better than I expected. Though the top 10 names below represent almost 19% of the S&P 500 index, there's much better diversification across industries than there is on the global Forbes list. Click to enlarge: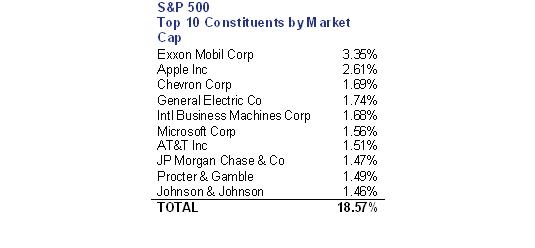 Source: Standard & Poors as of 5/9/2011. Subject to change.
How have sector weights changed over the past year? Not surprisingly, given rising oil prices, energy stocks have increased from 10.9% of the S&P 500 to 12.37% over the past year (see table below, click to enlarge), while financials have actually declined a bit, from 16.5% to 15.45.%.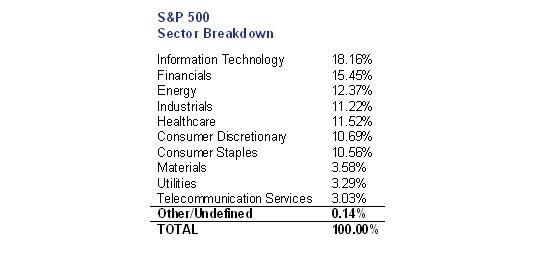 Source: Standard & Poors as of 5/9/2011. Subject to change.

No doubt mega banks and oil companies are here to stay, so it's worth keeping an eye on whether your portfolio is leaning too much in their direction. But for broad indices like the S&P 500, you should be well diversified for now.
Disclaimer: Diversification may not protect against market risk.