U.S. Gold gained on Tuesday for a third straight session. The metal's rise was modest -- gold gained $2.50, or 0.17%, to close at $1,515.80 an ounce. Gold prices hit an intraday low of $1,505.90 and a high of $1,519.00 an ounce.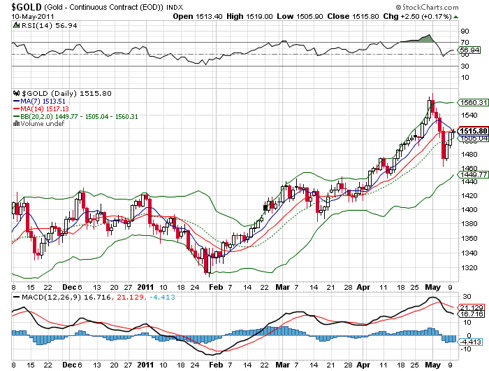 Gold prices are just above its Bollinger band's middle band. Tuesday's modest rise of $2.50 an ounce put gold price just below its 7 day and 14 day moving average. The relative strength indicator is sitting at 56.94. Technically, gold is neither overbought nor oversold on a daily chart. Bears have an advantage over bulls and their next near-term downside price objective is closing prices below solid technical support at $1,477.80. For an investment, I would recommend getting long exposure. For a trade, best risk reward is by getting short exposure to gold. You can achieve that by either shorting GLD
(iShares Gold Trust) or UGL (ProShares Ultra Gold). You can also get long exposure to
GLL
(ProShares UltraShort Gold).
Silver futures prices for June delivery, now the most active contrast, rose $0.64, or 1.69%, to close at $38.47 per ounce on the Comex in New York. Silver prices hit an intraday low of $37.30 and a high of $38.80. The relative strength indicator sits at 43.89.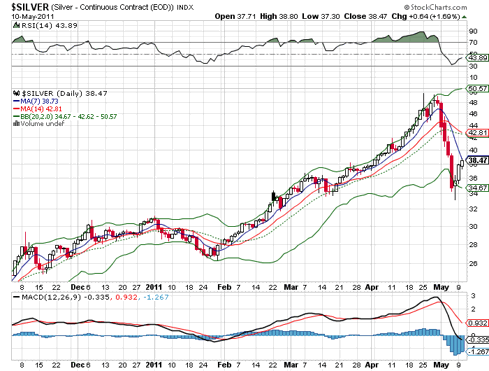 On Monday Standard & Poor's downgraded Greece's credit rating again, which has sparked speculation on who could be next. It is no surprise for market participants that eurozone officials have been grappling with debt issues in their weaker performing economies for months, if not quarters. On Tuesday, HSBC hiked its precious metals forecast for the year. HSBC now estimates average price of gold would be $1,525 an ounce and silver would be $34 an ounce for year 2011. Precious metals traders placed their bets on Tuesday as they awaited China's inflation and industrial production numbers. A higher than expected number would ignite another leg up for precious metals.

The U.S. Dollar index (NYSEARCA:UUP) was flat on Tuesday. Some traders point out that the U.S. dollar did not giving up ground, and that is bullish for the currency. Technically, it has etched a short term bottom. Next couple of trading sessions would decide the faith of the U.S. dollar for the short term. If USD can stay above 75.80 through end of this week, it might spark a short term rally in the U.S. dollar. This would be pressure precious metal prices. Hence the best risk reward is presented by getting short exposure to Silver. You can take advantage of sinking silver prices by getting short exposure to SLV (iShares Silver Trust) or AGQ (ProShares Ultra Silver). You can also benefit by getting long exposure to ZSL (ProShares UltraShort Silver).


Disclosure:
I am short
SLV
.