On April 26th, I published a piece here on Seeking Alpha titled "Was That the Top for Silver?" That was a mere two days before the peak and spectacular decline. No, I didn't cause the collapse. My reasons for anticipating the decline had to do with the extreme move silver had on the way up relative to its own 20 day moving average, which was further away from that average than 3x leveraged ETFs. That, combined with surging volume, closed-end silver funds trading at steep premiums to NAV and the general consensus of an uptrend led to a one-way trade that was prime for a mean reversion moment.
So where do we stand now after the big sell-off last week? It appears mean reversion has indeed kicked in, as silver ETFs went from being the most extreme performers relative to its 20 day moving average to now the most extreme laggards.
Click to enlarge: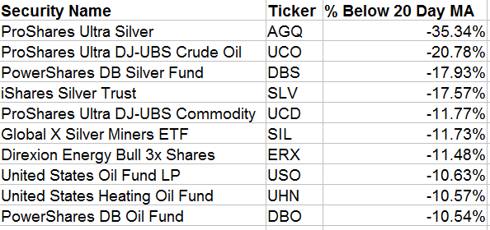 For comparison purposes, I wrote on the 26th that the ProShares Ultra Silver leveraged ETF AGQ was over 32% above its 20 day moving average. It is now 35% below. The highly popular iShares Silver Trust ETF SLV, which saw over $1 billion in net outflows last week, was 15.58% above its 20 day moving average on the 26th. It is now 17.57% below. The entire list above is purely commodity-related.
What happens next is anybody's guess, but I suspect weakness will continue in the months ahead after such a sharp sell off, as investors shy away from the volatility in a "once-bitten, twice-shy" type of reaction. However, for those interested in playing some sort of a bounce, silver might be worth considering as a snap-back rally prospect. While mean reversion and the extreme price action prior to the correction was ultimately what led silver prices to be vulnerable in the first place, that extreme has now been resolved by another extreme on the downside.

As to the longer-term prospects of silver, so long as volatility remains elevated and there are no bearish arguments for it, caution may well be warranted as money gets treated best elsewhere.
Disclosure: Pension Partners, LLC, and/or its clients may hold positions in securities mentioned in this article at time of writing.