While screening on Barchart for stocks having current upward momentum, I came across Bally Technologies (NYSE:BYI). The stock looks like a turnaround situation. 35% of revenue comes from new gaming equipment, and at the present time, new casinos aren't coming on line. In a few years, as the economy recovers, that's where the turnaround may set in. The rest of the revenue stream is from gaming operations and gaming-related software and systems; these revenue streams look more stable. Price momentum is why I'm looking at this issue.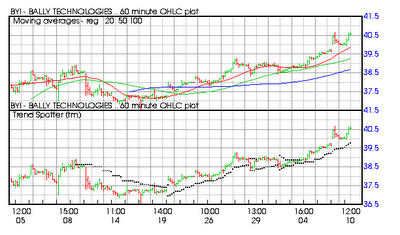 Bally Technologies (BYI)
formerly Alliance Gaming Corp., is a diversified, worldwide gaming company that designs, manufactures and distributes gaming machines and computerized monitoring systems for gaming machines, owns and manages a significant installed base of gaming machines, owns and operates casinos and in Germany, and is a full-service supplier of wall-mounted gaming machines and amusement games. The company has achieved a leading market position for each of its business units.
Factors to consider:
Technical Factors:
100% Barchart short term technical buy signal
Trend Spotter buy signal
Above its 20, 50 and 100 day moving averages
6 new highs and up 5.13% in the last month
Relative Strength Index 71.47% and rising
Trades around 40.51 with a 50 day moving average of 37.34
Fundamental Factors:
16 Wall Street brokerages are following this issue
Brokerage analysts have issued 6 strong buy, 4 buy, 8 hold and an under perform recommendation for their clients
Sales are expected to decrease by 3.90% this year but increase by 11.30% next year
Earnings should decrease by 16.10% this year but turn around and increase by 37.20% next year and 15.00% annually for the next 5 years
Hopefully, this turn around in the direction of revenue and earnings will also equate to an increase in price
General Investor Sentiment:
Wide and positive measured by opinions expressed on Motley Fool where 228 readers have an opinion on this issue
The CAPS members vote 128 to 46 for this stock to beat the market
The more experienced All Stars vote 38 to 16 for the same result
Summary: This issue is not a sure thing. All assumptions seem to imply that if the economy turns around, new gambling locations will come on line and old ones may be remodeled and expanded. If that happens, new equipment will be needed, and Bally is positioned to provide that.
Disclosure: I have no positions in any stocks mentioned, and no plans to initiate any positions within the next 72 hours.