The markets currently have numerous concerns piling up, including the end of QE2, a slowing economy, high unemployment, strength in defensive sectors, and rumblings of more bailouts in Europe. Given that last year's 'flash crash' correction began on April 26 and we have to contend with the headwinds of the possibly negative 'Sell in May and Go Away' seasonal tendencies, it is a good time to check on the market's current health and outlook.
If you study the historical differences between bull and bear markets, you will discover the transition from a bull market to a bear market occurs over a period of months, which means if we are paying attention, we should have time to transition away from risk.
One of the most useful tools in helping us differentiate between favorable and unfavorable market conditions is moving averages. The chart below shows the S&P 500's 50-day moving average in blue. The moving average helps smooth out the current trend, which is often volatile in terms of day-to-day fluctuations in price. The current 50-day moving average has a positive slope, which is indicative of a favorable intermediate-term trend and a positive outlook for stocks.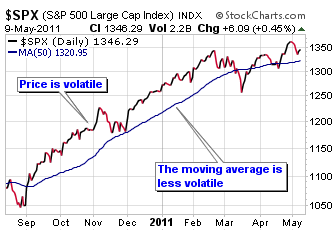 Regardless of the fundamentals of the day, all the transitions from a bull market to a bear market have similar qualities. Moving averages do not care why a market is strong or weak. If a strong bull market begins to get weak, moving averages will begin to show signs of weakness as well. No tool in the market is a magic bullet, including moving averages. However, moving averages, used in conjunction with other tools and fundamentals, can help us better manage risk.
The chart below shows the transition from a bull market to a bear market that took place between June 2007 and December 2007. Numerous moving averages, ranging from the 10-day to 150-day, are shown via the thin-colored lines. The S&P 500 (NYSEARCA:SPY), or price, is shown via the thick-black line.
In July of 2007, with the S&P 500 trading at 1,515, a yellow flag went up in the form of numerous moving averages rolling over from positive slopes to negative slopes (see point A). At point B, the market became very weak as the 10-day moving average (blue) broke below all the other moving averages shown. The market recovered and went on to make a new high of 1,576 in October of 2007 (point C). Point D highlights the most important set of observations – the moving averages are (a) clustered together in a tight range, (b) rolling over in terms of their slope, and (c) above price (thick black line).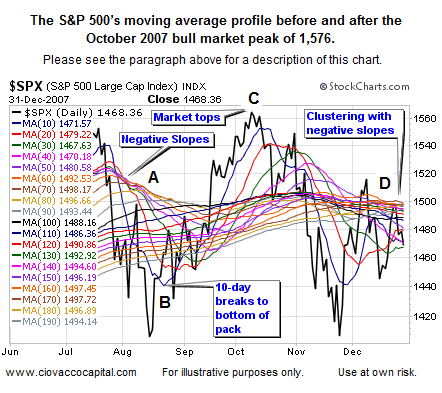 The range of the moving averages is only 2% in the chart above, which indicates a very tight cluster and a market that is poised for a big move. We did see similar occurrences to those shown at points A, B, and C in 2010, which is why we were so concerned and raised cash to manage risk. We never really got to point D in the summer of 2010 – the range of the moving averages was 5.26%, much wider than 2007. The summer of 2010 also never saw a tight cluster of moving averages roll over together. Another significant difference between 2010 and 2007 was that price was able to move above the moving average cluster and hold above it under similar circumstance to those at point D in 2007.
How does all this potentially help us today? The current day market, with the same moving averages is shown below. The good news is that today's market looks little like what we saw in 2007 or 2010. At point A below, the moving averages are trending up (they have positive slopes), which is bullish. Point B tells us we have a cluster of potential support near 1,320 on the S&P 500, which means we can redeploy cash a little more comfortably (emphasis on little). The one thing that contributed to us being conservative with our purchases (VTI, SCHB) on May 9 is shown near point C. As of the May 9 close, the S&P 500 was below its 10-day moving average (thin blue line near point C). A healthy short-term trend typically stays above the 10-day moving average.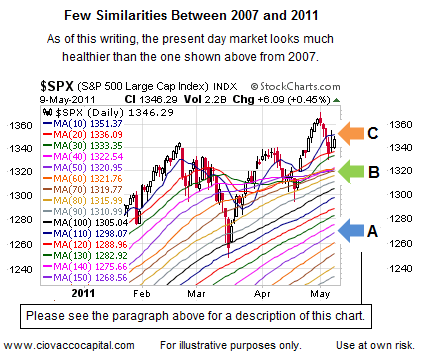 The May 10 session saw the S&P 500 close above its 10-day moving average, as well as above the key levels of 1,335, 1,340, and 1,354 (see post for significance). Consequently, we added again to our positions in SCHB and VTI.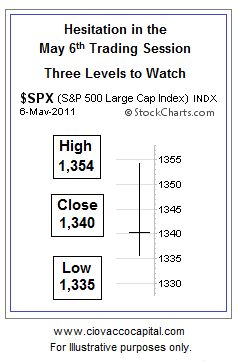 The market remains bullish, but in an unconvincing manner, which means we still need to be prepared to play defense in the coming days and weeks. While we do not make decisions based on forecasts, we can envision this market going higher for one-to-three weeks, possibly in a weak and unconvincing manner - but up nonetheless. If that turns out to be the case, we would consider setting trailing stops under the market as it rises or selling into a rally. We will continue to watch commodities (NYSEARCA:DBC) and energy closely (NYSEARCA:XLE). If needed, we are open to protecting profits in those areas.
Fundamentally, with 90 percent of the S&P 500 having reported by the end of last week, earnings growth is coming in over 18 percent, well ahead of the 13 percent-plus that analysts had been expecting.
From a strategy perspective, it is always good to know what economic reports are on the horizon. Between May 11 and May 13, we will see a slew of new economic data in the form of:
International trade
PPI
Retail sales
Weekly jobless claims
CPI
Consumer sentiment
Disclosure: I am long VTI, SCHB, XLE, DBC.