Microsoft Corp. (NASDAQ:MSFT) is currently generating buzz following yesterday's announcement that it intends to purchase Skype for $8.5b in cash. An online conference discussing the deal took place later in the day.
The Wall Street Journal has a comprehensive write-up of the deal. According to the WSJ, Skype generated revenue of $860 million last year, operating profit of $264 million and a net loss $7 million. In 2005, eBay, Inc. (NASDAQ:EBAY) purchased Skype for $2.6b and sold a 70% interest to various investors in 2009.
We tend to focus on companies with solid operating momentum, defined by cash flow growth and ROIC expansion. While Microsoft was making some progress with generating higher returns on capital through its September 2010 quarter, that trend had since turned down (see tables below). Adding $8.5b in intangibles to fixed assets with presumably negative accompanying free cash flow will simply just reaffirm the new declining trend that was already in place. In short, I was not expecting MSFT to turn up on any of my potential buy lists anytime in 2011, and the Skype deal just reaffirms this.
Of course, Microsoft must know that a Skype acquisition negatively impacts ROIC in the short term, so this implies that the acquisition is more of a long-term defensive play. Perhaps buying high-quality voice and chat connectivity makes sense in a bid to stay relevant as software applications are becoming increasingly connected. Certainly, in my opinion, a payout of $8.5b today discounted over 10 years in order to stay relevant is not a bad use of the existing $48.7b in cash on its balance sheet -- better than any dividend or buyback, in my opinion.
Digging a little deeper with a back-of-the-envelope analysis, we can evaluate a best-case, mid-case and worst-case analysis.
Worst-case, the company loses $8.5b cash and, let's say, $150m/yr for the next ten years on wasted capital spending and SG&A on Skype. So within ten years, MSFT has wasted $10b -- or about 2-3 quarters of free cash flow generation at recent rates.
Best-case, perhaps Skype is able to generate free cash flow up to about 30% of revenue, which we might assume grows 20%/yr to $5.3b in 10 years -- that gets us to $1.6b free cash flow/year in 10 years from Skype.
Mid-case is somewhere in between.
These figures compare to Microsoft's trailing 12-month free cash flow of $23.8b in the latest quarter, and a low of $14b over a range of 8 quarters. The assumptions I made for Skype might be off a bit since I did not listen to the call, but the general assumptions are probably in line and good enough.
And note that even if Skype does nothing for MSFT in particular, it is likely that Skype will be around in one form or another for a long time. If so, Microsoft may have the opportunity to sell Skype to some other investor group, similar to the way that eBay did, thereby mitigating any potential loss.
In summary, all this quick analysis indicates is that the deal is nothing to get excited about, but not much to really worry about, either. It is simply an unexciting, though strategically smart and low-risk, defensive action.
Tables (click to enlarge images) exclude Skype forecasts:

Click to enlarge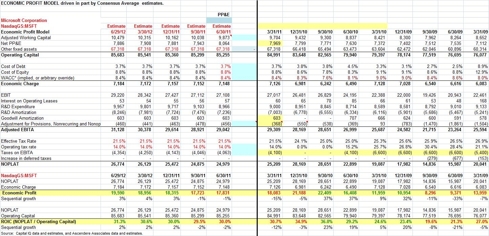 Click to enlarge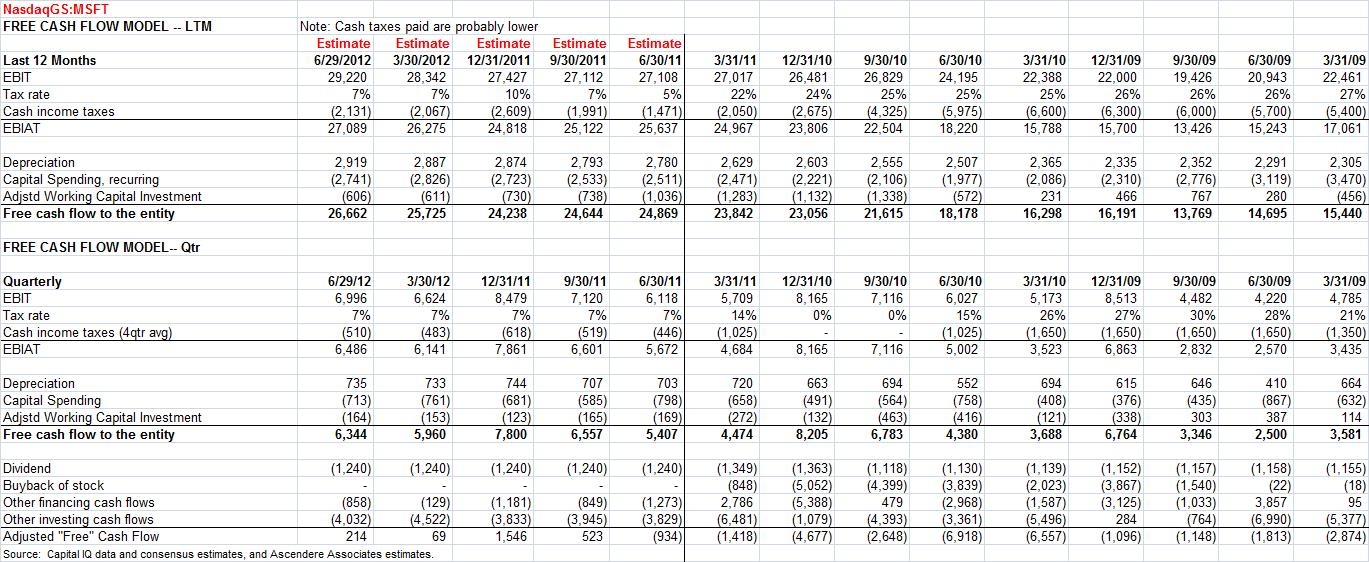 Click to enlarge
Disclosure: I have no positions in any stocks mentioned, and no plans to initiate any positions within the next 72 hours.