This past week was an ugly one for commodities, as everything from crude oil to wheat suffered large declines. As we predicted last week, the large speculative interest in crude oil was be easily spooked, and their liquidation caused the second-biggest one-day drop in history for crude oil.
Posted below are charts of the CRB Raw Industrial Index and the GSCI Index.
[Click all to enlarge]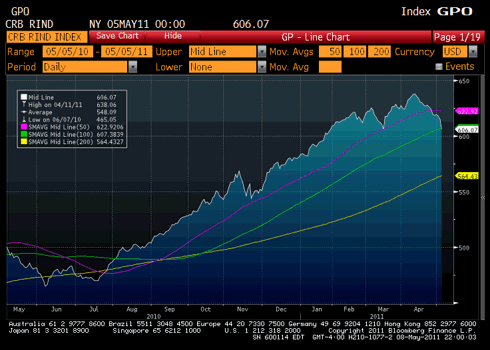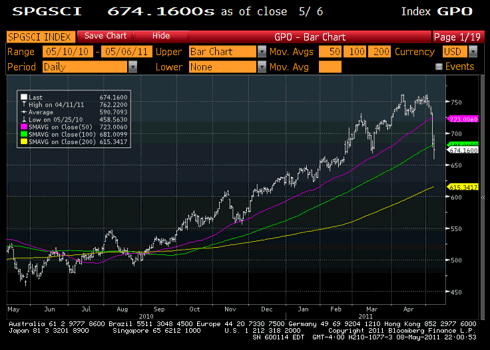 Click to enlarge As can be seen, the GSCI Index suffered much larger losses than the CRB Raw Industrial Index. This is due to the CRB Index's nature as a non-tradable commodity index. The fact that the GSCI Index suffered so much larger losses indicates the speculative froth in commodities as of late.
However, we feel that the recent drop in commodities presents solid long-term opportunities going forward. As we stated in our midweek trading recommendation this week, the bulk of commodity selling was perpetrated by retail investors bailing en masse from commodity ETFs. With most commodities now at or below their 100-day moving average, it is time to start wading back into the market.
Disclosure: I have no positions in any stocks mentioned, and no plans to initiate any positions within the next 72 hours.
Additional disclosure: All information included herein is the opinion of the firm and should not be considered investment advice. Past performance is not necessarily indicative of future results.