Being short Sirius XM (NASDAQ:SIRI) is not the most popular thing to do these days. I have taken a well-deserved humble beating from both readers of my articles and more painfully from my SIRI short position; which I opened at a price of $2.11. As the price spiked up uncontrollably recently, I averaged up to a position at $2.17. As it continued its rise to $2.35, it seemed my luck was running out. So far I have placed the wrong bet but the only question that I have is when will it end? Should I fold and leave the table as many readers have advised me to do, or do I go to the window, get more chips and keep playing?
I say being shorting SIRI is not popular, yet the level of popularity tells a different story according to the numbers released yesterday by Nasdaq. For the fourth reporting period in a row, SIRI's short interest has risen from the previous report of 270 million to 278 million as illustrated in the graphic below.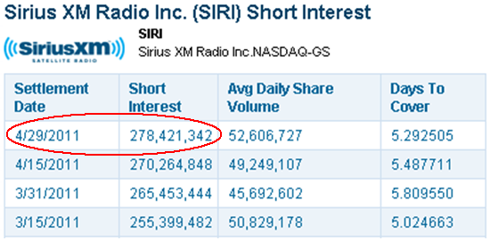 Click to enlarge
(Click to enlarge)
On some weird level, seeing the short interest rise actually lent me some temporary comfort. Because as the saying goes, "misery loves company," but I also wanted to believe that all of these shorts couldn't possibly be fools. But also, I tend to think I'm the "exceptional short" – meaning I love Sirius XM and its long term outlook and feel it will be a dominant force in the future. I just don't think the current valuation supports its fundamentals. In fact, even Liberty Media (LCAPA) CEO, Greg Maffei has said the same thing. He thought Sirius' valuation was expensive, and that's when it traded at $1.73. I wonder what he would think of the price today?
I read a very interesting article over the past weekend by Seth Jayson of the Motley Fool titled, "Why the Street Should Love Sirius XM Radio's Earnings." First, I want to say how much I respect Seth and all of the wonderful people at TMF but I want to respectfully disagree with his reasoning. I thought it was an extremely well written piece and thus I read it three times in an attempt at "wanting to agree," but I simply could not.
The article started off with the following two statements:
Although business headlines still tout earnings numbers, many investors have moved past net earnings as a measurement of a company's economic output. That's because earnings are very often less trustworthy than cash flow, since earnings are more open to manipulation based on dubious judgment calls.

Earnings' unreliability is one of the reasons Foolish investors often flip straight past the income statement to check the cash-flow statement. In general, by taking a close look at the cash moving in and out of the business, you can better understand whether the last batch of earnings brought money into the company or merely disguised a cash gusher with a pretty headline.
I absolutely agree with both of the statements above. While Sirius investors will tout the famous mantra "content is king," Mel Karmazin, on the other hand, will note that the only true king in his business is cash. And why not? Without good cash flow any company is destined for failure. But that was the extent of my agreeing with Seth's article, because astute investors would have questioned the entire earnings report. In my opinion, the only Sirius performance worthy of praise during the conference call was Mel Karmazin himself for his delivery of what I like to describe as "selling the next quarter," which he did masterfully.
What was sold on the street
I first read the press release where Sirius reported earnings on the PR Newswire. The headline read with the bullets to follow: SiriusXM Reports First Quarter 2011 Results
Subscribers Reach New High of 20.6 Million; 373,000 Net Subscriber Additions in First Quarter
Revenue of $724 Million, Up 9% Over First Quarter 2010
Record Adjusted EBITDA of $181 Million, Up 15% Over First Quarter 2010
Free Cash Flow Improves $110 Million Year-Over-Year
Seeing the headline told me all I needed to know and to come to the conclusion that, wow, they really "hit it out of the park." Investors have rewarded SIRI with 23% gain in the stock price following the conference call. I was amazed at the power the stock showed in what an average to flat report at best.
While it is worth mentioning that Mel did give investors some very exciting possibilities to look forward to, there were some very surprising revelations about the likelihood of a dividend/stock repurchase, as well as having approximately $1 billion in cash by the end of 2012. They issued outstanding long term guidance, indeed. But was this enough to add 1.7 billion in market cap to Sirius' valuation in one week of trading? This is essentially what happened according to the chart below.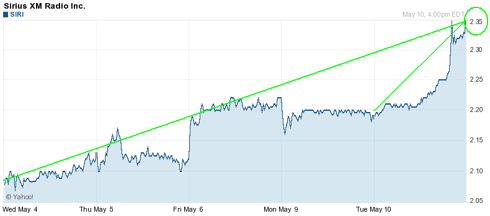 Click to enlarge
(Click to enlarge)
What the street missed
I quoted Warren Buffett in a previous article and reminded readers of one of his famous philosophies. He is known to say "investors should buy companies, not stocks". If you subscribe to this theory as I do, you will realize that the surge for the current stock has had little to do with the fundamentals of the company. In fact, after watching May 10 actions, I am now more certain of this. When a stock begins to trade off of fundamentals, it is often a cause for concern. Having said that, I am no way implying there are any trading irregularities within SIRI, but only that it is now trading at a P/E of 235! But what bothers me the most is that it appears that I'm the only one who cares to bring this up.
Though the company raised its full-year free cash flow estimates by 50 million, Sirius missed on several of its key metrics. On the ones where they didn't miss, came pretty much "in-line" with expectations. These include the conversion rate, SAC ARPU as well as churn. This was not a stellar report, not by any stretch of the imagination.
Last week in an article, when I brought up the issue of Sirius' short interest at over 270 million, I also mentioned that Robert Pedone of the Street.com said Sirius had the potential to reach $7.50 per share if short interest continues to creep up. I laughed when I first read it, but clearly it seemed he was on to something here, considering the stock drastic rise.
Also, is it just me or has anyone else noticed how Sirius's average traded share volume just doubled over the past week? Is it also coincidence that both Sirius' share price and volume spiked up a week before CitiGroup (NYSE:C) enacted a 10-for-1 split? Did anyone take notice of Citi's share volume before the split? It was over 500 million shares per day, yesterday 5/10; they closed on 42 million in volume or 91% less than their average.
I am no conspiracy theorist, but it is my opinion that the volume and volatility that once was a staple on Citi's trading activity will now find a new home in Sirius XM. So far it has been a welcome visit, but what will be the outcome? The volatility will be nothing new to Sirius, but the extra 1.7 billion in market cap sure was. As I have said when a stock does not trade on fundamentals, investors should tread with caution. As evident by the sudden rise in volume, there are likely other forces at play here.
Summary
Sirius continues to be a remarkable turnaround story in all aspects. I wrote several weeks back about the company's inevitable move over the $2.00 mark in a piece called the "Sirius XM Two Step," it has gotten there. But I would not be honest if I told you that I thought it would have arrived this sudden and to the degree with which it occurred. Mel Karmazin did an amazing sales performance last Tuesday and the street rewarded Sirius for it.
With that in mind, I continue to feel that the stock's drastic rise will have no choice but to retest the 50 day moving average (or slightly above) once the short covering is over and the exuberance fades. While I remain bullish on the company long term, I am now short this current valuation as I feel the existing fundamentals don't justify the price. I will be long under $2 when I feel that it has sufficiently consolidated.
Disclosure: I am short SIRI.