by David Whiston
With U.S. auto sales gradually improving off of multidecade lows and Japan's recovery in flux following the March 11 earthquake, we think it is a good time to update our auto sales discussion published in a strategist last June. We continue to remain very optimistic about the U.S. auto industry, which we believe is still at a seasonally adjusted annualized selling rate (SAAR) that is far too low. Although the sector always will be very volatile and full of uncertainty, we think long-term volume is still trending upward and see great value today in automaker stocks. Below we discuss light-vehicle sales and where we think they are going, and then take a look at some of our favorite automaker ideas.
U.S. light-vehicle sales data since 1951 helps put the recent sales crash in perspective. There were only 10.43 million vehicles sold in 2009, quite a decline from the decade's high of 17.35 million in 2000. The last time sales were close to 10.43 million was 1982, with 10.36 million, as the chart below shows (shaded bars denote recession years).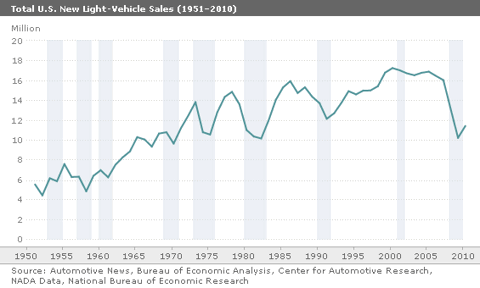 Graphing the data on a per capita basis below - both relative to the number of licensed drivers and the total population - reveals that 2009's results were even worse than the early 1980s.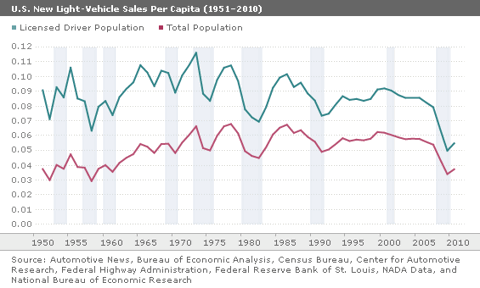 Dividing 2009 sales by our estimate of the total number of licensed drivers (about 210.4 million) gives a per capita sales ratio of 0.05 - the lowest mark dating back through 1951. The ratio was 0.069 in 1982 and the next lowest ratio was all the way back in 1958, at 0.063.
With the recession sales pace worse than when the country had 61% fewer drivers on the road in the late 1950s, we think it is reasonable to expect a strong sales recovery during the next few years. In 2009 and 2010, the U.S. scrapped more vehicles than it sold, which had not happened since World War II. We estimate the replacement rate of demand at about 13.2 million vehicles (240 million vehicles times a 5.5% scrap rate). We are currently just about at a replacement rate of sales, so we think there is still a long runway of growth ahead. In last year's article, Automakers: Dead End, or Open Road Ahead?, we expected the upward trend in 2010 to continue throughout the year - which it did in the fourth quarter. We were very encouraged that the fourth-quarter SAAR increase to more than 12 million units was driven by the retail component instead of the fleet channel. This increase suggested more improvement was coming in 2011, since consumers were finally feeling more confident to make a big-ticket purchase. Furthermore, the vehicle fleet is very old; used vehicle prices have been at record highs for some time, and automaker finance arms are offering attractive lease deals on new vehicles, so there are many reasons to expect continued increases in new vehicle sales. The charts clearly show 2010 as the beginning of a recovery. The start to 2011 has confirmed our thesis as the SAAR has come in at 12.6 million in January and then 13.4 million in February. March saw a slight pullback to 13.1 million due to General Motors (NYSE:GM) cutting back on incentives, but the trend still is heading upward from recession levels. April also came in strong at 13.2 million, thanks to desirable small-car products giving consumers another option from light-truck models.
We continue to think the recovery has plenty of growth left. Multiplying the 2010 U.S. population by the average auto sales per capita for 1951-2010 gives a mean reversion sales total of 16.0 million vehicles. Another proxy of normative demand would be the same multiplication using a more recent per capita sales average. For example, using the per capita average from 1976-2010 implies a normative demand of 17.36 million vehicles.
The supply chain interruptions following the Japan earthquake are likely to hurt sales dramatically from late in the second quarter through the rest of the year. However, it is important to keep in mind that the sales falloff from this event is from lack of supply rather than lack of demand, as was the case in 2008. Thus, we are not concerned about the earthquake derailing the recovery after 2011. We see consumer reaction to supply shortages at the Japanese automakers as mixed. Some consumers will remain loyal to a Japanese brand and either buy used or wait for new inventories to replenish. However, we think it is exciting for Detroit that some would-be Toyota (NYSE:TM) and Honda (NYSE:HMC) shoppers will walk into a GM or Ford (NYSE:F) showroom and be pleasantly surprised by the product, particularly in the compact and subcompact segments. Vehicles such as the Ford Fiesta, Ford Focus, Chevrolet Cruze, and Chevrolet Sonic are a dramatic step-up in quality and value for GM and Ford in these segments, and finally give formidable competition to vehicles like Honda's Civic and Fit, and Toyota's Corolla and Yaris. For example, Ford Fiesta's top-selling market is Los Angeles, which shows the Detroit automakers have a growth opportunity despite the U.S. being a mature market.
Stocks to Play During the Recovery
We think a lot of the current recovery is priced into the supplier and dealer sectors of the automotive supply chain, but we see lots of cheap stocks in the automaker space, particularly Ford, GM, and Toyota. We think it is ridiculous and very shortsighted of the market for Ford and GM to be trading at just 7.5 and 6.5 times 2012 earnings. We think the market is right to be concerned about rising oil prices when GM and Ford get the majority of their U.S. sales from light-truck models, but we think the sell-off is overdone. We thought Ford's bad fourth-quarter earnings miss would be made up over time as the company recoups its launch costs, and the strong first-quarter results reported late April show that story playing out. There are many positive elements to the Ford story right now, thanks to volumes likely to rise significantly in its key U.S. market, a strengthening balance sheet that now has the auto group in a net cash position, and a dramatic increase in common vehicle platforms providing far more economies of scale than in past years. The new Focus is a great example of how Ford will operate going forward. Previously, this vehicle would have had a unique platform to North America, but now will have a global platform. This uniformity means over 4 times the unit volume on the same capital investment, which leads to excellent economies of scale. Ford also had a $700 million year-over-year improvement in North America from pricing in its first quarter, while pricing was a $300 million headwind for GM - a remarkable difference. Over time, as Ford expands this common platform use while also seeing U.S. sales volumes dramatically increase, we think an astute investor would see now as a good time to accumulate Ford shares or get more leverage to the shares by buying LEAPS (long-term equity anticipation securities, essentially call options with expirations of more than one year).
GM has more issues than Ford due to government ownership and uncertainty regarding senior management, but the recovery story is still relevant for them as the U.S. is the largest contributor to profit for both GM and Ford. Although many disagreed with the GM bailout, the company is now very healthy and cash-rich (with automotive segment net cash of $24.6 billion vs. $4.7 billion at Ford as of March 31). GM breaks even when the U.S. auto industry sells just 9.5 million to 10 million vehicles a year. Thus, we still think GM will be printing lots of money over the years as we believe U.S. light-vehicle sales still have a long runway for growth. Furthermore, like Ford, GM finally has attractive small-car products to offer in the U.S., which we expect will help it recapture some share from the import automakers. We find the argument that American consumers will shun GM products due to the bailout to be wrong. In 2010, the four core U.S. brands (Chevrolet, GMC, Buick, and Cadillac) posted a 21% sales increase from 2009 with a 16% increase in the retail channel. Through April, GM's U.S. retail sales are up 35% year over year and total sales are up 25%, which is better than the industry's growth of 20%.
Outside of the U.S., GM's emerging-market business is many years ahead of Ford's with leading shares in key markets such as China and Brazil. In China, GM outsells Ford by more than 3 to 1. This Chinese market share allowed GM to post equity method income of $1.4 billion last year, compared to $526 million at Ford. At the consolidated level, despite a poor year for industry sales, GM posted a $4.7 billion profit and generated nearly $2.5 billion in free cash flow. We think there is plenty more upside to earnings, and investors who are willing to wait for the U.S. and Canadian governments to exit their holdings (probably late 2011 or by spring 2012) will see large capital gains from current levels. That said, GM's stock is likely to suffer a sell-off if the governments place a large block of shares on the market at once, but it is possible the stock will be higher than it is now when that happens. Although we were somewhat disappointed by GM's first-quarter results last week, we still think there is more upside to the stock than downside at its current levels. The pricing headwind in North America reported in the first quarter was troubling, but we expect results to improve throughout 2011 as GM uses fewer incentives than it did in January and February.
Toyota and Honda also look very attractive after the sell-off from the earthquake, but we think the stocks will stay depressed for the rest of this year. We remained bullish on Toyota after the recall crisis last year and the stock rallied to a new 52-week high this past February. Unfortunately, the March 11 earthquake has derailed the company's recovery story, but both Toyota and Honda have outstanding balance sheets that can easily withstand the severe loss in revenue in fiscal 2012. This falloff in revenue is due to a supply problem and the U.S. volume recovery story suggests both firms will see much better results in their U.S. operations once they get their factories running to pre-earthquake levels. Toyota already has said publicly this resumption will not be complete until November or December. Honda has not commented since Toyota's press conference on Good Friday, but it is restricting orders on models built in Japan and delaying the 2012 CR-V due this fall by one month. The newly redesigned Civic also will not be able to be built at full output. Toyota has similar issues with key Japan-built models such as the Prius and all Lexus models, except for the RX crossover, which is made in Canada. Although the parts shortage problem also is impacting factories outside of Japan, we think a Toyota or Honda investor willing to wait out the earthquake problems will have more upside potential than downside risk. The one key earthquake item possibly not priced into the market yet is revised fiscal 2012 guidance for both firms. Honda did not provide guidance when it reported fiscal 2011 year-end results in late April; Toyota reports its year-end May 11. The market may be waiting a long time because the uncertainty right now is too great for management at either firm to make a forecast.
Conclusion
The automaker sector is mostly a no-moat, volatile space filled with uncertainty from a number of fronts. Macroeconomic factors such as inflation, oil prices, unemployment, and housing prices can cause great swings in sales volume. Government regulations can cause R&D costs to go up and have other unintended consequences. More intense competition from major rivals, as we currently see with Hyundai and Volkswagen (OTCPK:VLKAF), creates a very steep headwind. This uncertainty and cyclical factors can cause auto stocks to be very volatile and often trade below intrinsic value for long periods of time. However, the companies featured in this article all get significant amounts of earnings from the United States and we think current new light-vehicle sales do not adequately reflect true demand. The cadence of this recovery is very uncertain but we think the recovery will happen, and when it does, shareholders in automaker stocks will be glad they bought in 2011.