By Tim Seymour

We talk a lot about "doctor copper" as the cure for portfolio pain. But nowadays, is this a kindly doctor or a mad scientist at work?
Copper prices are down 2% today and hitting fresh lows after only a mild bounce this week. Couple that with last week's 6.5% move to the downside and this is not exactly a positive story for the commodity markets or the global economy.
But copper often has this kind of split personality, whether you trade it via futures, options, physical metal or ETFs.
Back in February 2009, copper was a great indicator of the early recovery beginning after the credit crunch. Then, "doctor copper" rallied 50% in just two months, spurring a ferocious snapback trade.
In June 2010, we saw a similar move, up 67% as numbers from the Institute for Supply Management were peaking and everything started to come together for the manufacturing sector and an industrial recovery.
But since February, copper has been looking schizoid again.
Valuations on Freeport-McMoran Copper & Gold Inc. (FCX) and Southern Copper Corporation(SCCO) still seem interesting to say the least, but the charts look broken.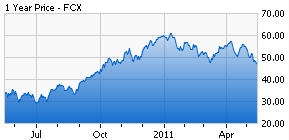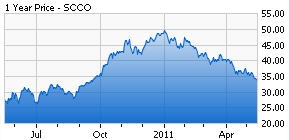 And with that in mind, ETFs like the iPath DJ-AIG Copper Total Return Sub-Index ETN (NYSEARCA:JJC) may be a volatile ride.