After their latest round of earnings, Rosetta Stone (NYSE:RST), Dean Foods (NYSE:DF), and JA Solar (NASDAQ:JASO) - three companies on which The Oxen Group currently maintains coverage - have been updated. We have kept our Hold rating on Rosetta Stone and Buy rating on Dean Foods and JA Solar. We have upped the price target of RST and DF as well.

Let's get into our analysis of each company.


Rosetta Stone (RST) - Despite a weaker than expected Q1, we believe this company is still not a "Sell" candidate. The company is seeing the American customer slipping, but this crisis was caused by a loss of its Borders Group seller and a shift downward in the American spender on Rosetta products. At the same time, the company has shown progress in international markets and appears to be headed back to profitability by the end of the year.

The company saw a 50% increase in its international customers with sales increasing from $10M to nearly $15M. Additionally it saw worldwide institutions rise by 18%. The company is seeing a nice growth in its international markets, but this 50% increase was hindered by the Japanese crisis. Japan is one of the four key markets where Rosetta Stone is pushing products.

While the company still has not shown that it can completely make up for a drop in the American consumer with the international community, it seems to be shifting focus away from the USA solely and going into new markets. The company is at a key point currently. If it can prove to be effective in international markets, the company could become an eventual value investment. At the same time, the company could easily fail to deliver profits this year, and in that case, this stock could quickly move to a "Sell" candidacy.

(Click charts to expand)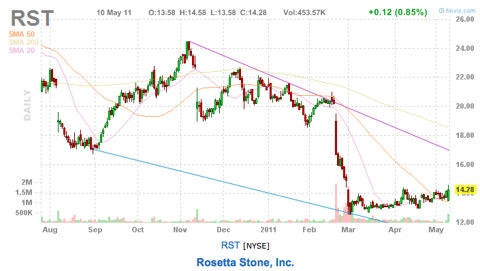 Dean Foods (DF) - Investors were over joyed with DF's latest Q1 earnings report. The company reported a 41% drop in profits, but noted that the worst may be over. It believes that the rest of the year should improve drastically with price hikes as well as cost cutting. In fact, guidance seemed to go above our current estimates. We have decided to raise our price target from $13 to $17.50 and maintain a Buy rating as the company is making its way back to normalcy at a quicker rate than we had thought. When we originally bought the company on December 31, 2011, we believed it was a great value play to $13 from just under $9.

The company seems to have legs now more than before. We were happy to see that the company believes it can finally raise prices and can start to improve some of its margins. Its Q1 operating margin sat below 4%, which is very poor. Though as margins and operating income improve, this company will be making higher valuations.

Another positive sign is that capital expenditures look like they will be less than originally thought. With cost cutting and the company slowing on capital expenditures, these two factors also improve our stance on the company's future price.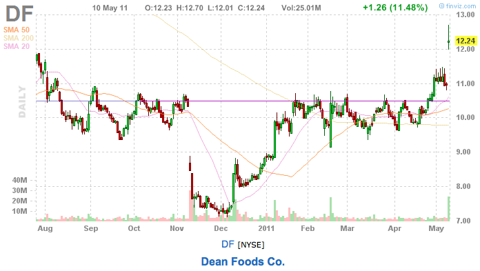 JA Solar (JASO) - We maintain a Buy rating with a $35 price target. JA Solar is a company that is continuing to perform very well and continues to impress us with growth in its shipments and continued strong margins. The company commented that while Italy may have some effect on it in Q2 and Q3, it believes shipments will stay at their original yearly estimates. The company outperformed slightly our estimates for Q1, but it was by a sliver. The company appears ready to meet most of our estimates, and we believe this is a $35 company given its five-year estimates on growth.

One concern is rising debt and shares outstanding. The company would be better suited to drop both, and those will need to be monitored.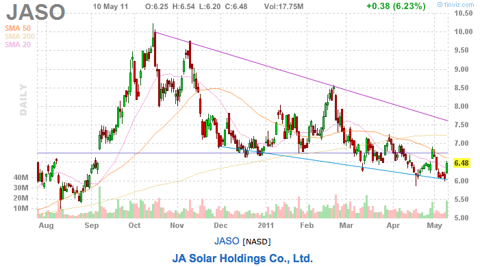 Disclosure: I have no positions in any stocks mentioned, but may initiate a long position in JASO over the next 72 hours.