We are in the midst of a secular bull market in gold that has been going strong for over 10 years. With a six-fold increase in gold prices and a 10-fold increase in silver prices, the precious metals sector has offered rich rewards to early investors. Many savvy investors turn to gold mining stocks since they provide leverage to gold as their profits go up more than gold bullion itself, and therefore offer more upside potential than physical gold. Despite the gold miners' leverage to gold, and the recent run-up in metal prices, gold mining shares still lag behind in performance -- which may present a golden buying opportunity.
Part of the reason for the lagging performance in mining shares can be explained by the hedge fund community that is going long physical metals and short the shares. This trade has been working as a hedge for now, but both John Hathaway of the Tocqueville Funds and John Embry at Sprott Gold & Precious Minerals Fund thinks that this trade is eventually going to turn on them.
Higher gold and silver prices lead to improving fundamentals for mining companies, and may eventually lead to a short squeeze among the hedge funds. That would force them to cover their positions, which would lead to sharply higher share prices among gold mining shares.
Although the entire gold mining sector is benefiting from the rise in gold and silver prices, I have found two stars that offer a lot of value and upside potential. According to my analysis, both US Gold (NYSE:UXG) and New Gold (NYSEMKT:NGD) offer a lot of value and upside potential for investors.
US Gold
US Gold is a gold exploration company engaged in exploration of gold and silver, primarily in Nevada and Mexico. It is the only gold exploration company that is listed on the NYSE. Right from the beginning, I was impressed with this company's strong leadership, headed by Rob McEwen, who also has a 22% ownership in the company. In an interview at King World News, McEwen started that he does not take a salary as the CEO, and plans to make all his money in stock appreciation just like all other investors.
McEwen has a long and impressive track record in the industry, and he is perhaps most known as the former chairman and CEO of Goldcorp (NYSE:GG), which he grew from a penny stock into the major mining company that it is today. While leading Goldcorp, McEwen averaged a 31% annual return for shareholders and grew the company's market cap from $50 million to $8 billion.
US Gold does not yet have a revenue stream, but it has two advanced projects in Mexico and Nevada. It has 3.4 million oz. of proven or probable gold reserves, and well over 5 million oz. in silver reserves. The company has no debt and a large cash reserve of $110 million that it will use to fund operations until it is ready for production.
The company currently has 12 drills operating in its properties, and is estimating that production will start in 2014 with a target of 60,000 oz. of gold and 50,000 oz. of silver per year -- which would add to $92 million per year in revenues at today's metals prices.
US Gold has proven or probable reserves in the ground valued at around $7 billion; with a market cap close to $1.29 billion, the company offers a lot of value and upside potential, especially as it moves closer to production.
New Gold
New Gold is an intermediate gold producer with cash flow positive operations in the United States, Mexico and Australia and development projects in Canada and Chile. The company has a solid revenue stream with a 26% profit margin and little debt.
New Gold has 11 million oz. of proven or probable gold reserves and 69 million oz. of silver reserves that are valued close to $20 billion. With a market cap around $4 billion, this company offers a lot of value for investors.
New Gold produced 382,900 oz. of gold in 2010 and made $530 million in revenues. It estimates that production for 2011 may be as high as 400 thousand oz. of gold, up to 2.2 million oz. of silver, and 14 million oz. of copper. With these production estimates at current price levels, the company should expect to earn close to three quarters of a billion dollars, which would be a 40% increase in revenues.
Market Vectors Gold Miners ETF
For investors who do not want the risk and volatility associated with gold mining exploration and production companies, the Market Vectors Gold Miners ETF (GDX) is a good alternative. It holds some of the larger gold production companies, including Barrick Gold Corp. (NYSE:ABX), Goldcorp Inc., and Newmont Mining (NYSE:NEM). GDX has a 13.4% short interest, which could give it a lot of upside potential if the shorts are forced to cover their positions.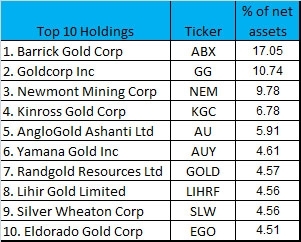 Conclusion
With increasing gold and silver prices, gold mining shares will become very profitable as costs remain stable and revenues and margins improve. However, in such a volatile industry as the gold mining sector, one should expect plenty of rallies and corrections. Despite a bumpy road ahead, gold mining shares certainly have the potential of producing several-fold returns for ambitious investors.
Disclosure: I am long UXG.