Here's a graphical rundown on some of the key economic indicators that China just put out for April. Included in the review is the inflation situation, consumer spending, the pace of loan growth, industrial production trends, and growth in the money supply. The data provide a timely insight into where China's economy is at, and perhaps more importantly, where it is going.
1. China Inflation Situation
China reported inflation of 5.3% in April, down from 5.4% in March, and slightly above analyst forecasts of 5.2%. I was picking a number closer to 5% due to signs of slower price gains in property and food prices. I maintain my view that inflation in China is in the process of peaking, but I continue to monitor food prices and property prices closely. Also on this topic is the current absence of a move from the People's Bank of China. I expect an additional interest rate increase soon, perhaps coinciding with the official property data next week or possibly in the next few days. But if there's one certainty it's the unpredictability of the bank, so keep an eye out.
Click to enlarge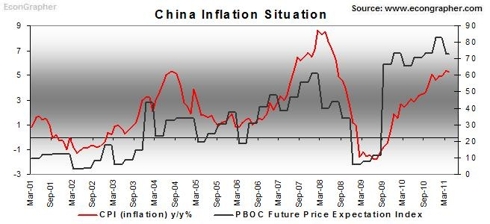 2. Consumer Spending
China reported total retail sales of 1.365 trillion yuan in April, up slightly from March's 1.359 trillion (0.4%), and up from 1.151 trillion in April 2010 (19%). Retail sales have tapered off somewhat since the pre-holiday peak. This will be an important indicator to monitor in terms of any economic slowdown, as it will be directly impacted, but also in some ways lead any slowdown - especially as domestic private consumption becomes an increasingly important part of the Chinese economy.
Click to enlarge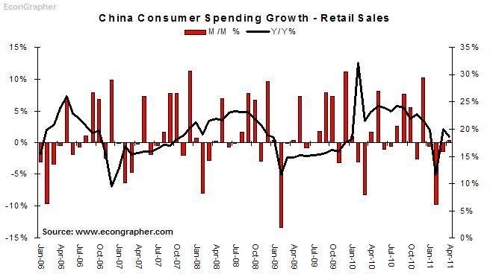 3. Growth in Total Loans
Chinese banks lent a total 739.6 billion yuan in April, up from 679.4 billion in March (9%), and down slightly from 774 billion in April 2010 (-4%), and bringing the YTD total to 3 trillion yuan. This places total loans up 1% compared to March, and up 16% compared to April 2010. Banks are continuing to lend at a steady pace, continuing the credit boom that began at the start of 2009 with encouragement from the central government. It is this loan growth that has helped spur strong fixed asset investment (up 25.4% YTD/YTD in April), which has in turn increased Chinese demand for raw materials. The rapid expansion of lending has also contributed to rising property prices, and more concerning, rapid expansion of lending to government financing vehicles (as much as 7.66 trillion yuan). While hard to understand as an outsider, I think this is an area that warrants close attention.
Click to enlarge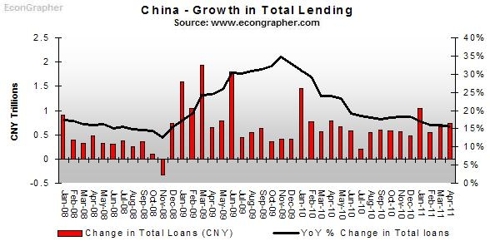 4. Industrial Production
Industrial production expanded 13.4% year on year in April, compared to a pace of 14.8% in March, and 17.8% in April 2010. In terms of output of major products, automobiles were down -1.6% y/y, while at the other end cement production was up 22.4% y/y. So the pace of expansion of industrial production fell as signaled by the manufacturing PMI results. When considered alongside consumer spending this registers as another hint of slowing activity, but the question is whether it's a minor fluctuation slowing or the start of a deeper slowing. It is likely that a deeper slowing will only be triggered by severe policy tightening, an asset price crash, a credit crisis, or a plunge in external demand. These events are all somewhat possible, but not yet highly probable.
Click to enlarge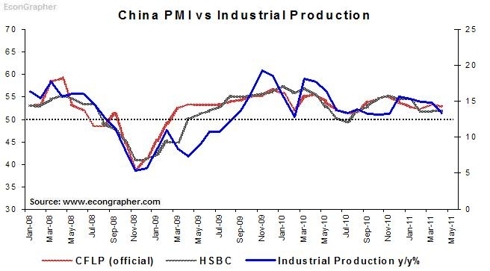 5. China Money Supply Growth
The final chart shows the pace of expansion in China's money supply. M2 Expanded 15.3% year on year, compared to 16.6% in March and 21% in April 2010. M1 expanded 12.9% compared to 15% in March and 31% in April 2010. M0 expanded 14.7% compared to 14.8% in March, and 16% in April 2010. Overall the expansion of the money supply has moderated somewhat from the rapid pace reached during the crisis period stimulus as the monetary policy stance shifts from expansionary to contractionary. The growth in money supply is also influenced by the exchange rate policy, however much of that liquidity is sterilized through central bank bill auctions.
Overall the key takeaways from China's April main economic indicators are around the transition state that China's economy is in. In the short term it is in a period of possible transition in terms of prices, with a probable peak in inflation. But signs are also emerging of a gradual slowing of activity and time will tell if these are fluctuations or signs of a downturn. As noted, within the froth of data are a few warning signs to be wary of, so while my overall assessment of the Chinese economy is not overly pessimistic, it is not without significant medium term downside risk. In the longer term view things seem to be on track, and in this sense China's economic transformation continues to fascinate me.
Sources
National Bureau of Statistics
People's Bank of China
Econ Grapher Analytics
Disclosure: I have no positions in any stocks mentioned, and no plans to initiate any positions within the next 72 hours.