In my article of April 5, I commented that I expected the ANTS portfolio returns to trend to market in the next month, and I suggested some alternative stocks as a first step to maintaining alpha. In the event, ANTS has trended to market returns sooner than I would have liked, and only a small number of the alternatives suggested would have made a difference.
In addition, my view is that earnings season can be bad for this style of investing because of both surprises in company announcements and market reaction to those announcements. Timberland (NYSE:TBL) provided graphic illustration of this, having dropped 25% in one day.
For the record, in hindsight, the best that tinkering with the ANTS portfolio could have achieved was:
The portfolio effect is shown below: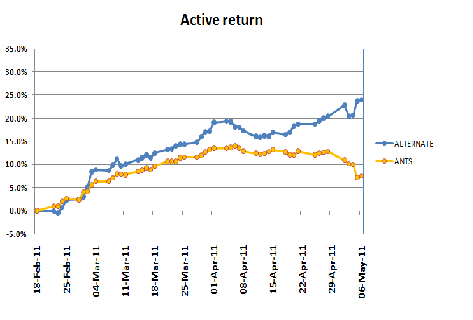 Tinkering or Change
My model indicates that many of the stocks in the ANTS portfolio are at the upper end of their out performance ratio, and most stocks don't stay there for long. That is why I held the view that the ANTS portfolio would trend to market returns after April 5.
That the suggested alternatives have not performed either indicates that tinkering is probably not going to help. While the suggested stocks are good quality, the aim is to generate consistent alpha, and therefore I have decided on change.
In this analysis I have selected stocks:
With a history of periodic out performance
Where the current out performance ratio is at the bottom end of the range, with positive bias
Where the portfolio has shown linear alpha over the past two weeks, and ...
Earnings revisions have been positive, and earnings projections show consistent increase
The Alt A Portfolio
I have retained the ANTS portfolio as a stalking horse for comparison purposes: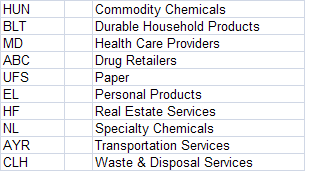 And the comparative performance is: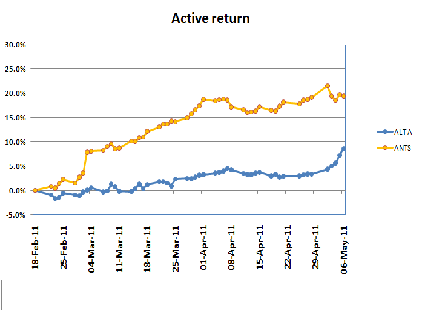 Other Portfolio Ideas
My analysis indicates that the past month has been favorable for various sectors including:
Healthcare/Medical Equipment
Drug Retailers/Pharma
Specialty Chemicals
Transport/Airlines
Many of the stocks identified have similar characteristics to the ANTS portfolio, which includes stocks at the high end of their out performance ratios. If a bullish sentiment was to continue, I suspect an outperforming portfolio could be constructed.

One suggestion is: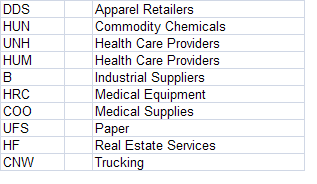 The comparative performance is: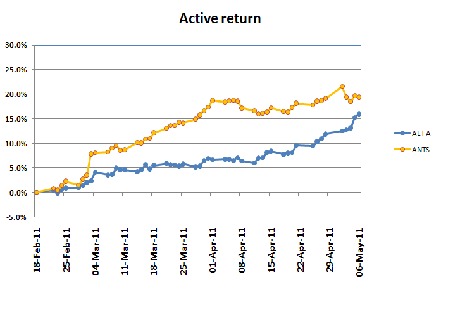 The High Beta Portfolio
I include this for the record.
Our top ranking portfolio as of May 6 and its performance is as follows. This portfolio construction results in a high beta portfolio. I do not use this selection for investing. This portfolio construction usually displays the characteristics of high momentum portfolios which do not display persistant outperformance after formation.
The points to note are:
Up until around April 1, the ANTS portfolio matched the best possible portfolio for this period
There are therefore multiple portfolio choices which produce strong results, not just one
At the point of divergence, the evidence suggests that one portfolio should be divested, and the next assumed in total
This is difficult for a large portfolio, suggesting that a highly performing portfolio should be small, about 10 to 15 stocks

The portfolio is: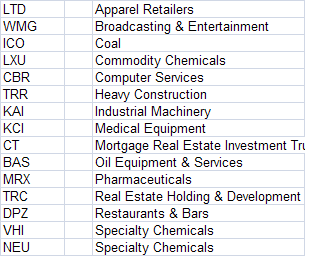 And the comparative performance is: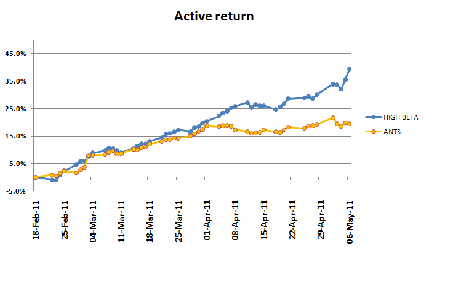 Disclaimer: The content in this document is provided as general information only and should not be taken as investment advice. The contents in this explanatory paper shall not be construed as a recommendation to buy or sell any security or financial product, or to participate in any particular trading or investment strategy. The ideas expressed on this site are solely the opinions of the author. The author may or may not have a position in any security referenced herein. Any action that you take as a result of information or analysis on this site is ultimately your responsibility.

Disclosure: I have no positions in any stocks mentioned, and no plans to initiate any positions within the next 72 hours.