Finding a company that provides a big dividend, solid growth prospects, recession-resistance, AND inflation-protection is a tall order. Master Limited Partnerships have been one investment that has fit this bill over the last two decades. But those of us who already have our allocation of MLPs need to look elsewhere. With the elderly population set to explode in North America over the next two decades, elder and long-term care is a good place to start.
My favorite name in this space is the Canadian company, LeisureWorld, traded as LW.TO on the Toronto exchange. It can also be bought as a foreign ordinary on the U.S. pink sheets, ticker symbol OTC:LWSCF.(Leisureworld is not associated with the American company, Rossmoor's Leisure World.)
LeisureWorld owns and manages 26 long-term care homes in Canada's Ontario province. It sports an 8.1% yield, paid monthly. This is a yield you can count on regardless of the economic environment, because LeisureWorld sells absolutely essential services, with the Canadian government ultimately backing most of its revenue. The yield is well-covered by cash flow, with a payout ratio of 82%.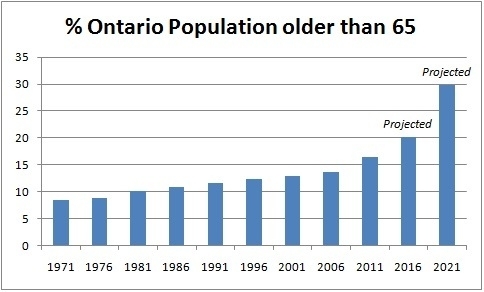 LeisureWorld's target population is growing more than 4% annually, a rate that will accelerate. There are currently 77,500 LTC beds in Ontario, with a waitlist equal to 30% of existing capacity. Long-term care facilities have been able to increase rates significantly above the rate of inflation for nearly a decade now, with payments expanding at a Compounded Annual Growth Rate (CAGR) of 3.7%. Supplementing this growth, LeisureWorld has been acquiring more properties. It recently acquired two more retirement homes, which management said will be immediately accretive.
With its market growing at 4% annually, payments growing at 3.7%, and accretive acquisitions, LW has promising growth prospects for the coming decades.
Disclosure: I am long OTC:LWSCF. I am long LW.TO as well.