Those who use the military skillfully do not raise troops twice and do not provide food three times.
-- The Art of War
INTEL Corporation (NASDAQ:INTC) a $115.77 billion market cap company. Intel Corporation engages in the design, manufactureand sale of integrated circuits for computing and communications industries worldwide. It offers microprocessor products used in notebooks, netbooks, desktops, servers, workstations, storage products, embedded applications, communications products, consumer electronics devices and handhelds. Intel offered something else to investors today. The company announced a considerable dividend increase that likely got lost in non-stop coverage of Mr. Rajaratnam's conviction and Cisco's (NASDAQ:CSCO) earnings release. Intel will increase its quarterly cash dividend by 16 percent, effective in the third quarter of 2011. This brings Intel's dividend to 21 cents per share (84 cents per share on an annual basis), beginning the third quarter of 2011. Any company that raises its dividend or buys out another is worth looking at to see if the stock merits an investment. Often the trend of the dividend goes hand in hand with the trend of the stock. Consider the following points when evaluating INTC's prospects in light of the dividend announcement.

Click to enlarge
(Click to enlarge)
Intel Corporation was founded in 1968 and is based in Santa Clara, California. INTC reported $0.58 per share in earnings for the quarter ending 4/2/2011. The next reporting quarter estimated mean earnings are $0.5 per share. Analyst estimates range between $0.44 and $0.59 per share. The current trailing twelve months (ttm) P/E ratio is 11 and the forward P/E ratio is 9.56. INTC has a price to book ratio (ttm) of 2. 4 and a price to sales ratio of 2.72. The annual growth rate of the revenue is really exciting at a rate of 24.19%. The current dividend as a percentage of the trailing twelve months income is 30.6%. INTC also does a good job managing accounts receivable. For its last fiscal year, Intel reported an accounts receivable to sales percentage of 0. 0657% compared to the same period a year earlier of 0.0647%. For the trailing twelve months investors received $0.61 for a yield of 0.0295%. Based on the current price at the time of this writing and the current increased payout of $0.21, INTC now has a yield of 3. 65%. As with all my swing to longer term trades, I believe it is important to look at what options have the highest volume and offer the best opportunity. If everything else matches up as needed, I will look to short put options expiring in July at a strike price of $22, for a price of $0.41 or better.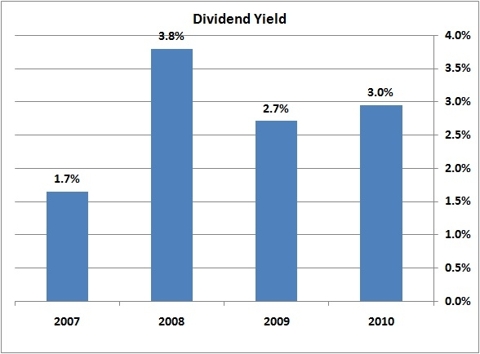 Click to enlarge
(Click to enlarge)
Beyond the aforementioned numbers, which look good, investors should consider other key figures. INTC has rising revenue year-over-year (yoy) of $43.62 billion for 2010 vs. $35.13 billion for 2009. Additionally, a couple of bottom line number trends give the impression that management knows how to execute. On the bottom line, Intel reports rising earnings, year-over-year (yoy), of $11.46 billion for 2010 vs. $4.37 billion for 2009 and rising EBIT, year-over-year (yoy), of $15.59 billion for 2010 vs. $5.71 billion for 2009.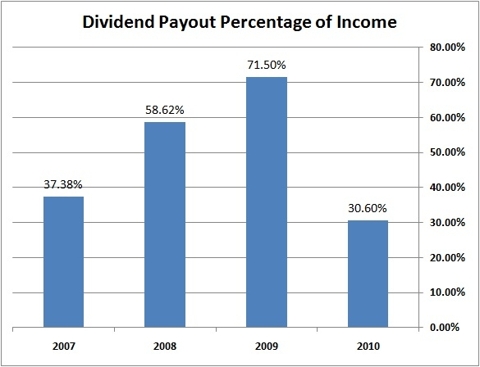 Click to enlarge
(Click to enlarge)
I use a proprietary blend of technical analysis, financial crowd behaviorand fundamentals in my short-term trades and while not totally the same in longer swing trades to investments, the concepts used are similar. Based on my criteria, I have come to the following conclusion: I will be looking for an ideal entry price to either write put options or buy the stock. Of course that in itself does not mean you should, but you may want to use this article as a starting point of your own research with your financial planner. I use Seeking Alpha, Edgar Online, Goggle Finance, MSN Money, cnbc. com, Zacks and Yahoo Finance for most of my data and often do not double check it with the SEC filings.
Disclosure: I have no positions in any stocks mentioned, but may initiate a long position in INTC over the next 72 hours.