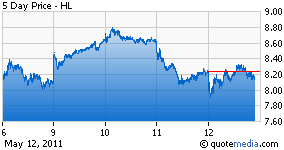 Hecla Mining (NYSE:HL) released first quarter 2011 earnings on Monday with revenues increasing to $136.4 million from $79.8 million a year ago.
Production was flat at 2.5 million ounces of silver and in line with full year guidance of 9-10 million ounces.
Net cash costs rose to $1.03 per ounce for the first quarter due to lower amounts of by-products mined.
Operating cash flow more than tripled to $60.9 million in the first quarter of 2011 against $17.8 million in the first quarter of 2010. The bulk of the increase was due to a $30 million swing from deferred income taxes.
Reviewing the two operating mines, Lucky Friday produced approximately 800,000 ounces of silver at a cash cost of $4.99 per ounce, net of by-products.
Construction work continues on the No. 4 shaft which, when completed, will increase production from 3 million ounces of silver to 5 million ounces per year.
The No. 4 shaft will allow access to ore grades down to 8,800 square feet when complete. Infill drilling is encountering high ore grades at greater depths which explains the need to move lower.
In an attempt to leverage the current infrastructure, Hecla is considering reopening the Star property which lies a mile away from Lucky Friday.
Concurrently, a mill optimization strategy is underway to determine the potential of either expanding the mill on property or building a new mill. A number of strategies are being developed to not just meet current production but additional ore from the No. 4 shaft, the Star property, and nearby properties.
At Green Creek, silver production totaled 1.7 million ounces at a cash cost, net of by-products, of negative $0.73.
Exploration continues at the San Juan JV in Colorado where new gold and silver veins were intercepted during recent drilling in late 2010. Hecla already records a 37 million ounce resource at San Juan on its books and is exploring the possibility of reopening the underground mine.
Of particular interest to investors is the ongoing litigation surrounding Hecla's liability in the Coeur basin. During the conference call it was mentioned that the settlement is now in front of the plaintiffs awaiting their approval.
As of March 31, balance sheet cash totaled $312 million with $102 million in cash scheduled to be paid out within 30 days of the Consent Decree being filed with the court and $55 million paid out in either cash of Hecla stock with a remaining $9.5 million received by Hecla from the conversion of Series 3 warrants with additional payments occurring between now and 2014.
Hecla's management discussed the possibility of doing acquisitions on the conference call. They stated a willingness to look at potential candidates.
I believe that Hecla will consider an acquisition at the appropriate time. Unfortunately, the resolution of the Coeur litigation will potentially eat up half of the current balance sheet cash.
Given the organic growth potential at Lucky Friday and San Juan, Hecla will likely grab the low hanging fruit first and focus on organic growth until a capital budget is drawn up by the end of the year and the balance sheet cash is rebuilt.
It should be noted that the EPA has requested additional information regarding properties in Idaho and New Mexico in the past six weeks regarding potential liability by Hecla for cleanup costs at those sites.
As the year draws on there is the potential for a number of catalysts to re-rate the stock price higher including an increase in the dividend, stock buyback, and/or an acquisition once the litigation clouds clear.
In the meantime, investors should wait and look for an attractive entry point.
Disclosure: I have no positions in any stocks mentioned, and no plans to initiate any positions within the next 72 hours.