I visited my local Shell station today and left $100 poorer. As I drove off, I thought of all the ways I could ease the pain. Get a smaller car. Move closer to work. Take transit. Work from home. All good. But then, inspiration struck. Buy United States Gasoline Fund (NYSEARCA:UGA).
UGA is the US Gasoline Fund LP, an ETF that moves nearly in tandem with retail gasoline prices, as the chart below shows. Drivers concerned that gasoline prices will keep rising could buy UGA. They could potentially lock in gasoline prices at current levels. That way, what Shell takes away, UGA could give back. Of course, the reverse will also apply if gasoline prices fall.
The relationship between UGA and retail gasoline prices is not perfect, however. The biggest source of friction comes from UGA's structure. Rather than lugging jerry cans into the office (fire hazard, you know), UGA's manager uses the one-month futures contracts on gasoline. Gasoline futures are generally "in contango", where the contract expiring this month costs less than the one expiring next month, etc. This is due to storage and interest costs. Every month, UGA "rolls" its futures, selling those about to expire at a low price and buying the next month's at a higher price.
As it happens, because of the floods threatening US refineries along the Mississippi, right now gasoline futures are actually "backwardated", the opposite of contango. That's an indication that prices should fall from these peaks. In fact, crude oil prices have fallen about $8 as I write this.
But normally, contango prevails and takes a cut of UGA's returns. Over the last three years, while retail gasoline prices are up 25%, UGA is up about 4%. Part of that difference is due to contango. Part is due to location: The futures are for delivery to New York Harbor.
Generally, UGA is best held for shorter periods to make directional bets (that's why we don't buy it). For example, since the start of the current rally in gas prices last August, UGA is up 56% in C$ terms, versus 31% for Canadian gasoline. However consistently calling short-term direction is really tough (as these hedge funds recently discovered), and definitely a lot tougher than buying a Prius.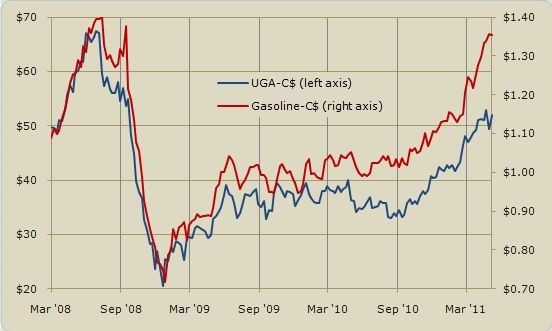 | archerETF Metrix | UGA |
| --- | --- |
| Category | Commodities |
| Benchmark | NY Gasoline |
| Total Holdings | NA |
| 52 Week High | $55.74 |
| Recent Price | $54.95 |
| 52 Week Low | $30.36 |
| Avg Daily Volume | 0.14 Million Shrs |
| Avg Daily Volume ($) | $7.69 Million |
| Total Market Cap | $156.36 Million |
| ETF Annual Fee | 0.90% |
| ETF Trading Currency | USD |
| ETF FX Exposure | USD |
| Annual Volatility | Not Available |
| Correlation to S&P 500 | 45.4% |
| Return to Risk Ratio | Not Available |
| Use of Leverage | No |
| Use of Futures | Yes |
| 6 month Return | 57.13% |
| 1 Year Return | 53.06% |
| 2 Year Return | 95.34% |
| 3 Year Return | -7.38% |
| Dividend Yield (NYSE:TTM) | 0.00% |

Disclosure: I have no positions in any stocks mentioned, and no plans to initiate any positions within the next 72 hours.