By Sumit Roy
The Department of Energy reported Wednesday morning that in the week ending May 6, 2011, U.S. crude oil inventories increased by 3.8 million barrels, gasoline inventories increased by 1.3 million barrels, distillate inventories decreased by 0.8 million barrels and total petroleum inventories increased by 6.4 million barrels.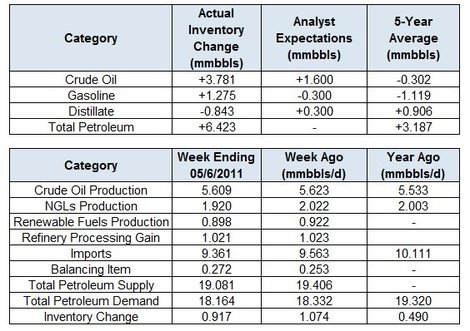 The overall build in U.S. petroleum inventories was double the normal level, meaning the surplus over the five-year average expanded by 3.2 million barrels. It now stands at 16 million, or 1.6 percent of total inventories.
The surplus bottomed out two weeks ago at 12.2 million barrels, or 1.2 percent of total inventories. While it has risen since then, it's still down significantly since last year's peak levels, when it climbed as high as 110 million barrels.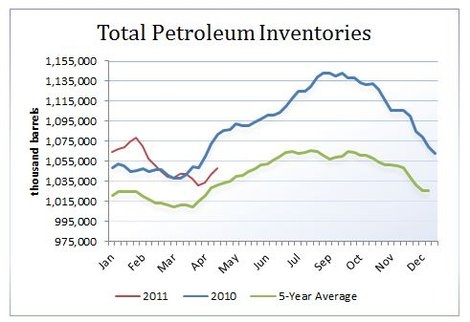 Crude Oil Inventories
Crude oil inventories advanced to their highest levels in two years; in fact, they're now only 5million barrels under the 20-year highs set back in 2009. Inventories now stand at 20.7 million barrels, or 5.9 percent, above the five-year average.
However, if we strip out Midwest inventories, we see an entirely different picture. Using that measure, crude inventories sit 28 million barrels under the five-year average. Pipeline constraints have made the Midwest region a completely separate market in many ways; thus, it may be beneficial for investors to consider this adjusted figure.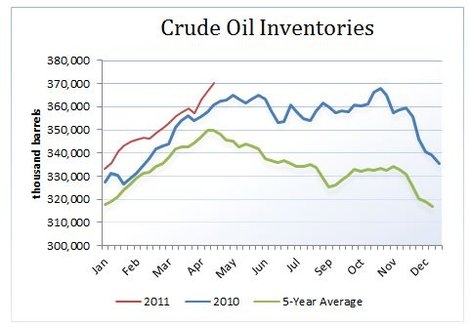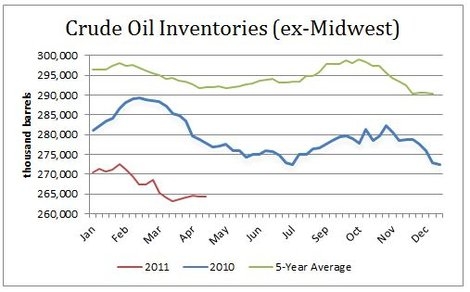 Product Inventories
Product inventories were mixed, with gasoline inventories rising counter-seasonally, while distillate inventories fell.
Nevertheless, gasoline inventories remain relatively depressed, sitting near two-year lows. The flooding of the Mississippi River will only serve to pressure inventories further, should Gulf-area refineries be impacted. Along the Mississippi are 10 refineries accounting for 13.7 percent of the nation's refining capacity, according to Reuters.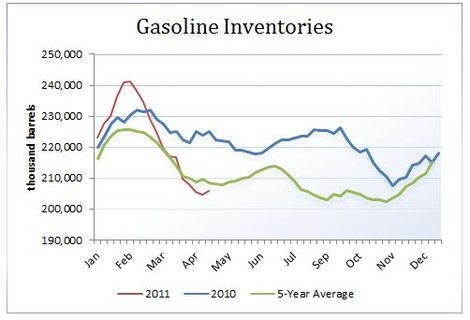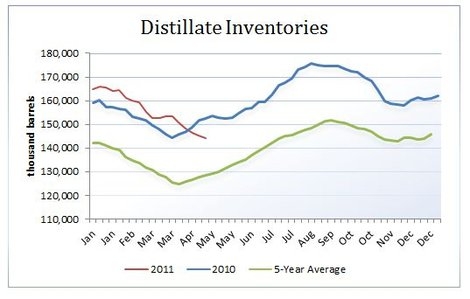 US Demand
U.S. petroleum demand fell to its lowest levels since June 2009, as high prices continue to take their toll. Gasoline demand, in particular, is suffering the most, with consumption of the fuel down 2.4 percent year-over-year on a four-week rolling basis. Distillate demand is still up 4.5 percent by the same measure, while total petroleum demand is down 0.5 percent.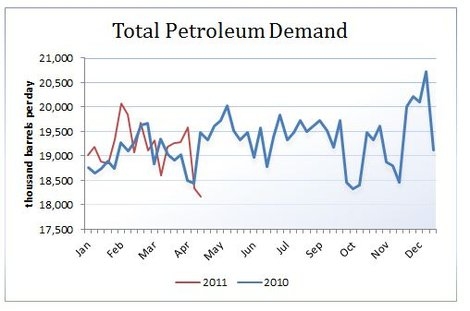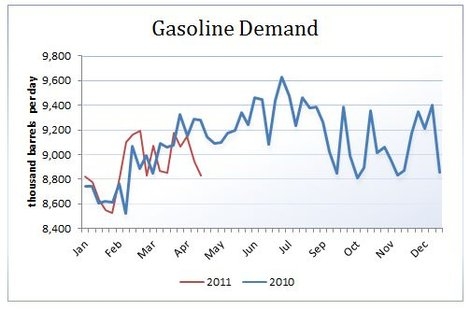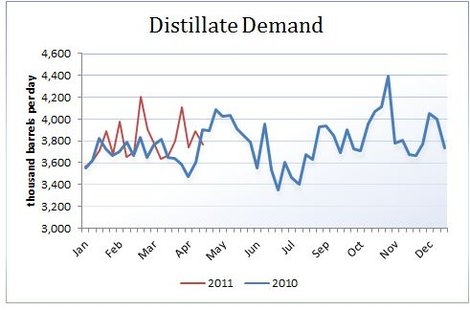 Crude Imports
Crude oil imports edged higher week-over-week. On a four-week rolling basis, imports dropped significantly, at 0.9 mmbbl/d year-over-year. Indeed, crude imports appear to be redirecting to destinations in greater need, such as Europe, where lost Libyan output has had the greatest impact.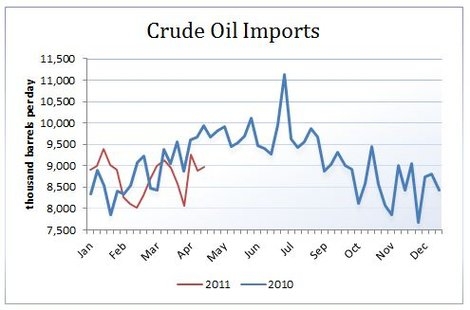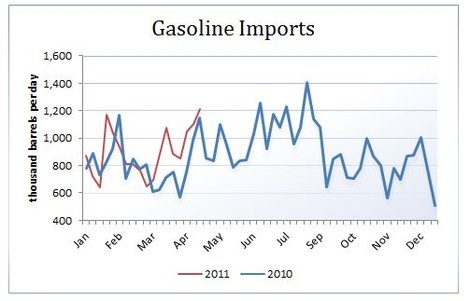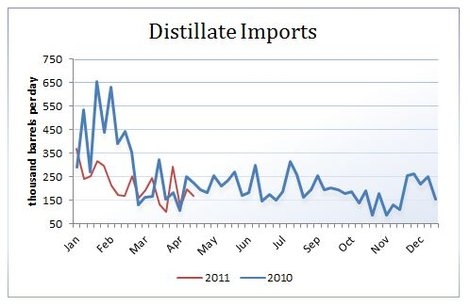 US Refinery Activity
Refinery utilization sagged slightly, down to 81.7 percent from 82.8 percent. That figure is well below last year's level and the five-year average, as weak demand prompts refineries to cut back production.
Nevertheless, there wasn't an immediate impact on gasoline and distillate production, which moved up to 8.9 mmbbl/d and down to 4.2 mmbbl/d, respectively.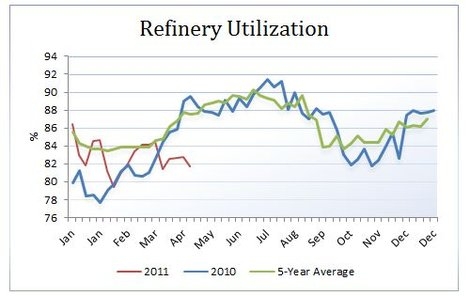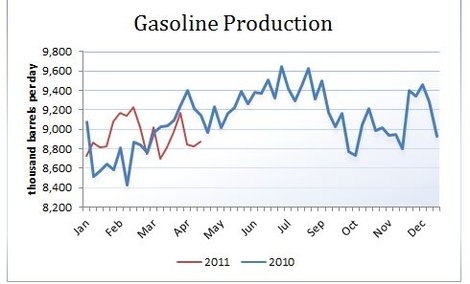 >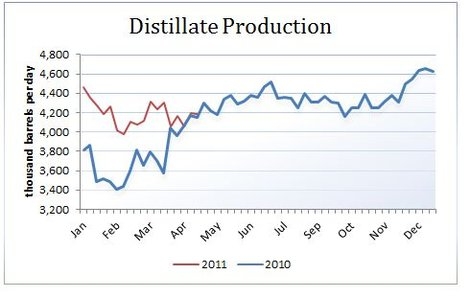 Miscellaneous
Last week, U.S. crude oil production was essentially unchanged, above 5.6 mmbbl/d. Production hovers near its highest levels since 2004, thanks to surging output in unconventional oil plays.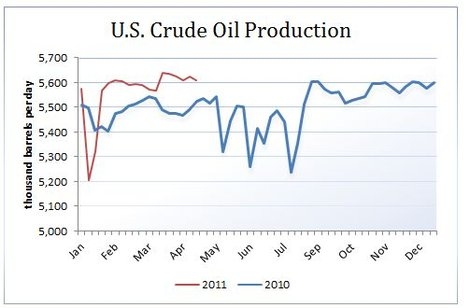 Inventories at the NYMEX delivery point in Cushing, Okla., rose by 0.1 million barrels to 41.6 million, or 76 percent of the EIA's estimate of capacity, while overall Midwest inventories were flat near 106 million barrels, or 92 percent of estimated storage capacity.
Front-month calendar spreads widened slightly week-over-week from -0.49 to -0.56. WTI's discount to Brent remains substantial, close to $14/barrel.