Nvidia (NVDA) reported a fabulous quarter after the close. Earnings were $0.27 versus $0.19 consensus, and revenues were $962.0 million versus $947.79 million consensus. Projections were better than expected.
The conference call was upbeat. Jen-Hsun Huang, Nvidia president and chief executive officer, said,
Our core GPU businesses are solid, with expanding revenues and margins. And this quarter, our Tegra mobile business took off. With the Tegra super chip and the Icera wireless communication processor, we will offer our customers the two most important processors of the mobile computing revolution. We look forward to completing the Icera acquisition shortly.
According to the management, Nvidia expects to further solidify its position in the Android tablet market with their next-generation project based tablets hitting consumer shelves later this year
Nvidia management further explained,
Our desktop and notebook GPU product lines exceeded internal expectations for Q1. In our desktop business we continue to be well-positioned in the performance and enthusiast categories and continue to see good momentum in China.
Nvidia appears to be holding well against graphics products from AMD.
Nvidia did a good job in its attempt to alleviate concerns regarding Sandy Bridge from Intel (INTC),
In the Street notebook GPUs we expect to increase share on the Sandy Bridge platform. We felt this growth as Sandy Bridge started to ramp in April. The Sandy Bridge transition is expected to reach the 75% crossover point exiting the second quarter and should drive another increase of both our revenue and share of the notebook GPU segment as a result.
Nvidia gave the impression that it is working closely with Microsoft (MSFT). Nvidia further expects the architecture from Arm Holdings (ARMH) to become dominant in consumer electronics.
Nvidia bulls have been widely predicting a run to $35 after the earnings.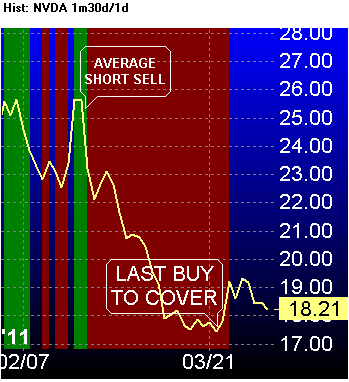 Such predictions have been the mainstay of the bulls' criticism of my writings on Nvidia on Seeking Alpha and here. The other arguments the bulls have used to heavily criticize my short-term trade on Nvidia are illustrated in the chart.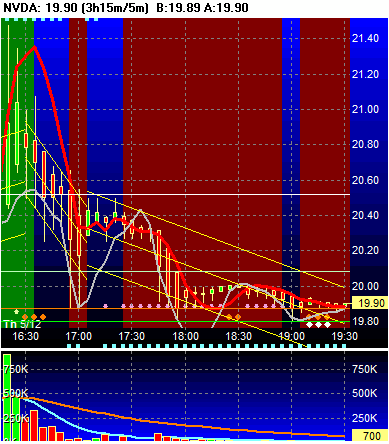 The market's reaction was evidenced by trading on heavy volume, as illustrated in the chart, and show that the smart money started selling heavily into the strength. Our computers were monitoring every tick of Nvidia trade on all venues and feeding the data into proprietary algorithms. These algorithms decipher actions of the smart money.
Bulls got great earnings, great projections, and a great conference call, but they could not even hold a slight up move in the stock as illustrated in the stock.
A simple question begs to be asked, "What does smart money know that is not known to the bulls?" The answer lies in my past writings on Nvidia on my blog and Seeking Alpha. My trade was done from cradle to grave in the public eye, and it is well documented that the trade tied up full capital for an average of 19 days and produced 443.86% annualized return.
First of all, the best criteria of measuring the success of an investment is annualized return and not how long it is held. In my upcoming book, I advocate diversification between very long-term, long-term, medium-term, and short-term trades as a new paradigm of reducing portfolio risk.
I am a proponent of long-term investing when there is reasonable clarity. Perhaps it is my background as an electrical engineer and an entrepreneur who founded two Inc. 500 companies that makes it obvious; Nvidia is in a "me too" business with no long-term sustainable edge. It is difficult for me to see anyone making a long-term investment in a company where the long-term is cloudy.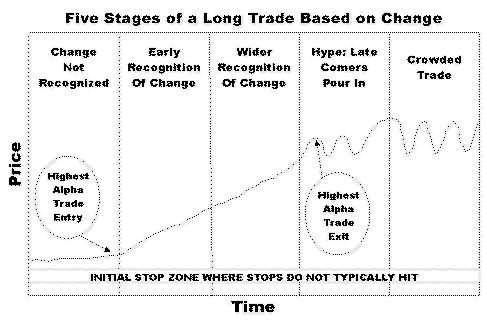 Second, the smart money not only understands, but profits from the basic concept behind the ZYX Change Method. The two diagrams illustrate the concept behind the ZYX Change Method. Nvidia is simply a crowded trade. In the absence of any new change, there is no logical impetus to move the stock higher.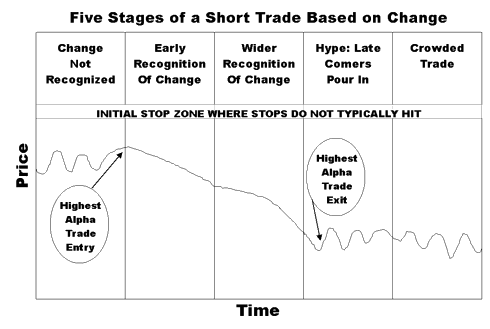 Based on the excitement of the bulls over these earnings, if the stock moves higher during the coming days, it will be a short.
In summary, Nvidia is a short on any significant bounce.
Disclosure:I plan to short sell NVDA when and if all six screens of the ZYX Change Method are satisfied. I will document any such trades on my blog in real time.