There were three important warning signals from yesterday's Weekly Petroleum Status Report from the US-EIA:
1. Crude oil demand is unseasonably low.
Crude oil inputs to refineries were only 14.1 mbpd, three weeks before the start of driving season. Refinery utilization was under 82%, unprecedented for this time in May.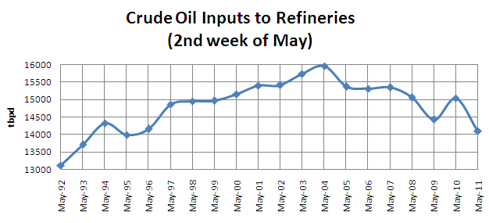 Crude oil demand was considerably weaker than at the same point in 2009, when we were still reeling from the economic crisis of 2008.
Since 2007, the last solid year of economic expansion, demand is down in all regions, but particularly so on the East Coast (PADD-1) where demand is 28 percent lower than it was in the last expansion year.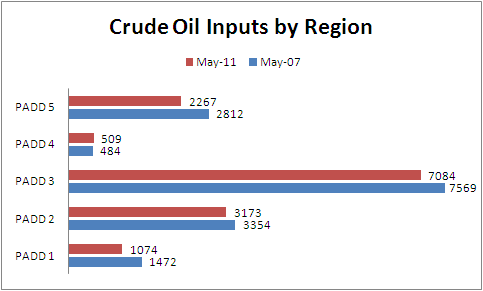 2. Demand for the finished products is still quite low.
Total products supplied for this time in May were lower than had been seen since 2009, and before then, not since 2001: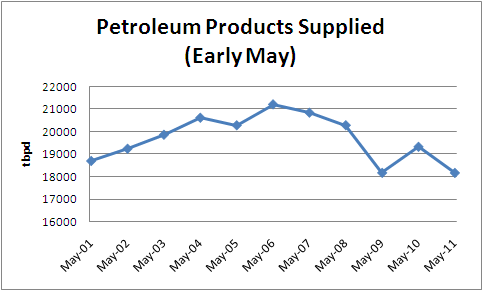 Jet fuel demand for this time of year is at a level not seen since 2003, and is down over 1/3 since its high at this time of year in 2006.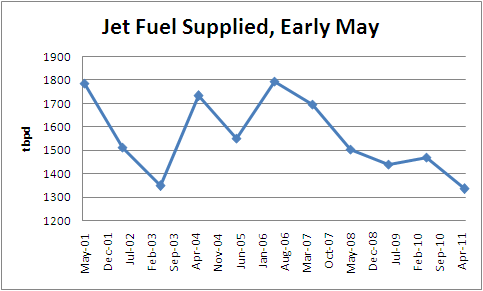 3. Prices are Above the Tripping Point
This is a surprise to no one, and it still remains to be seen what will happen after yesterday's unprecedented correction, but prices are still above the level that was experienced in the first quarter of 2008 when the recession started.
Here is the 20-day moving average ULSD front month contract, plotted against GDP growth. The last time this business-heavy energy price reached $3.25 per gallon, the economy started to contract, and did not recover for nearly a year.
Conclusions:
1. The economy is still very weak, and may already be contracting. Demand for crude oil and finished products are at decade lows.
2. The refiners have compensated for this by keeping their utilization low. This will mean that they won't be able to see the profitability that they saw in 2007, when both margins and utilization were temporarily high.
3. The consumers have coped with the high pricing by cutting back on consumption. Demand elasticity still exists in the energy industry.
Disclosure: I am long CLMT.