As the chart below demonstrates commodity prices are driven by different factors. The precious metals prices have been the hyperbolic driver of headline commodities news relative to the broader based commodities index and oil. The latter two are more geared to industrial use as gold's commercial use is limited.

The chart highlights the divergence in the components of the commodities index.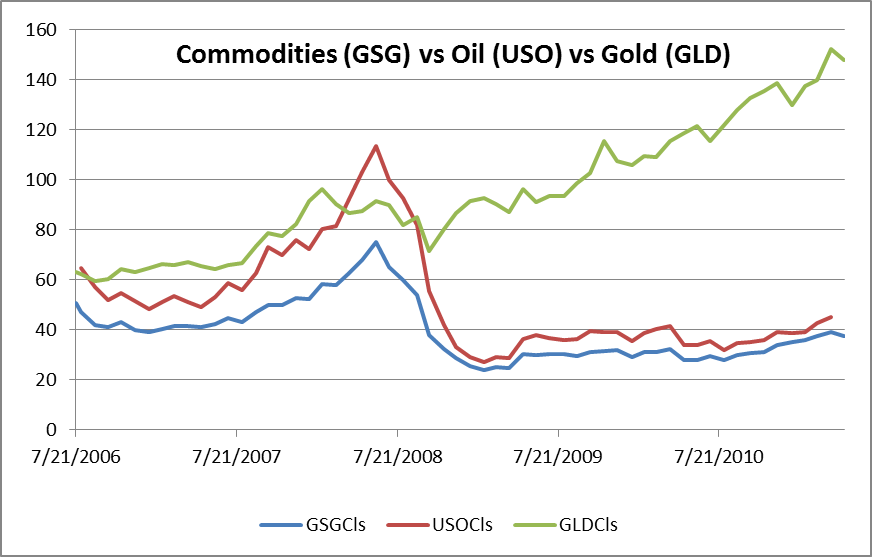 iShares S&P GSCI Commodity-Indexed Trust (NYSEARCA:GSG) tracks 24 different commodities including energy (67%), industrial metals (16%), livestock (7%) and precious metals (3%).

As the chart further demonstrates both GSG and the US Oil Fund ETF (NYSEARCA:USO) better reflect the prospects of economic growth.

Precious metals' price, as depicted here by the SPDRs Gold Fund ETF (NYSEARCA:GLD), reflects a different investor dynamic. It is the erosion of confidence in a country's economic policies and currency management. Precious metals' price advances were further driven by exponential price appreciation due to retail investors' buying into the price momentum. Other lesser fear-based commodities rode on the back of these precious metals' spectacular advances.
Global Economic Recovery Thesis: If and when the global economic recovery takes hold several things are likely to transpire. The first would be interest rates in the U.S. will likely rise making the U.S. dollar more attractive on a relative return basis to other currencies. This will have a moderating effect on the currency impact of commodity prices.

Secondly, a U.S based economic recovery will likely bring greater economic underpinning to the U.S. currency and provide a foundation for radical change in the U.S. tax system and deficit reduction policies - a very positive development.

Investment Implications: The implications are: General commodity prices, i.e., oil, will continue to rise along with global economic growth once the economic footing has been re-established and the speculative component of their prices has been "blown off."
However, there should be a continued paring of the prices of non-industrial precious metals such as gold as the fear of economic instability and price momentum recede. This would have negative implications for the price of gold and silver - the latter which has been collapsing for two weeks - and the price of treasuries, sans the fear trade.

Implications: ETFs that would benefit from this thesis are: "short" gold (NYSEARCA:GLL), "short" silver (NYSEARCA:ZSL), "short" U.S. treasuries (NYSEARCA:TBF), "long" the U.S. dollar (NYSEARCA:UUP) and "long" general commodities (GSG).
Disclosure: I am long ZSL, TBF, GSG.