Sometimes, as an investor, it makes sense to find the storyline and act accordingly. Long Sirius/XM (NASDAQ:SIRI). Short Research in Motion (RIMM). And, rain or shine, stay away from questionable Chinese stocks. For a time it appeared that Apple (OTC:APPL) owned the Internet/entertainment/gadget story. While it's not going anywhere anytime soon, Amazon presently dictates the narrative. And deservedly so.
If you are long Amazon (NASDAQ:AMZN), it's been another great week in terms of news as well as the chart. Several pieces of information from Amazon caught my eye this week.
Amazon appears that much closer to introducing an Android-based tablet that will remain distinct from Kindle. All signs point to the company getting on with the formality sooner rather than later. I bet it does it without the pomp and circumstance that usually accompanies a big Apple announcement. Just like it did when it beat the competition to the cloud and entered the online streaming wars.
comScore released numbers noting that Q1 online retail spending surpassed $38 billion. That's up 12 percent from the same quarter a year ago. The storyline here as it relates to Amazon: Lower prices than brick-and-mortar stores and more purchases per online customer drove the increase. Amazon owns both areas -- low prices and loyalty.
Amazon unveiled a new website, MYHABIT. I'm not much of a fashionista, but I get what Amazon's doing. It's bringing the model it uses for everything from books to diapers to the world of relatively high-end fashion. The site utilizes flash sales to bring "members" (all you need is an Amazon account to sign up) back again and again. Business Insider is so down on the move that its reporter had to say the same thing twice.
[Click all to enlarge]



Amazon's usual approach will work here. At the end of the day, Jeff Bezos has perfected the art of making people think they're getting something for nothing. He did it with "Free Shipping." You could always complete your checkout with $15 worth of merchandise and pay $3.99 in shipping for a grand total of $19.00, but you take the bait, add an item, and spend way more than you would have otherwise. He did it with the $114 Kindle as well, pitching it philanthropically as a way to ensure "that anyone who wants a Kindle can afford one." Drop $114, get blitzed with ads and Amazon's version of the daily deal, and you'll be in for the equivalent of a case of Kindles in no time.
With MYHABIT -- which looks nothing like Amazon.com, by the way -- it does not matter if Amazon sells Prada or Fruit of the Loom. Again, it's about fulfilling the American Dream, which, with homeownership out of the picture, amounts to (drum roll) getting something for nothing.
Bezos has not only mastered the arts of upselling and closing, but he must have a Masters in rhetoric as well. A couple weeks ago, Amazon filed its 2010 Letter to Shareholders with the SEC. It's worth a read. Awe-inspiring stuff. Here's a clip:
Random forests, naïve Bayesian estimators, RESTful services, gossip protocols, eventual consistency, data sharding, anti-entropy, Byzantine quorum, erasure coding, vector clocks … walk into certain Amazon meetings, and you may momentarily think you've stumbled into a computer science lecture.

Look inside a current textbook on software architecture, and you'll find few patterns that we don't apply at Amazon. We use high-performance transactions systems, complex rendering and object caching, workflow and queuing systems, business intelligence and data analytics, machine learning and pattern recognition, neural networks and probabilistic decision making, and a wide variety of other techniques. And while many of our systems are based on the latest in computer science research, this often hasn't been sufficient: our architects and engineers have had to advance research in directions that no academic had yet taken. Many of the problems we face have no textbook solutions, and so we -- happily -- invent new approaches.
Put it all together and you finally have a company that deserves a mention in the same breath as Apple. It's Amazon.com's time in the spotlight. I'm not sure if it's sharing it with Apple; instead, I think Amazon has stolen it from Apple.
Apple blows out earnings; the stock reacts feebly. If most other companies, including Apple, reported earnings like Amazon did a couple of weeks ago, investors would have punished it. Amazon, however, inspires confidence that the money it spends will translate into a stronger bottom line going forward. Plus, it doesn't take a computer scientist to determine that Amazon has more synergy between its multiple revenue streams than any company on earth. The way one Amazon business line supports others almost makes Apple's halo effect come off as weak in comparison.
Amazon's chart reflects the excitement investors have for its model. Apple's continues to waffle, still unable to breakout to new highs. (Charts courtesy of FreeStockCharts.com.)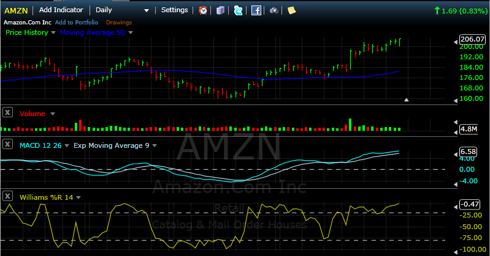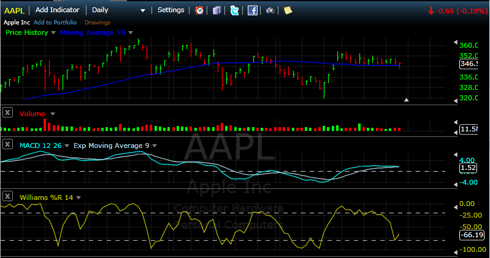 While I would not necessarily recommend going short AAPL, I don't think the stock will resume an uptrend until after options expiration at the end of next week. I don't think there's a theory -- maximum pain or otherwise -- that can knock AMZN down at the moment. Regardless of what the rest of the market has done on a given day, AMZN has trended up almost constantly for the last two weeks.
On April 8, I waxed bullishly on AMZN, suggesting that the May or June $190 calls presented a solid way to play the stock. After a short-term pullback, AMZN took off, putting both calls deep in the money. You can see price history in the May contract below. (Quote and chart courtesy of MarketWatch's BigCharts service.)



Amazon's story remains intact. Because I would not be shocked to see some near- to mid-term volatility or just a plain old pullback, I would stay away from near-dated options. Instead, look to around-the-money AMZN January 2013 LEAPS call options on weakness. While you don't typically hear about dollar-cost-averaging in association with options, I see no problem buying contracts several times over the next few months.
As of Thursday's close, the AMZN January 2013 $220 LEAPS call option trades for roughly $30.00. if you think AMZN will approach, reach, or surpass the contract's current breakeven point of $250 as we head into the second half of 2012, this play makes all the sense in the world.
I often suggest LEAPS options because (A) they require a fraction of the capital it takes to make an outright purchase of the underlying stock, and (B) they take much of the risk and complexity associated with options trading out of the picture, at least temporarily. For example, it takes much longer for time decay to become a factor in LEAPS options than it does in near-term contracts.
Disclosure: I have no positions in any stocks mentioned, and no plans to initiate any positions within the next 72 hours.
Additional disclosure: I may initiate a long or short position in AAPL, AMZN at any time. I am bullish long-term, however, on AAPL, AMZN.