In a recent Seeking Alpha article, I defended Wedbush Securities' analyst Michael Pachter against an all-too-common and essentially simplistic attack. Simply put, if you read what Rob Fagan and others write, you would think Pachter has had a sell rating on Netflix (NASDAQ:NFLX) since 1493. Because I am not perfect, I distorted Pachter's record a bit when I wrote the following:
Just because somebody like Pachter has been "wrong" doesn't mean that he is wrong. Investors must separate Pachter's (or Len Brecken's) argument from his prediction. The argument, while subject -- rightfully -- to scrutiny and debate, still holds. The prediction is little more than the conclusion people like Pachter logically draw from their arguments. One day, events might play out that prove Pachter and similar NFLX bears right; whether or not their predictions come true is another matter entirely. Throughout history, a handful of people warned others about the biggest frauds and improprieties of our time before they happened. It takes guts to stick to the story and your convictions when everybody's not-so-politely asking you to shut up.

While Fagan and others might find it fun to infer that people like Pachter are idiots, it's an intellectually lazy and disingenuous way to make your case.
I must admit to being a bit lazy. Much to my surprise, Pachter has not been "wrong" all along while waiting to be "right" on NFLX. I fell into a trap of relying on less-than-informative sources to provide information I should have sought on my own.
For the record, Pachter did not ask me to write this article. I am doing so because I want to. And because I think the guy deserves a fair shake.* Pachter simply emailed me two of his past reports on NFLX, noting that he has not always had a sell rating on the stock. Really, though, it's about more than one analyst. It's about an attempt to provide investors with more than drive-by reporting. Some, particularly bulls, argue that I write about NFLX so much because I want to take it down and profit. First of all, I have only been short the stock one time, via puts. And, second of all, I don't think I have power to take it down even if I wanted to. Truthfully, I think it's an interesting story and, based on the debate here and elsewhere, others feel the same way. There's nothing better than being even a small part of an interesting story.
I hope that by writing about this stock consistently, with a partial focus on analyst predictions regarding it, I can prompt investors to look beyond the information the "media" or the company chooses to present them. There's so much more to most stories than a headline. Implications exist for investors who read about somebody like Pachter's coverage without knowing the entire story. It's easier to react to a piece that infers Pachter, for example, has suggested sell since $3.00; it's tougher to consider an actual and complete body of work.
Pachater initiated coverage on NFLX with a sell rating in 2004 when the stock traded at $17. He maintained a sell rating on NFLX for three years. Pachter removed the sell rating in a research note, dated October 15, 2007.
Within five months, NFLX acheived and subsequently surpassed Pachter's $30 price target. Pachter tells me that he "flopped between BUY and HOLD for the next two and a half years" before slapping his now-infamous sell underperform
rating on the stock in research, dated April 9, 2010.
In reviewing Pachter's coverage of NFLX, I think it's important to note that he was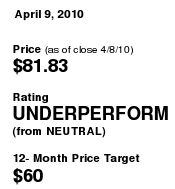 early with his upgrade of the stock several years ago. Fast forward to today and Pachter was clearly a bit early with his bearish view in 2010. As he said himself in a recent CNBC interview, his clients do not necessarily look to him for a buy or sell recommendation; instead they want his take on Netflix's fundamentals, particularly as they pertain to content acquistion costs. No other analyst on the street, with the exception of Len Brecken, has really laid out content costs vis-a-vis Netflix like Pachter has. And, as he told CNBC, nobody, not even NFLX bulls from Wall Street, have told him that he's wrong.
As I read through his research, I came to a conclusion that might just change the way I consume analyst coverage of stocks. Whether we want to admit it or not, as investors, a simple buy or sell rating along with a price target influences our decision-making process. We live in a world where headlines and short attention spans rule. That said, as with most other things, you can get more out of information if you ignore the headline and get to the meat. To that end, I no longer care much if an analyst says "buy or sell"; instead, I want his (hopefully) unique view of two things: technical aspects of the stock and sound analysis of a company's fundamentals. Depsite being "wrong" since $80, Pachter's insight on the latter has been quite strong.
Here's what he wrote in the 2007 note:
And in 2010:
We all know what happened to Movie Gallery (OTC:MVGRQ) and Blockbuster (OTC:BLOAQ). And, when nobody else was, Pachter was discussing something that television programmers have been confirming for us in recent weeks. I wrote about how CBS (NYSE:CBS), for example, could not stop gushing over how Netflix will bolster its multi-billion dollar bottom line beginning this quarter. Here's the relevant clip from CFO Joseph Ianniello CBS' quarterly conference call:
As an investor, you probably should look for the proof in the pudding, not the stuff the media decides to skim from the top. Also remember, Pachter never told anybody to sell the stock short as far as I know. He just said not to buy it. There's a big difference. Clearly you have missed out on potential profits if you listened to him and other bears, but, in this case, I think it's better that Pachter has, more than once, arrived on the scene early and honestly as opposed to never arriving at all.
I write this on a day when NFLX continues to display crazy momentum. Heading into Thursday's final hour of trading, NFLX is up over $4.00, trading at $244.79.
(Chart courtesy of Schwab's StreetSmart Edge)
There's no other way to slice it. That's a bullish chart. After forming a triple bottom, NFLX has bounced off of its 50-day moving average. If it can break through resistance and retest its 52-week high of $254.98, set on April 25th, things could get uglier for investors with short positions. That said, I think Pachter's foresight and the long-term bearish story remains intact.
Disclosure: I have no positions in any stocks mentioned, but may initiate a short position in NFLX over the next 72 hours. *For the record, I am actively attempting to secure interviews with NFLX bulls from the analyst community. I would like their opinion on the issues we discuss pursuant to my coverage of NFLX. As of this writing, all have declined or refused to respond.