If you trade a momentum strategy as I do, your discipline in selling winners will always be more important than how you take entries. Buying into a position is not difficult and pattern recognition is a skill which can be learned relatively quickly; it's just a matter of putting in the hours and having a decent eye. Most of the emotion you experience when trading does not take place when you buy a position; in most cases you are starting from a clean slate.
Far harder is understanding when to sell, not only because you are dealing with a whole different set of pattern recognition that is far harder to learn, but because of the huge emotional baggage that comes with your P&L for that position, your book as a whole, and your history with that position. Selling well is what separates good traders from great traders.
I want to take a few moments to talk about selling into strength when you have a big winning position on your books, and why you should love the fact that you will most likely never catch the top.
Let's walk through examples of four different positions that I have been in over the past few years that display exactly this characteristic.
[Click all to enlarge]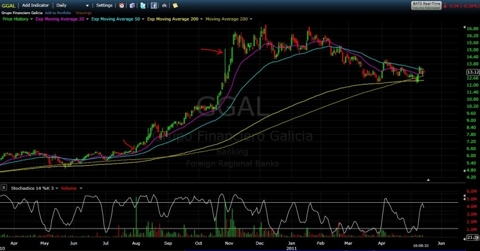 Grupo Financiero Galicia S.A. (NASDAQ:GGAL) was a perfect example of a blow off top that wasn't quite the top. The arrows on all of these charts indicate where I first entered and last exited; on most there was trading done in between.
The blow off top in GGAL was news driven, but it was a classic "throw in the towel" move by the shorts who were numerous in this stock at the time. With a very large position and unrealized profit at the time, I walked away satisfied that I had taken the lion's share of the gains out of this one.
But after regrouping, the stock moved yet higher. This will happen from time to time when your positions experience blow off tops; it should not be something that concerns you. You've got to be able to recognize a blow off top from any other regular move the stock may make northward.
These are examples of just that. GGAL has since made a few higher highs than where I sold it, but for the most part has been stagnant and will be for a while. It does not make sense to own these stocks for a good while after they experience these moves.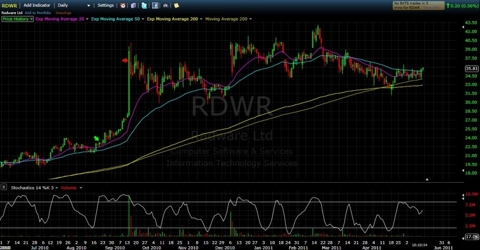 Radware (NASDAQ:RDWR) experienced this move based on a buyout rumor. I actually exited this stock during a live StockTwits TV show in the afternoon. I had zero clue what had just taken place fundamentally, but knew that it was time to take my chips off the table. RDWR has since made a higher high, but for the most part has stagnated and will for a while longer.
Selling into moves like that is never a bad idea; yes, the company is still a great company and yes, the stock may still move higher -- but your opportunity cost in owning it will kill your portfolio and tie up capital that can be better used elsewhere.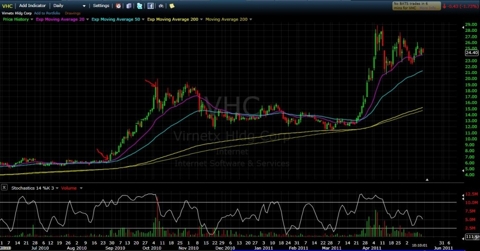 VirnetX (NYSEMKT:VHC) is one that experienced a class blow off top, and then got smashed a few weeks afterwards. Remember that even blow off tops can be a process -- another trip back to the highs is not abnormal -- but you need to keep your fingers off that trigger to reengage yourself in the position. VHC spent a lot of time consolidating back towards the 200-day moving average, at which time it broke its downtrend line and saw a large volume spike.
This is an example of a stock that you did want to reenter at that time. Take a few seconds to review how the VHC chart differs greatly in the months after the blow off top from the previous two. Notice also how GGAL may be setting up for a similar second move as VHC.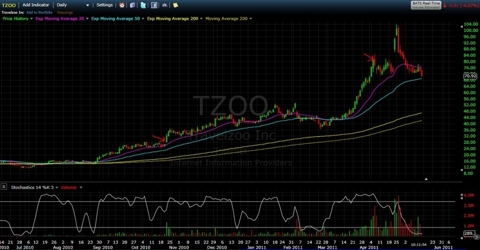 Lastly, Travelzoo (NASDAQ:TZOO). This is probably the best example of a blow off top that was greatly exceeded, but which is now showing its true stripes. That second red arrow shows where I said to sell your stake. The stock had churned at the top on high volume and then undercut the previous day's low -- a classic blow off top. But a few weeks later, TZOO earnings blew away the street and the stock surged once again. But it was already obvious that the big money had started selling into this name. If you hung on for that last bit, congratulations, but my best judgment says that if you were involved then, you're probably still involved now and have given it all back.
The easy money had already been made before the announcement, and your tape-reading skills should have gotten you out of this one. Yes, it went higher, but the odds were that the trend would not continue. Although I like the company a lot, this is a stock that you are not going to want to get involved with for a while now. There is a real mess up there regarding who owns what and at what price; the stock won't chew through it easily.
I hope these examples of how I exited these positions are useful. Remember, the point is not to catch the top, it is to take the lion's share of the gains out of the middle and redistribute capital to better opportunities. This isn't a competition to see who can make the most on one position; it is a game of managing risk and allocating capital to places where your odds for success are the best.
Disclosure: None