Portland General Electric (POR) is a $1.63 billion market cap company. POR operates as an integrated electric utility in Oregon. The company engages in the generation, purchase, transmission, distribution, and retail sale of electricity. Its generating portfolio consists of thermal, hydro, and wind resources. On May 11, the board of directors of POR declared a 2 percent increase in its quarterly common stock dividend, bringing the dividend to $0.265 per share, up from last quarter's $0.26 per share. The dividend is payable on or before July 15, 2011 to shareholders of record at the close of business on June 24, 2011 (you will need to buy it by June 22 to receive dividend). Jim Piro, president and CEO had this to say in the press release:
We are pleased to provide this dividend increase reflecting the strong operational performance and prudent financial management of our company. Our strategy to make long-term investments in our core business allows us to meet the energy needs of our customers while delivering a competitive return for shareholders.
POR recently held a conference call and here are some excerpts I believe are important from Piro:
Increased guidance primarily reflects improved hydro conditions and lower purchase power costs. Now let's move on to the economic outlook for our operating areas. We continued to experienced customer growth with the addition of 3,800 new customers since the first quarter of 2010. Oregon seasonally adjusted unemployment rate declined in March to 10% for the state and 9.6% for the Portland metro area. This compares to the U.S. average of 8.8% in March.
[Click all to enlarge]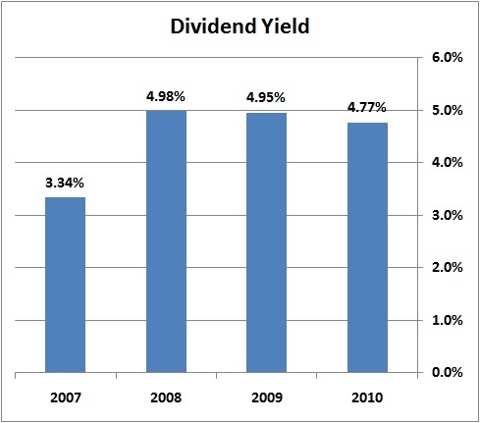 The company was founded in 1930 and is headquartered in Portland, Oregon. POR reported $0.92 per share in earnings for the quarter ending March 31. The next reporting quarter estimated mean earnings are $0.32 per share. Analyst estimates range between $0.25 and $0.37 per share. The current trailing 12 months (ttm) P/E ratio is 11.404 and the forward P/E ratio is 13.46. POR has a price to book ratio (ttm) of 1.03 and a price to sales ratio of 0.92. The annual growth rate of the revenue is flat at a rate of -0.0116%. The current dividend as a percentage of the trailing 12 months income is 0.6235% (see graph below).
POR is doing a good job managing accounts receivable as well. The last fiscal year had accounts receivable to sales percentage of 0.129% compared to the same period a year earlier of 0.1408%. For the trailing 12 months, investors received $1.03 for a yield of 0.0477%. Based on the current price at the time of this writing and the current increased payout of $0.265, POR now has a yield of 4.17%. Like all my swing to longer term trades, the last thing I think is important to look at is what options have the highest volume and offer the best opportunity.
If everything else matches up as needed, one way to get long this stock is to short put options expiring in June at a strike price of $22.50, for a price of $0.25 or better. Otherwise, option volume with POR is low, so a simple buy of the stock may be the best way to enter for most people.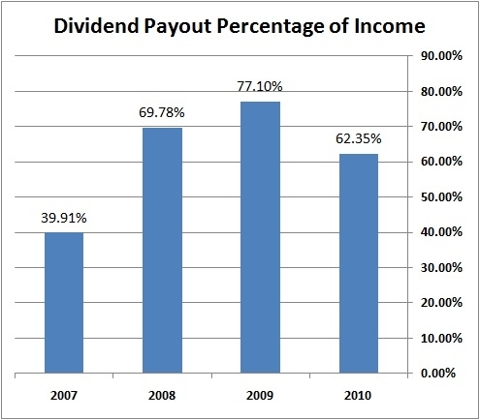 Beyond the aforementioned numbers, which look good, investors should consider other key figures. POR has rising revenue year-over-year (yoy) of $1.78 billion for 2010 vs. $1.8 billion for 2009. Additionally, a couple of bottom line number trends that give the impression of management executing the business plan very well. POR bottom line has rising earnings year-over-year (yoy) of $125 million for 2010 vs. $95 million for 2009, and rising EBIT year-over-year (yoy) of $267 million for 2010 vs. $208 million for 2009.
I use a proprietary blend of technical analysis, financial crowd behavior, and fundamentals in my short-term trades, and while not totally the same in longer swing trades to investments, the concepts used are similar. Based on my criteria, I have come to the following conclusion: I will be looking for an ideal entry price to either write put options or buy the stock. Of course that in itself does not mean you should, but you may want to use this article as a starting point of your own research with your financial planner. I use Seeking Alpha, Edgar Online, Goggle Finance, MSN Money, cnbc.com, Zacks and Yahoo Finance for most of my data and may or may not double check it with the SEC filings.
Disclosure: I have no positions in any stocks mentioned, but may initiate a long position in POR over the next 72 hours.