AmerisourceBergen (ABC), an $8.65 billion market cap company, is a pharmaceutical services company that provides drug distribution and related services to healthcare providers and pharmaceutical manufacturers in the United States, the United Kingdom, and Canada. The company distributes brand-name and generic pharmaceuticals, over-the-counter healthcare products, home healthcare supplies and equipment, and related services to various healthcare providers, including acute care hospitals and health systems, independent and chain retail pharmacies, mail order pharmacies, medical and dialysis clinics, physicians, and long-term care and other alternate site pharmacies.
ABC today increased its quarterly dividend rate 15 percent to $0.115 per common share from $0.10 per common share. R. David Yost, ABC's CEO, stated: "We are pleased to increase our dividend for the second time this fiscal year, demonstrating our continued confidence in delivering long-term shareholder value."
The quarterly dividend of $0.115 per common share will be payable June 6, 2011, to stockholders of record at the close of business on May 24, 2011.
[Click all to enlarge]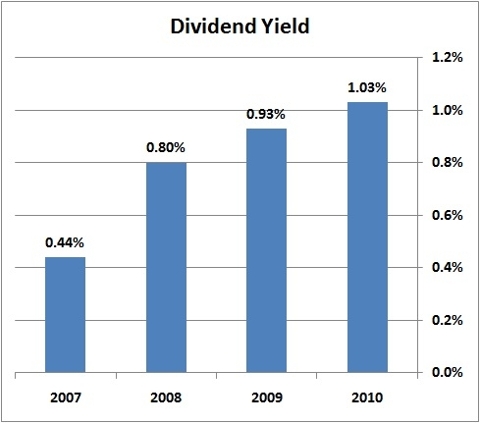 Click to enlarge
AmerisourceBergen was founded in 1985 and is headquartered in Valley Forge, Pennsylvania. ABC reported $0.78 per share in earnings for the quarter ending March 31. The next reporting quarter estimated mean earnings are $0.59 per share. Analyst estimates range between $0.54 and $0.63 per share. The current trailing 12 months (ttm) P/E ratio is 17.61 and the forward P/E ratio is 15.21. ABC has a price to book ratio (ttm) of 2.98 and a price to sales ratio of 0.11. The annual growth rate of the revenue is flat at a rate of 0.0863%. The current dividend as a percentage of the trailing twelve months income is 0.1421% (see graph below).
ABC is doing a good job managing accounts receivable as well. The last fiscal year had accounts receivable to sales percentage of 0.0491% compared to the same period a year earlier of 0.0546%. For the trailing 12 months, investors received $0.32 for a yield of 0.0103%. Based on the current price at the time of this writing and the current increased payout of $0.115, ABC now has a yield of 1.08%.
Like all my swing to longer term trades, the last thing I think is important to look at is what options have the highest volume and offer the best opportunity. If everything else matches up as needed, I will be looking to short put options expiring in June at a strike price of $40, for a price of $0.45 or better.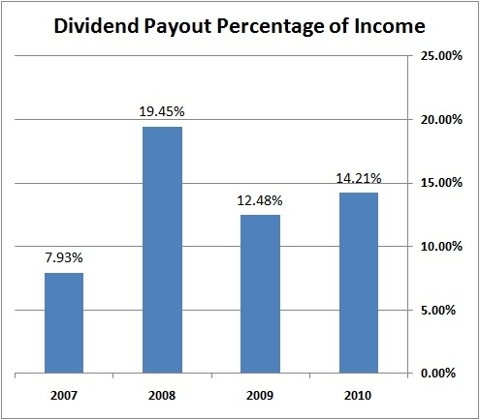 Click to enlarge

Beyond the aforementioned numbers, which look good, investors should consider other key figures. ABC has rising revenue year-over-year (yoy) of $77.95 billion for 2010 vs. $71.76 billion for 2009. Additionally, there are a couple of bottom line number trends that give the impression of management executing the business plan very well. ABC bottom line has rising earnings year-over-year (yoy) of $636.75 million for 2010 vs. $503.4 million for 2009, and rising EBIT year-over-year (yoy) of $1.1 billion for 2010 vs. $883.75 million for 2009.
I use a proprietary blend of technical analysis, financial crowd behavior, and fundamentals in my short-term trades, and while not totally the same in longer swing trades to investments, the concepts used are similar. Based on my criteria, I have come to the following conclusion: I will be looking for an ideal entry price to either write put options or buy the stock. Of course, that in itself does not mean you should, but you may want to use this article as a starting point of your own research with your financial planner. I use Seeking Alpha, Edgar Online, Goggle Finance, MSN Money, cnbc.com, Zacks and Yahoo Finance for most of my data and may or may not double check it with the SEC filings.
Disclosure: I have no positions in any stocks mentioned, but may initiate a long position in ABC over the next 72 hours.