After securing new contracts with three group purchasing organizations (GPOs) in the first quarter of 2011, shares of physical-therapy capital equipment maker Dynatronics Corp. (NASDAQ:DYNT) have nearly tripled. However, the stock still remains undervalued at current levels. Trading for less than 1X trailing 12-month revenues, we believe Dynatronics shares should trend toward $3-$4 by late this year or early next, as new investors discover the potential for the company to grow its earnings 100% over the next two years.
In the near-term, it will take a few months for Dynatronics to ramp up production for these new GPO contracts, so investors should expect to see one more "in the trough" quarter before sales and earnings begin to meaningfully accelerate. With Q3 earnings due to be released on Monday, May 16th, the stage has been set for some near-term profit-taking. Should shares sell-off after this report, we plan on aggressively adding to our current position. Let's discuss why.
GPOs represent the biggest source of revenue potential for a company like Dynatronics. Because they act as a conduit between large hospitals/universities and physical-therapy capital equipment suppliers, GPOs wield tremendous influence, sourcing out nearly $350M in physical-therapy equipment sales each year. For years, Dynatronics was unable to crack into the GPO market. However, after increasing its sales force and building up the necessary infrastructure, Dynatronics has recently become eligible and the contracts have begun to roll in. In our view, Dynatronics' is currently at a new inflection point in its business. The company's CEO agrees with us:
"The addition of these three GPO contracts provides an opportunity for significant incremental business to the company over the next twelve months and beyond," stated Kelvyn H. Cullimore Jr., chairman and president of Dynatronics. "We are anxious to begin working with these potential new customers and introducing them to the Dynatronics brand of products."
Although it will take one more quarter before Dynatronics sees revenues begin to ramp, we feel confident the company will be able to snare market share from its main competitor, Sammons Preston. Dynatronics has two distinct advantages over Sammons. First off, Dynatronics manufactures its own products, resulting in a lean manufacturing capacity that allows DYNT to sell its products 8% cheaper than Sammons Preston. This should resonate well with new customers. According to management, Dynatronics also sells a wider selection of physical-therapy products, some of which are sold only by them. This should also help the company garner additional new clients from the new GPO base.
With only 13.5M shares outstanding, incremental revenues from these GPO contracts will be highly accretive to Dynatronics earnings. Over the past two years the company has managed to remain profitable on a flat revenue base. Looking ahead, we see revenues moving into the $36-$37M range in its upcoming fiscal year ending June 30, 2012. Because the new revenue stream from the GPO contracts carry higher margins (50% for capital equipment as opposed to the high 30 percentile range on supplies), the incremental $3.5-$4.5M in revenues will flow directly to the bottom line. Do the math. This means every $500K in add-on revenues should result in a penny a share in incremental earnings. Said another way, Dynatronics should see earnings grow to $0.10-$.011 in its upcoming fiscal year, representing a 150% earnings growth rate year-over-year.
10-Year Monthly Chart
Click to enlarge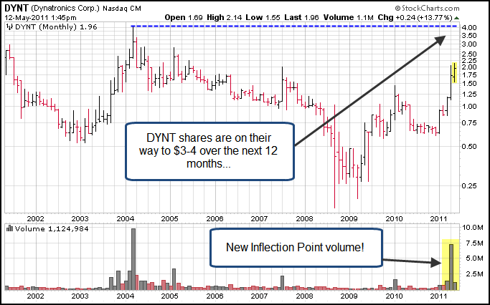 Source: StockCharts.com
The good news does not end there. We see three additional catalysts for shares in the latter half of this year and early next. The largest GPO is up for a contract renewal with Sammons Preston in early 2012. With the other GPOs signing Dynatronics onto their platforms, odds are very high it will want to offer Dynatronics' products to their members as well. Should DYNT secure this GPO win, it would serve as a major source of additional revenue and earnings power during its June 2013 fiscal year. We believe the chances of this scenario are high and are therefore factoring that revenues will rise another 15%-20% and earnings another 100% to $0.20-$0.23 for FY 2013. Should we be wrong, we still see sales rising 10%-12% and earnings rising to $0.16-$0.18 cents for the year.
Over the past few quarters management has been investing heavily in R&D. Expect these investments to bear fruit, producing new products early next year. These new products should allow the company to gain further market share within the GPO market. The company has already introduced a new software product called Stream. We like Stream's potential. Because it is an SAAS offering, created by another company, Dynatronics could see a nice boost to profitability if this product were to be embraced by its clients.
Taken as a whole, Dynatronics' future looks quite bright. After languishing for years, the company is at a new inflection point and ready to hit its stride. Buy any dips to $1.70-$1.80 next week. We will be right there, doing the same.
Disclosure: I am long DYNT.