You can't manage your way out of bad economics. The truly brilliant management team knows this and will work to change the economics of the business first. ~Warren Buffett
It's tough to be in a brick-and-mortar bookselling business now-a-days. While internet book sales have been slowly eroding market share of these companies since the late '90s, the advent of Kindle and other e-readers perhaps was the last straw that broke the camel's back. Two of the largest "old economy" book retailers have been struggling for years. Borders (OTC:BGPIQ) filed for bankruptcy protection this February. Barnes and Noble (NYSE:BKS) unsuccessfully put itself up for sale last year and is expected to lose money through next year.
In contrast, Books-A-Million (NASDAQ:BAMM), a distant third book retailer operating mostly in the South and southeastern states, stayed consistently profitable. Sales, however, have been slowly declining the last three years, and the future of old-fashion book-selling does not look promising.
Can the Books-A-Million management find its way out of the bad economics of declining book sales? How much can the company benefit from the struggles of its two larger competitors? Can its business model be adjusted to reverse the revenue decline?
Chart 1: BAMM stock performance - (click charts to enlarge):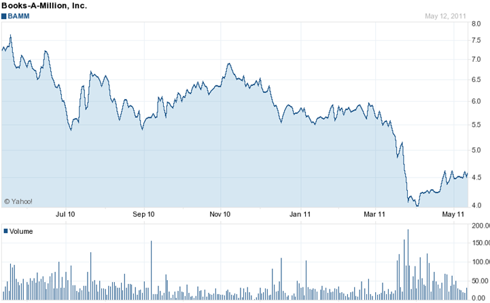 Business:
Books-A-Million operates 201 "super-stores" (ranging from 8,000 to 39,000 sq. ft.) and 30 traditional book stores (2,000 to 7,000 sq. ft.) in the southeastern United States. In fiscal 2011, BAMM opened eleven new stores and closed two.
Table 1: Top 80% of BAMM stores by state (source: BAMM 2011 10K, Wall Street Journal):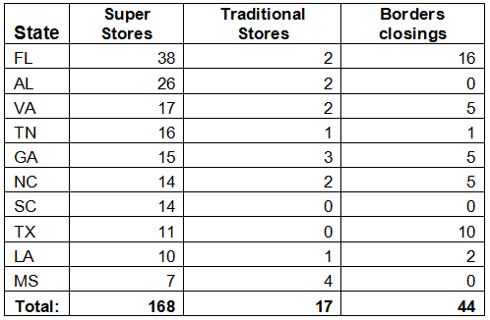 BAMM revenue from book sales has steadily declined to 77.9% last year while music, DVDs, and e-Books reported as "other products" and gifts cards, collectibles, and toys (reported as "General Merchandise") have picked up the slack. The company has its own Café chain, "Joe Mugs," and seems to be planning on opening yogurt stores in some of its locations (more on this later). BAMM also has a small Web-based store that sells regular merchandise and e-books for Nook readers. The e-commerce segment contributes just over 5% of its revenue ($26.2M) but is growing almost 10% YOY.
Table 2: Reportable segments (Source: BAMM 2011 10K):

It's rather obvious that books are not selling well: their share is steadily diminishing in favor of gift cards, DVDs, toys, etc. I am actually pleased to see that the company is open-minded about replacing books with other items that sell better.
As we can see from operational statistics in Table 3, BAMM managed to keep its gross margins steady.
Table 3: Operations statistics (Source: BAMM 2001 10K and author's calculations):


However, the real story here is declining revenues per store that compresses operating margins, as the company still has high overhead in rent and salaries (SG&A). In fact, the overall revenue declined even while the company was increasing store count.

Competition:
In contrast to BAMM's opening new stores, its two main "brick-and-mortar" competitors, Borders and Barnes and Noble, are closing theirs.

However, one should not overestimate the impact of 200 stores being closed by Borders as part of its restructuring. Due to a low geographical overlap, only stores in Florida, and Texas, may moderately benefit from Border's store closings (only 44 out of 200 in states with heavy Books-A-Million presence).

Chart 1: BAMM and Borders closings: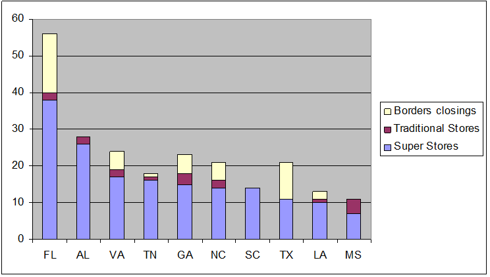 Barnes and Noble is also closing some stores (the store count fell from 726 in 2009 to 720 in 2010). It closed two stores in Florida, and one store in Alabama, last year.
Two other marginal competitors, Wal-Mart (NYSE:WMT) and Costco (NASDAQ:COST), sell best-sellers and are probably still expanding.
I can conclude that competition is not very fierce for the "shrinking pie" of brick-and-mortar book sales. BAMM's decision to keep adding new stores may eventually bear fruit.

Customers:
I used Yelp to see what customers think about Books-A-Million. Overall, the customers really like the large book selection in superstores and rate its stores slightly abovey Barnes and Noble. They often come to read and relax, and walk out with a few "unplanned" purchases. On the flip side, many customers are annoyed by hard-sell tactics to convince customers to purchase store membership cards.
Overall, I concluded that the customer base is reasonably loyal and at least somewhat sticky.
Employees:
It would be an understatement to say that employee morale is low. Glassdoor.com, a job review site, gave BAMM's CEO Clyde Anderson a 12% positive rating in an anonymous employee survey. This is not only considerably lower than the ratings for Borders and Barnes and Noble CEOs but also one of the lowest ratings overall for any company!

The most common complaint of employees is an immense pressure to force-sell "Millionaire's Club" membership cards, which entitle customers to various discounts (poor store management and a lack of career opportunities are other common complains).
I am concerned that unhappy employees will pass their dissatisfaction on to their customers. Good customer service is one of the few remaining reasons to buy books in a store!

On Books and Yogurt:
Books-A-Million made a somewhat unusual investment last year. It bought a 40% interest in a start-up franchise, Yogurt Mountain, for $3 million and also committed to provide a $1.5 million credit line. Not unexpectedly, another 40% of the company is owned by Anderson Private Capital Partners LP (name matching BAMM CEO is not likely a mere coincidence.) Since the company is allowed to use an "equity method" for valuing its minority stake, we learn very little about assets and revenue of its subsidiary.
I contacted BAMM's investor relations to better understand the purpose of this unusual project (perhaps books and yogurt go well together), but have yet to hear back.

Management:
Books-A-Million is still very much a family business. The company was founded in 1919 by Clyde W. Anderson and has been in family hands ever since. Today, the Anderson family is still firmly in control with its 54% stake. Clyde B. Anderson is the CEO and the Chairman and Terry B. Anderson is a board member.
Clyde Anderson, who has been on the board since 1987, stepped into the CEO role (his second CEO stint after 1992-2004) in March 2009, when Sandra B. Cochran resigned to accept a position with Cracker Barrel Old Country Store. BAMM stock rallied 73% in just one week on the news of his appointment (from 2.57 on March 13, to 4.43 on March 20).

However, BAMM employees are much less enthusiastic about their CEO. The management also comes under scrutiny for a large number of "related party transactions." BAMM buys large parts of inventory from several suppliers controlled by the Anderson family: $19.1M from Anderson Media (mostly music and newspapers), $1.7M from Anderson Press, and $3.3m from Anco Far East in fiscal 2011. BAMM also leases some corporate properties from the Anderson Family trust (less than $1M a year). While BAMM does not disclose enough information to determine whether these supplier prices are competitive, the total amount represents less than 5% of BAMM's 2011 revenue.

Valuation:
BAMM valuation is incredibly cheap by any valuation metrics. While the company does not provide forward guidance and has a no sell-side analyst coverage, it is trading at 61% of its book value, 2.09 of EBITDA, and 7.54 of its free cash flow (author's calculations). The company paid down its long-term debt and keeps $7.8M of cash on its Balance Sheet, and has been paying a steady 5c dividend (~1%) every quarter.
If one were to ignore bad book-seller economics and some issues raised in this article, Books-A-Million would be a screaming buy.
I could also speculate that some of the recent sharp fall in the stock's price was a "sympathy move," as the stocks of its main competitors Borders and Barnes and Noble were beset by much more serious problems:

Chart 3: Books-A-Million vs. Barnes and Noble: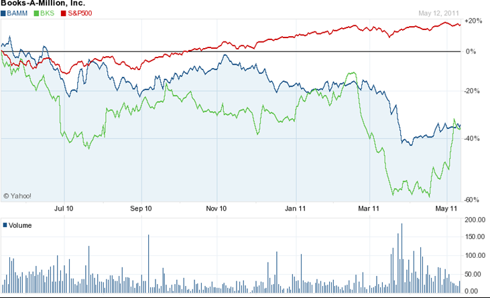 It seems that at least some of the heavy volume selling of BAMM stock was preceded by a precipitous fall of BKS.

Conclusion:

Books-A-Million is engaged in a declining business. Its two main rivals, Barnes and Noble and Borders, struggle even more, so a good manager may find a way to exploit the situation. While I give the benefit of the doubt to BAMM's management decision to increase the store count, I am much less comfortable with its investment in a seemingly-unrelated yogurt franchise. I am much less concerned about "related party transactions" and the 54% family control of the business – these are just the "facts of life" for many small "family-run" companies.

I felt very conflicted about buying Books-A-Million stock, but in the end decided I may take a chance. On the one hand, the company has a "fortress" Balance Sheet, great cash flow, and rewards its investors with a steady dividend. On the other hand, I feel that the tough business environment of old fashion book-selling requires a truly brilliant CEO to turn things around.
BAMM to me is still a buy but caveat emptor!
Disclosure: I have no positions in any stocks mentioned, but may initiate a long position in BAMM over the next 72 hours.