By Sumit Roy
Another week of significant volatility in commodity markets led to more investor skittishness, as $2.1 billion of capital flowed out of commodity-related exchange-traded products. Total assets in such products fell by an even more significant $4.6 billion, due to capital depreciation.
Over the past two weeks, outflows in commodity ETPs have totaled $5.4 billion, while assets have declined by a stunning $19.6 billion on the back of plunging commodity prices.
Sector performance, unsurprisingly, was rather one-sided. Four of the five sectors saw net outflows, with precious metals in the lead. Outflows from ETPs related to gold, silver, platinum and palladium totaled $1.4 billion. Broad market (multicommodity), energy and industrial metals followed with $508 million, $431 million and $89 million in outflows, respectively.
Bucking the trend, however, was the agriculture sector, which saw a notable $315 in inflows. Interestingly, a single fund was responsible for much of those strong inflows: the Market Vectors Agribusiness ETF (NYSEARCA:MOO), which received $534 million of capital in the latest week. The fund, which tracks global agriculture stocks, benefited from investors seeking exposure to the bull market in food prices without direct exposure to volatile commodity prices.
The next four ETPs on the list suggest that many traders are attempting to time the bottom in commodity prices. The United States Oil Fund (NYSEARCA:USO), iShares Silver Trust (NYSEARCA:SLV), Direxion Daily Energy Bull 3x Shares (NYSEARCA:ERX) and ProShares Ultra DJ-UBS Crude Oil (NYSEARCA:UCO) received inflows of $424 million, $283 million, $163 million and $122 million, respectively. Thus, while commodity-related ETPs in aggregate saw outflows last week, many traders out there were instead actively buying the dips. And those traders were particularly interested in crude oil and silver — two of the worst-hit commodities.
Turning to the week's outflow leaders, for a second week in a row, the SPDR Gold Trust (NYSEARCA:GLD) saw significant withdrawals, with investors removing $1.3 billion from the fund. The divergence in performance between GLD and SLV is curious, and it suggests that at least some investors continue to see silver as a relative bargain compared to gold, even after its outsized decline.
Meanwhile, the Energy Select SPDR ETF (NYSEARCA:XLE) continued to hemorrhage assets. Outflows from the fund totaled $615 million, bringing the six-week toll to over $2.5 billion.
The SPDR S&P Metals and Mining ETF (NYSEARCA:XME), PowerShares DB Agriculture Fund (NYSEARCA:DBA) and PowerShares DB Commodity Index Tracking Fund (NYSEARCA:DBC) rounded out the week's top five losers, with outflows of $206 million, $190 million and $156 million, respectively. The performance of futures-based DBA, in particular, contrasts unfavorably with that of the aforementioned MOO.
Shifting gears to price performance, finally we get a week in which silver funds did not dominate. In fact, only a single precious-metals-related fund appears in the top-and bottom-performers lists.
Instead, we see the iPath Dow Jones-UBS Sugar Subindex Total Return (NYSEARCA:SGG) taking the top spot, with a 4.17 percent advance, as a drop in Brazil's sugar production boosted prices. The United States Brent Oil Fund (NYSEARCA:BNO) was No.2 with a 3.08 percent increase, followed by the UBS E-TRACS CMCI Energy Total Return ETN (NYSEARCA:UBN), Guggenheim Solar ETF (NYSEARCA:TAN) and RBS Gold Trendpilot ETN (NYSEARCA:TBAR), with gains of 2.64 percent, 2.5 percent and 2.49 percent, respectively.
On the flip side, the iPath Pure Beta Broad Commodity ETN (NYSEARCA:BCM) led price decliners with a 7.93 percent loss. Two natural gas funds, the iPath Dow Jones-UBS Natural Gas Subindex Total Return (NYSEARCA:GAZ) and the Teucrium Natural Gas Fund (NYSEARCA:NAGS), came in second and third, respectively, with declines of 7.68 percent and 7.01 percent. Finally, close behind were the iPath Pure Beta S&P GSCI-Weighted ETN (NYSEARCA:SBV), which shed 6.92 percent, and the iPath Pure Beta Lead ETN (NYSEARCA:LEDD), which fell 6.51 percent.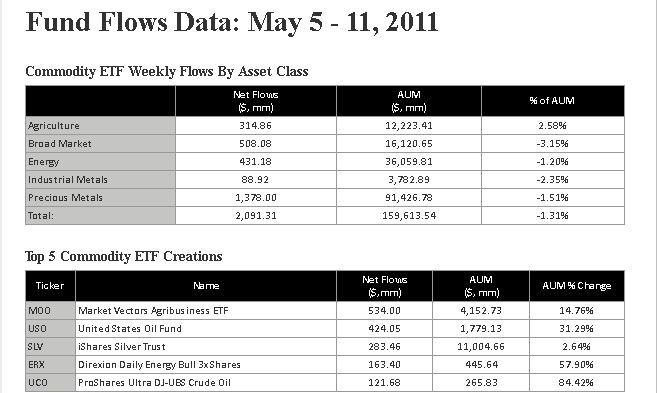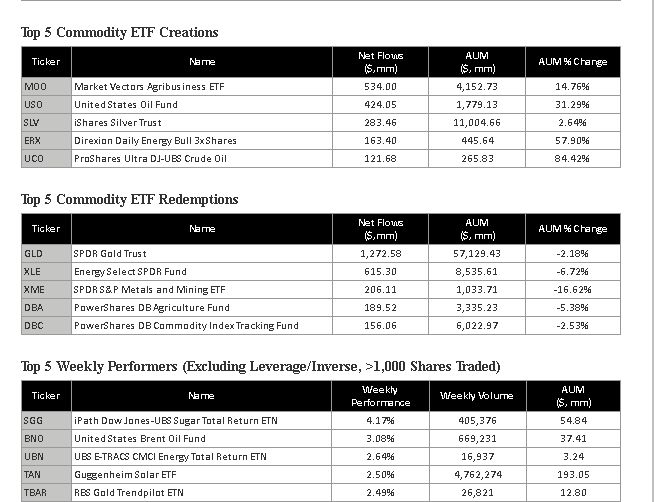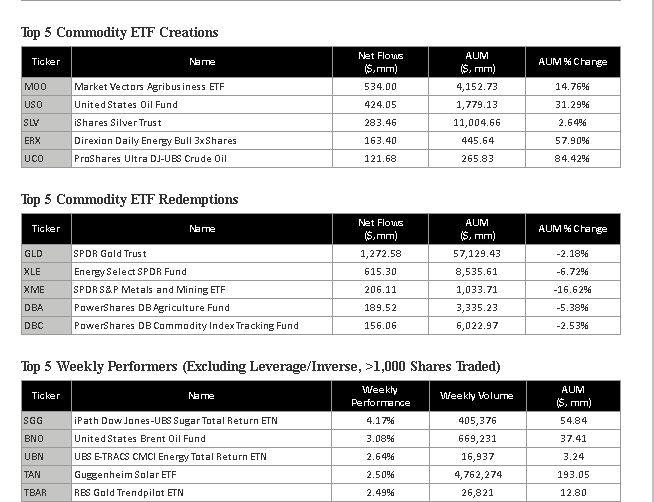 Disclaimer: Data provided by IndexUniverse. All data as of 6 a.m. Eastern the date of publication. Data is believed to be accurate; however, transient market data is often subject to subsequent revision and correction by the exchanges.