In addition to my own scans and watch lists, I use two main sources to follow options-related news: Daily Seeking Alpha columns by Frederic Ruffy and Andrew Wilkinson. While I get great use out of these sources and have even made money thanks to them, you have to be careful not to chase the stocks or options they mention. Often, by the time you receive an alert or summary, contracts have already had too much volatility and upside priced into the premium. Nevertheless, occasionally, you can find examples to capitalize on. Below I detail options brought to my attention by these sources and how investors might consider playing them - or the underlying security - if at all, during the trading week.

This week's recap and analysis includes contributions from two other sources of options information: Frequent Seeking Alpha contributor optionMONSTER and Briefing.com's InPlay service. Both provide alerts on notable options activity throughout the day.

Because my coverage spans most of Friday's trading day, including early in the session, some information may change. As with all of my articles, use my suggestions and analysis as the impetus for future research.

The first several stocks come from stories posted at optionMONSTER's website. You may need to sign up for a free subscription to view the source articles.

Liz Claiborne (LIZ): optionMONSTER notes the initiation of a short straddle by one options trader. The trade involved the sale of 5,000 LIZ July $7 calls as well as the sale of an equal number of LIZ July $7 puts. By going short on both ends of the position, the trader receives a net credit to his/her account of $1.35 per contract. That comes out to $675,000, excluding transaction fees. As optionMONSTER explains, the trader should keep the entire amount if LIZ closes at $7 come options expiration day in July.

At the same time as being a bullish bet, this straddle play also anticipates less-than-exciting movement in LIZ shares over the next couple months. Given the company's weak earnings report from April and a potential wait-and-see approach on LIZ's positive fall outlook, this short straddle could see the modestly bullish price movement it needs to hang on to its maximum profit potential.

(All charts courtesy of FreeStockCharts.com)
Click to enlarge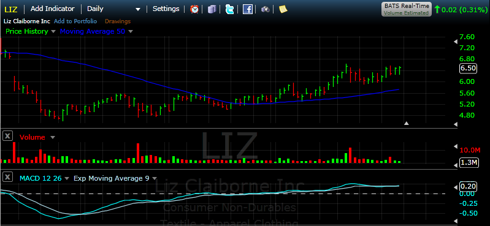 Click to enlarge

Electronic Arts (ERTS): When optionMONSTER pointed to hefty call selling by an institutional trader in ERTS December $27 calls, it caught my eye. optionMONSTER speculates that this could coincide with a long position in the underlying stock. If it is, the trader expects further upside in ERTS shares, but not much beyond $27.
Click to enlarge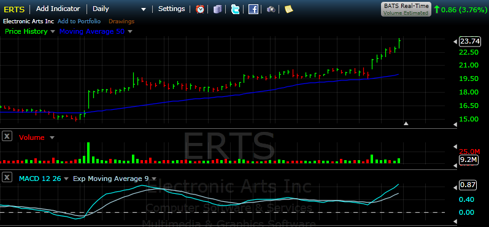 Click to enlarge

On March 29th, I suggested getting long-term bullish on ERTS via the January 2013 LEAPS call options. At the time, I called out the ERTS January 2013 $20 and $30 LEAPS calls at roughly $3.70 and $1.02, respectively. Toward the end of Friday's trading session, these contracts trade for about $6.25 and $2.12 apiece. In a case like this, I am all for taking profits off of the table. I have no qualms, however, about keeping the play alive. I think Electronic Arts's story remains intact and the stock transcends $30 before the end of 2012.

Lexmark (NYSE:LXK): There's been some talk on Seeking Alpha recently about the merits of selling puts. Fellow contributor Tom Armistrad wrote an excellent article on the topic that I suggest everybody reads. If you want to learn something every time you read an article, follow Tom. On Friday, optionMONSTER pointed out activity that I think represents the more speculative side of put writing.

With the stock trading in the neighborhood of $30 heading into Friday's close, optionMONSTER detected considerable writing of the LXK June $29 puts. If you write this option, you receive a premium for doing so. If, however, the put buyer exercises her option, you must sell his/her 100 shares of LXK for $29 per share for every contract exercised. If the stock tanks below $29, the put seller here could be on the hook for a serious chunk of change. Unless you have a strong conviction toward owning LXK at what you would obviously consider a bargain price (and you have that potential buy covered in cash), this type of move carries quite a bit of risk if LXK has not seen the bottom yet.

Energy Select Sector SPDR ETF (NYSEARCA:XLE): I could not agree more with the sentiment expressed by options traders in XLE on Friday. Here's what Andrew Wilkinson reported Friday about options activity in XLE: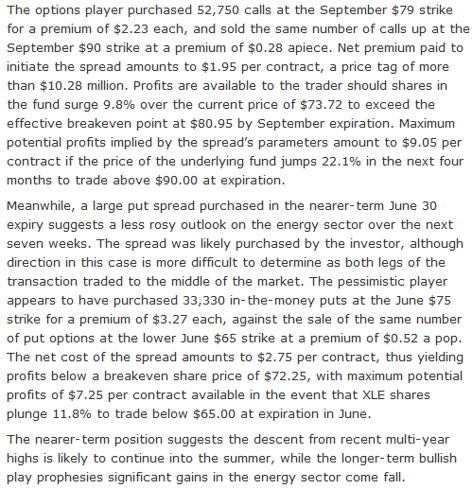 Click to enlarge

This play also coincides with the notion that miles driven will subside come summer, which could lead to a decrease in gas prices. I would expect any decrease, however, to be short-lived after a period of stunted demand and changed behaviors.

Wilkinson also wrote about activity in LIZ, Noble Corporation (NYSE:NE) and Cubist Pharmaceuticals (CBST) on Friday.

In Frederic Ruffy's Friday options column, he wrote about two stocks I follow - both have offered up mixed results in relation to my past sentiment toward them.

Yahoo (NASDAQ:YHOO): While Research in Motion's (RIMM) co-CEOs will give anybody a run for their money, it's hard to find a poorer-performing management team in tech these days than the one in place at Yahoo. It should come as no surprise, however, that Yahoo cannot keep track of what happens with its interest in China; the company can barely keep of itself domestically. Google (NASDAQ:GOOG) continues to take it to the second fiddle in search. Don't let April's numbers fool you, Google probably has more to worry about with Microsoft's (NASDAQ:MSFT) Bing than with Yahoo.

As for Friday's options activity in YHOO, Ruffy points to the company as a big reason why tech shares slid to end the week. If you review around-the-money YHOO options, however, courtesy of Schwab's StreetSmart Edge, you see that call volume briskly outpaced put volume on Friday. Because I doubt bearish plays account for the call volume, I take it as a bullish sign. Maybe traders think YHOO has seen the most of the recent sell-off.
Click to enlarge


Click to enlarge

On March 25th, I expressed bearish sentiment toward YHOO. On that day, the shares closed at $16.96. By making that call I certainly missed out on YHOO's immediately subsequent run. The shares, however, have retreated, closing at $16.55 on Friday. In any case, this price action gives the sell-off a bit of historical perspective.

Nvidia (NASDAQ:NVDA): Back on March 9th, I made a pretty regrettable call on NVDA that I actually lost money on. I discussed playing a decline in NVDA with March and April $20 call options. Alongside that, I noted that I would add to my long position in the stock on any weakness. Since then, it has been quite a ride. Courtesy of Yahoo Finance, have a look at the weekly price activity on NVDA since March.
Click to enlarge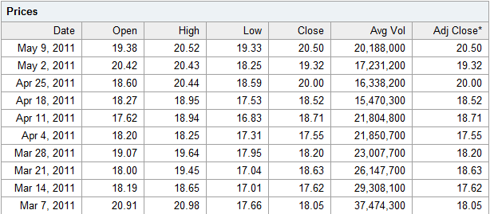 Click to enlarge

NVDA shares closed trading on Friday down $2.24 to $18.26. Here's what Ruffy wrote about NVDA in his Friday options column: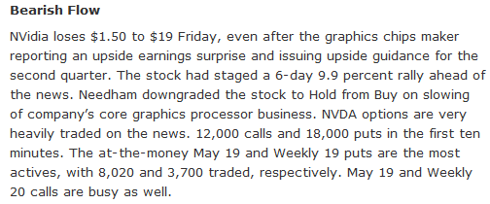 Click to enlarge

NVDA represents the type of stock with options I would prefer not to play. Implied volatility is traditionally high (in the 40s across the board pretty much). While you could sell that volatility, it's still a dangerous game. There are far less risky places to put your money.

Briefing.com discussed what it calls "unusual options activity" in several issues on Friday. The following two caught my eye. When you understand them and use them correctly, I don't view options as any riskier than stocks. Like stocks, however, you can use options to make Vegas-like speculations. Often, these types of plays get made around earnings or M&A rumors.

Staples (NASDAQ:SPLS): Briefing pointed out that SPLS June $20 calls saw interest for two consecutive days to end the week. Staples reports earnings on May 18th before the open.
Click to enlarge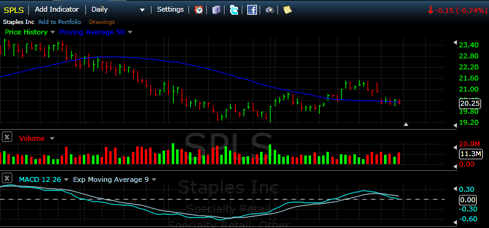 Click to enlarge

While not a complete sleeper, I don't believe SPLS moves with enough volatility to make it a sound straddle or strangle candidate. Those opportunities present themselves in weeks packed with earnings announcements from high-fliers with lofty valuations and/or heavy trading volume. SPLS does not qualify. An options play ahead of the company's earnings, from my perch, amounts to little more than a guess about the quality of the pending report.

JetBlue (NASDAQ:JBLU): A few weeks ago, I noted that the only way to play airlines like JetBlue and Southwest (NYSE:LUV) was via LEAPS options. I suggested considering the JBLU January 2013 $5 calls for about $1.62. They closed Friday's session at $1.55. On Friday, Briefing issued the following note about JBLU options:
Click to enlarge


Click to enlarge

This activity represents little more than M&A speculation. At this point, I am not too fired up about my initial suggestion. When all is said and done I am indifferent to it. While JetBlue could live somewhat well into 2012 on its own, a takeover makes a ton of sense, particularly for a secondary carrier like the privately-held Virgin America or even Southwest. As with Staples, the probability of these types of events taking place does not represent the type of probability I want to put too much of money in front of.

Disclosure: I have no positions in any stocks mentioned, but may initiate a short position in RIMM over the next 72 hours.