This post is a follow up to Preferred Stock ETFs: Beware the Heavy Concentration in Financials, which is the latest in an ongoing series first introduced in the article Best Post-QE2 Opportunities Lie Beyond Stocks providing a detailed analysis on investment strategies outside of the stock market leading up to the end of QE2.

In my recent post on preferred stocks ETFs, I discussed how these products have a heavy concentration in the financial sector ranging from 80% to 90% of the entire portfolio. And recognizing the fact that the preferred stock market lost 65% of its value at the depths of the financial crisis before gradually recovering their value, I also indicated that risk averse investors may be interested in considering the additional step of dissecting the preferred universe and selecting individual stock offerings that still provide high income while also providing a greater level of portfolio protection against the potential of another financial episode.

This article presents five individual preferred stocks that may be of interest to income-oriented investors that would also like to protect against the potential for a major loss of principal value for an extended period of time. All of these preferred stock offerings can be purchased on an exchange just like a common stock.

The following is the screening process applied in constructing this group.

First, I focused only on preferred stocks that are non-financials. Given that nearly all financial preferred stocks were liquidated indiscriminately during the 2008 crisis, I am interested in seeking to avoid any exposure to this sector. This is a particular priority at present given the currently mounting sovereign debt instabilities in the euro zone and its potential negative spillover effects on the global financial sector.

My second screen was for quality, including only those preferred stocks that have investment grade credit ratings of BBB/Baa or better.

My third screen was for price stability. This included a focus first on those preferred stocks whose price remained stable during both the QE Pause from April 2010 to August 2010 as well as during the depths of the financial crisis in late 2008 and early 2009. This screen also included preferred stocks from companies whose common stocks held up well during the QE Pause from last summer as outlined in my previous posts QE-Proof Stocks for Summer 2011 and More on QE-Proof Stocks for Summer 2011.

My final screen focused on addressing call risk, including only those preferreds that are not callable until 2012.

This screening process yielded the following five preferred stocks with ticker symbols found in parenthesis. Credit ratings shown are from S&P and Moody's respectively. All information shown below is as of May 13, 2011.
Sector: Telecom

Parent Company: AT&T (T)

Par Value: $25.00

Current Price: $26.71

Current Yield: 6.0%

Credit Rating: A-/A2

Issue Date: 2/7/2007

Call Date: 2/15/2012

Maturity Date: 2/15/2056

Average Daily Volume (3 Month): 110,715 shares
click on all charts to enlarge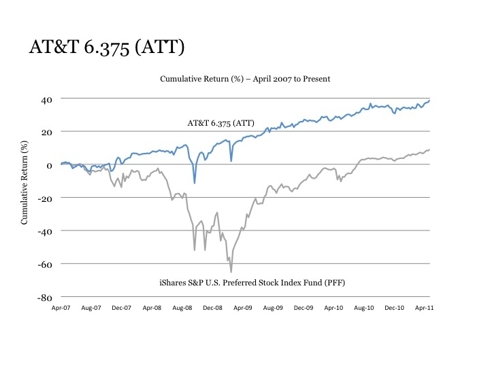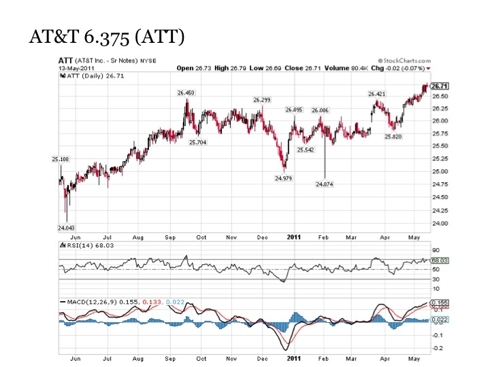 It should be noted that ATT is callable next February, so call risk is most prevalent with this position. This is also among the most liquid preferred stocks with relatively high average trading volume.
Sector: Utilities

Parent Company: Southern Company (NYSE:SO)

Par Value: $25.00

Current Price: $26.25

Current Yield: 5.6%

Credit Rating: A/A2

Issue Date: 5/7/2007

Call Date: 4/1/2012

Maturity Date: 4/1/2047

Average Daily Volume (3 Month): 20,997 shares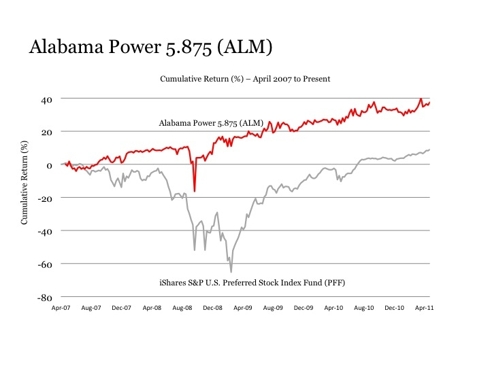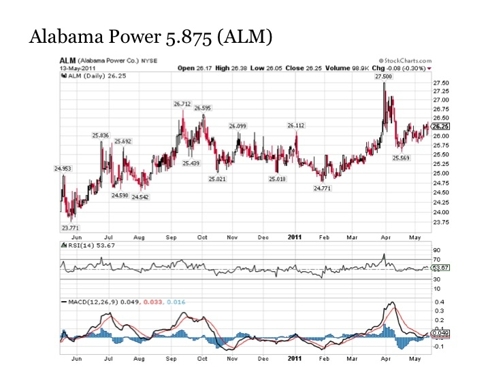 Although this preferred stock becomes callable in April 2012, it is worth noting that several other preferred stocks are currently callable from this same issuer and have yet to be called. Another worthwhile preferred stock to consider under the Southern Company umbrella would be the Georgia Power 6.375 (GAR), which has a comparable credit rating, a higher yield at 5.9% and a call date of 7/15/2012.
NextEra Energy 7.45 (FGE)
Sector: Utilities

Parent Company: NextEra Energy (NYSE:NEE)

Par Value: $25.00

Current Price: $27.51

Current Yield: 6.8%

Credit Rating: BBB/Baa2

Issue Date: 9/12/2007

Call Date: 9/1/2012

Maturity Date: 9/1/2067

Average Daily Volume (3 Month): 24,186 shares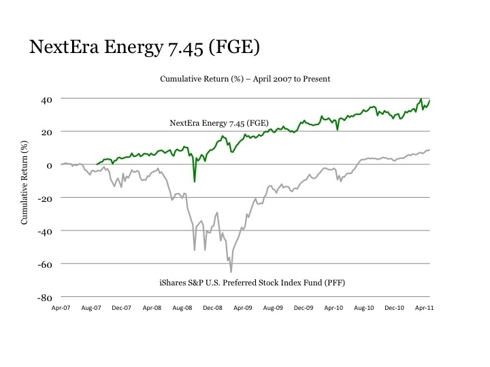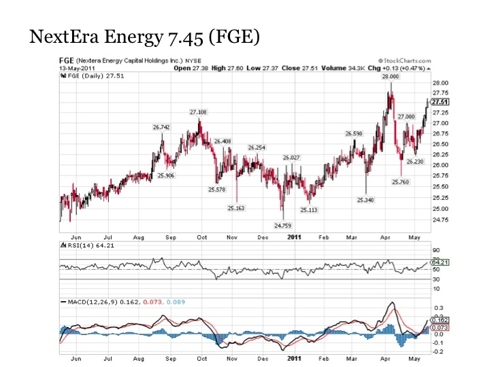 This is the company that was formerly known as FPL Group, the parent company of Florida Power & Light. While FGE is a strong offering with a solid long-term track record, investors may also be well served to consider the newer NextEra Energy 8.75 (NEE.PF), which currently offers a yield of 7.5% and is not callable until 3/1/2014. The ticker symbol with this offering can vary depending on the broker-dealer, so it's worthwhile to confirm your broker's ticker convention first before trying to execute a trade.
Sector: Utilities

Parent Company: Xcel Energy (NYSE:XEL)

Par Value: $25.00

Current Price: $27.47

Current Yield: 6.9%

Credit Rating: BBB/Baa2

Issue Date: 1/14/2008

Call Date: 1/16/2013

Maturity Date: 1/1/2068

Average Daily Volume (3 Month): 21,895 shares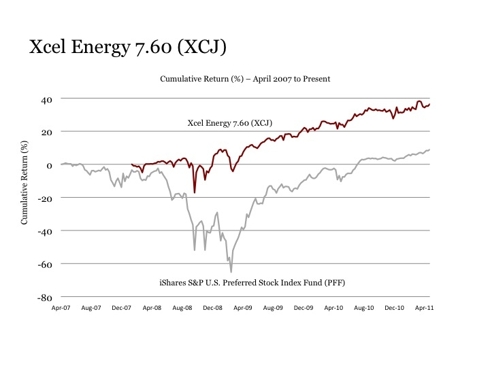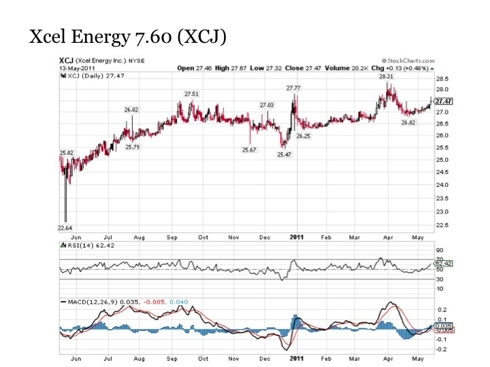 It should be noted that this holding held up relatively less well during the financial crisis of 2008 than some of its counterparts included in this post. However, it still held up far better than the overall preferred stock and common stock universe.
Dominion Resources 8.375 (NYSE:DRU)
Sector: Utilities

Parent Company: Dominion Resources (NYSE:D)

Par Value: $25.00

Current Price: $28.88

Current Yield: 7.2%

Credit Rating: BBB/Baa3

Issue Date: 6/11/2009

Call Date: 6/15/2014

Maturity Date: 6/15/2079

Average Daily Volume (3 Month): 38,111 shares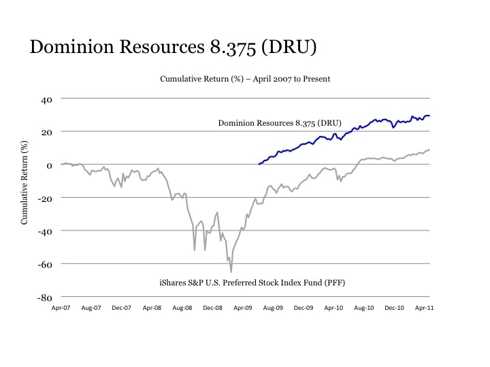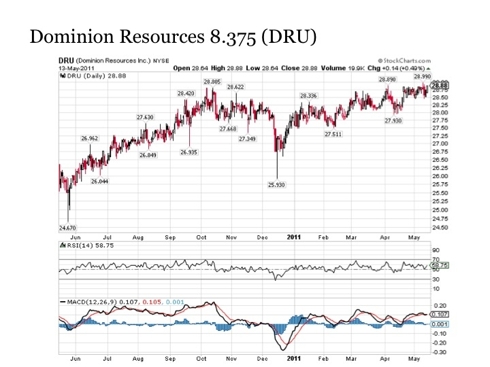 This is the newest of the five preferred stocks listed in this post and the only to be issued after the market breakdown in late 2008 into early 2009. A related preferred stock from Dominion did hold up relatively well during the financial crisis, although this current offering is far better from a liquidity standpoint, which led to its inclusion here instead.

When considering investing in any preferred stocks including those listed above, it is important to conduct a full evaluation for your own circumstances including a review of the prospectus information. An outstanding website to find extensive information on all preferred stocks including prospectus information is QuantumOnline, here. With this idea in mind, a few risks are particularly important to consider when investing in these or any other preferred stocks.
First is call risk. For each of the preferred stocks listed above, the issuing company has a call option roughly five years after the issue date. When a preferred stock is called, the owner is paid back at the par value of the stock. Given that all five stocks listed above are trading at a premium to par, this is something that should be considered in the context of the yield that you are receiving when making any investment decision. Moreover, the reinvestment risk once the preferred stock becomes callable should also be considered. With all of this being said, just because a preferred stock becomes callable does not necessarily mean that it will be called right away if at all. To this point, there are other preferred stocks from the same companies listed above that have been callable for months if not years that have yet to be called. Thus, this risk should be evaluated on a case by case basis.
A second risk is liquidity risk. Many preferred stocks have lower average daily trading volumes relative to their common stock counterparts. As a result, if you are considering purchasing or selling an individual preferred stock, it is typically best to do so with limit orders, as the bid-ask spreads can become as wide as five to ten cents or more at any given point in time. Executing a purchase or a sale of a preferred stock using a limit order helps ensure better price realization. Taking this liquidity risk point a step further, you may also want to make sure that you are comfortable holding any preferred stock position that you own for an extended period of time if necessary in the event we were to see any type of repeat of the financial crisis episode of late 2008.
One final point from an opportunistic standpoint when considering investing in preferred stocks including those listed in this post. Yield is not the only way to generate a rate of return when investing in preferred stocks. Just as with common stocks, you can also invest in preferred stocks with the objective of generating a capital gain on your investment. Similar to their common stock counterparts, preferred stocks experience price changes on the major exchanges throughout every single trading day. Preferred stocks move in channels and can become oversold and overbought at any given point in time. A look at any of the price charts included in this post shows that the opportunity to realize capital gains of +10% or more have presented themselves with frequency even over fairly short-term periods of time. As a result, it is worthwhile to view these holdings from a trading perspective as well to further enhance returns, particularly for qualified accounts such as an IRA.

Disclosure: Although I have no positions in any of the above at present, I have owned each of the preferred stocks on this list in the past and would consider owning each in the future if attractive entry points presented themselves. I have also owned in the past the common stock associated with each listing above.
Disclaimer: This post is for information purposes only. There are risks involved with investing including loss of principal. Gerring Wealth Management (GWM) makes no explicit or implicit guarantee with respect to performance or the outcome of any investment or projections made by GWM. There is no guarantee that the goals of the strategies discussed by GWM will be met.