Meritage Homes (NYSE:MTH), one of the nation's largest public homebuilders of entry level, move-up and active adult homes may not be building as many homes as in years past, but the company's stock chart appears to be building quite a bit of technical support. Having reported disappointing first quarter results with a $6.7 million loss, the Company's stock has dropped almost 15% from its April 27 closing price of $25.80 and sits at $22.53 as of last Friday's close.
Fundamentally, the macro housing picture remains challenging. While Meritage is not immune to the problems, it has weathered the downturn over the last few years as well as any builder has. Meritage stock currently trades at a reasonable 1.5x book value and has a relatively strong balance sheet with an approximate 30.5% net debt-to-capital ratio as of March 31. The company is cutting edge from a green building standpoint, and has selectively and smartly been entering new land positions and markets, as demonstrated by its gross margins on new communities. Steve Hilton, the Company's CEO, was featured on CNBC's Kudlow Report last week and appeared fairly upbeat in discussing the outlook for the housing industry.

Unfortunately, investing in homebuilder stocks today is no get rich quick scheme. If you don't mind holding a stock for three to five years before possibly achieving a meaningful return, then Meritage and other homebuilder stocks are for you. While that may sound a bit depressing, that doesn't mean these stocks won't present some potential short term trades. Technically speaking, Meritage's chart is setting up quite nicely for some possible option trades with good returns.

The Technical Thesis

Meritage stock has been in an uptrend for the better part of a year. Looking at the daily and weekly charts below, we can see several technical indicators pointing to strong support on this recent pullback to the $22 range.
Click to enlarge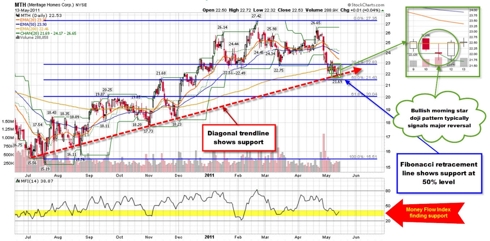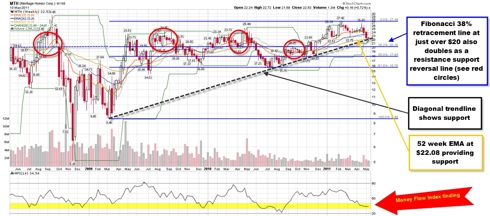 On the daily chart, the stock has pulled back to its diagonal trendline support that lies just above the 50% Fibonacci retracement line. A bullish morning star doji pattern also formed during the week. This type of candlestick pattern typically signals a major trend reversal.
On Friday, the stock finished about flat for the day, just above its 200 exponential moving average (EMA) of $22.46 while the DOW was down 100 points and the S&P 500 around 11 points. This fact, coupled with the converging trendline and Fibonacci retracement level, suggests that technical support is strong. If the stock can break back above the 38% Fibonacci retracement level at $22.83, that would be another bullish indication.

The weekly chart also confirms what the daily chart is telling us. The diagonal trendline from early 2009 is converging with the 52 week EMA at just over $22. The next level of support appears to be the first Fibonacci retracement line at just over $20. This line also doubles as a resistance and support reversal line, where the stock has bounced off this level in either direction over the last 3 years.

The Trades

There are several opportunities to play this stock with options that will generate above average returns, while hedging some potential downside risk. While the technical indicators appear to be flashing bullish signals, I always like to build in a cushion. Here are six bull put credit spreads that can be constructed. The chart below shows possible returns if the options expire worthless along with the break even points:
Click to enlarge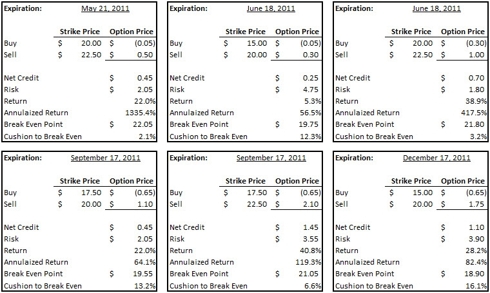 While our preferred result for these trades is for the options to expire worthless, the worst case scenario is if you enter a long position on the stock at a price cheaper than today's price if the stock finishes below your short put at expiration. If you are uncomfortable owning Meritage, these trades may not be for you. Given the strong technical indicators, one could make an argument to go long the stock, but I like to give myself the most opportunity for a winning trade. If Meritage goes up, sideways or even down in price while staying above break even by the expiration date, these bull put spreads are a winner.

Disclosure: I am long MTH via the sale of OTM puts.