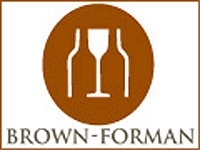 Brown-Forman Corporation (NYSE:BF.B) manufactures, bottles, imports, exports and markets a variety of alcoholic beverage brands. It's principal beverage is Jack Daniels Old No. 7, the world's best selling whiskey. Other brands include Chambord, Finlandia Vodka, Tuaca, and Jimandor Tequila.

Sales, Earnings, and Free Cash Flow
| Years | Revenue (in millions) |
| --- | --- |
| 2006 | $2,412 |
| 2007 | $2,806 |
| 2008 | $3,282 |
| 2009 | $3,192 |
| 2010 | $3,226 |

BFB has done a great job of building their brand portfolio, and that number is reflected in sales, which have grown an average of 7.5% per year for the past 5 years. In their fiscal year 2010 (ended spring of 2010) sales were sluggish, and only grew 1.1% over 2009. This trend should turn around for fy 2011, as the first three quarters of the year are already showing 5% in net sales growth.

Brown is constantly evolving its product line, and in 2010 sold off a minority stake in Glenmorangie, while also selectively divesting a few other brands and, notably, got themselves out of the consumer durable goods business by selling off Lenox and Hartmann. In addition, they added some quality brands to their portfolio, including Chambord, a popular black raspberry flavored liquor and Casa Herrdura, a popular Mexican Tequila.

To add value to their products, Brown also has been entering into the RTD, or Ready To Drink market, with offerings from Jack Daniels, El Jimador, and Southern Comfort.

Though the US still accounts for 47% of sales, BFB has aggressively been moving into international operations both by purchasing brands (Finlandia in Poland, Casa Herrdura in Mexico) and by marketing existing brands in other countries. International sales have grown from 22% of revenue in 2001 to 53% in 2010, and Brown expects the majority of growth over the next few years to be international, rather than domestic, consumption.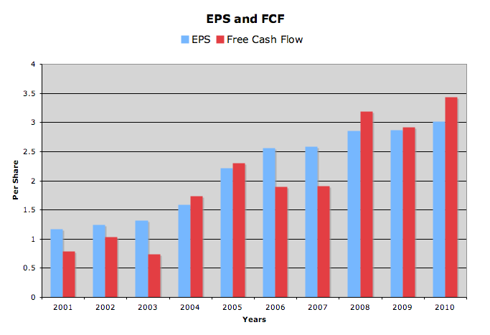 Earnings growth has averaged 10.9% over the past decade, though this number has been slowing over recent years. The 5 year average growth is down to 4.2%, and one year growth from 2009 to 2010 was 5.2%. Analysts are expecting BF.B to earn $3.39 in 2011 and $3.68 in 2012, for growth of 12.3% and 8.6%, respectively. This is in line with the companies estimates of between $3.35 and $3.45 a share, as of their most recent quarterly report

Over the past decade, both sales and margins are up, debt and interest are down, and outstanding shares are being bought back regularly. All of this combines to grow earnings, which I see as a sign of a healthy company, as opposed to an unhealthy one, that relies solely on exploding revenue or massive buybacks to increase eps.

Free cash flow has grown consistently with earnings, albeit at a faster clip, with a 10 year CAG of 17.5%. Free cash flow jumped from 442 million to 511 million from 2009 to 2010, an increase of 15.6%.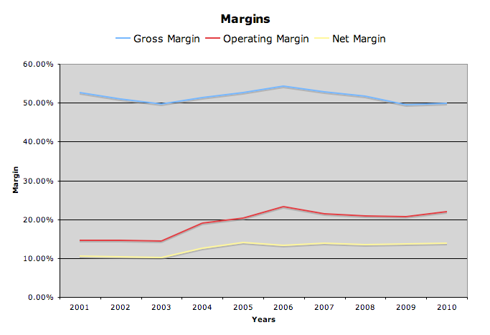 As noted earlier, margins have been increasing over the years, a very positive sign. Gross margins has remained stable around 51% in this time, but operating margin has grown from 14% to 22% and net margin grew from 10% to 14%. It seems like BF.B has learned how to be more efficient during this turbulent decade, and this should bode well for them over the coming years.

Dividends

Brown Forman is a member of the Dividend Aristocrats, and has increased it's distribution for each of the last 27 years. The latest increase was a 6.7% bump in November of 2010, increasing the quarterly payout from $0.30 to $0.32, for an annual payment of $1.28. Though not a recurring payment, in December of 2010 BF.B gaves shareholders an early Christmas present of a special, one time, $1 per share dividend.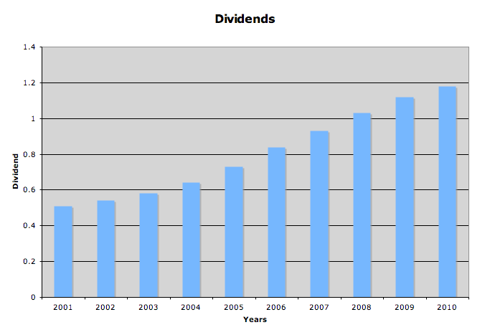 Dividend growth has averaged 9.7% over the past decade, and though this number slowed a bit during the middle of the decade, they seem to be back on track with the latest increase representing a yearly raise of 8.5%. When combined with the special $1 dividend, it's pretty clear that Brown is confident about future business, and we should see strong dividend growth in the coming years.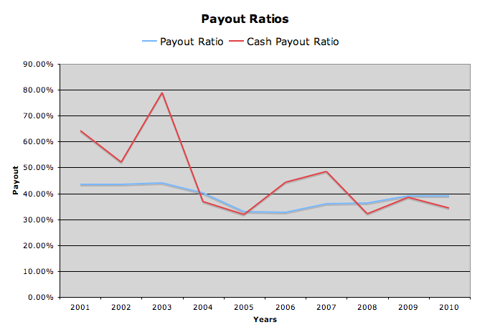 Payout raises supports this assumption, as there is plenty of room from growth, with the latest dividend consuming only 39% of earnings and 34% of free cash flow.

Balance Sheet

BF.B is run conservatively, and debt is only 26% of total capital employed. The 31 million in interest they paid in 2010 was well covered by an operating profit of 710 million, and the current ratio is a strong 2.8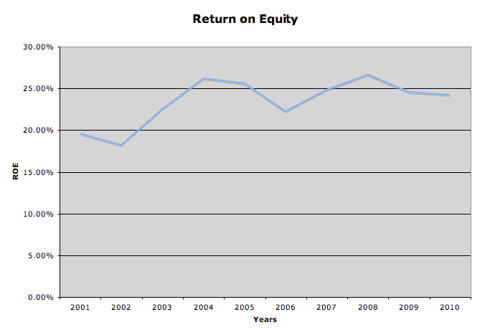 ROE has been both stable and increasing. The lowest it has been in the past 10 years was 18% - not to shabby, but not good enough for BF.B. It has since grown to 24%; and with such a modest amount of debt, this is a great ROE.

Stock Price Valuations

Current Price - 72.08
5 year low p/e - 19.8
Current p/e (ttm) - 23.9
Current p/e (forward) - 21.3
5 year high yield - 2.2%
Current yield - 1.8%

Conclusion

The liquor business, much like the soft drink business, can be a gold mine when you have the right recipe, and Brown Forman has just that, with it's iconic Jack Daniels Whiskey. Yes, the company has a diversified product line, but it's Old No. 7 that is the heart and soul of the business. And why not? It's a great brand, costs very little to produce, and requires no innovation. Looking at the numbers, this beverage is a gold mine.

I like the company, but I think it is a bit over priced for the expected growth. Though analysts expect the company to grow earnings at 13% for the next 5 years, a p/e of 23.9 is high, and the peg ratio of 1.8 seems unjustified for a slower growing company like this. And the yield of 1.8% is low for dividend growth of only 9% per year. I don't expect to see the price decline into a great buy range in the next few months, but I would initiate a position if it did.

Disclosure: I have no positions in any stocks mentioned, and no plans to initiate any positions within the next 72 hours.