I follow the electric vehicle (EV) space closely. It will end up an area -- say in 2, 3, 5, 10, 15 years down the road -- that many investors will wish they would have gotten in on. Investors hesitate to play the space now for the same reasons many consumers stop short of buying an electric vehicle. And, despite my bullish tendencies, I fully realize that the space could turn out to be a dud from an investment standpoint.

Mutual funds and ETFs, particularly ones intended as non-core, secondary holdings, can help ameliorate your portfolio's risk and diversification profiles. They provide the ideal way to make a bet on an industry rife with volatility and uncertainty. As far as I know, however, a fund that focuses almost primarily on the EV space does not exist. You can construct your own fund around the industry.

I keep a couple of my accounts with Fidelity. While other brokerages offer similar options, none that I use or have spent time with do it quite as comprehensively as Fidelity. The mutual fund giant lets customers take part in basket trading. Ultimately, basket trading has the function of giving you control over your own mutual fund.

(Click to enlarge)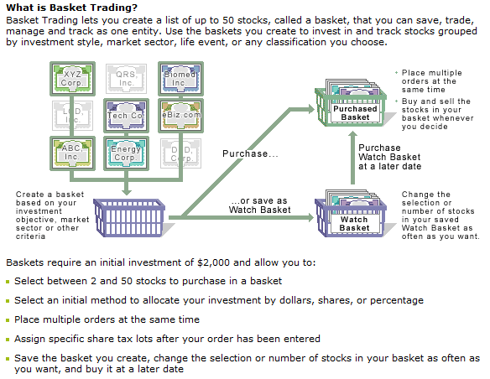 Source: Fidelity Investments

In this article, I construct a basket of stocks that aims to play the emerging EV market. It's next to impossible to build a diverse basket of EV stocks without including several that do not represent pure EV plays. Along with each suggestion, I provide support for including it. This may include a discussion of why the company is not a straight EV play, but still warrants inclusion.

On the other side of the spectrum, it's difficult to create a basket of EV stocks that does not include several highly-speculative bets. With this statement, I assume that part of your intent for investing in the EV sector is to generate returns commensurate with the boom you anticipate in the space itself.

To this end, I respect and always fully adhere to Seeking Alpha's policy on penny stocks. On one hand, I would be doing a disservice to the reader by not mentioning penny stocks when discussing the EV market, given the number of sub-$1.00 plays relevant to the space. On the other, I have a respect for and an obligation to honor Seeking Alpha's policy as well as my communications with its managing editor. As such, I do not focus or provide more than a surface scratch on the penny stocks I include in this article. Instead, as should be the case with all of the suggestions I make, I strongly urge you to take my work to the next level by conducting your own research before making investment decisions. This applies not only for a penny stock, but 'safer' stocks, such as a utility company or large blue chip.

In any case, while researching the ideas I provide, you'll likely come across other stocks I chose to exclude or never considered. Building up exposure to a particular subsector takes time and a considerable amount of work.

Core Holdings (80 to 85% of the basket)

Electric Vehicle Charging Infrastructure

NRG Energy (NYSE:NRG): In a previous Seeking Alpha article, I wrote about NRG Energy's foray into the electric vehicle charging space. Since I published that piece, NRG has not only carried on with the plans to install EV charging stations that I mentioned, it also appears to have strengthened its commitment to working in the space. From the company's latest 10K, consider this concrete explanation of the current state of its EV endeavor:
On November 18, 2010, NRG launched its eVgo Electric Vehicle, or EV, ecosystem in Houston, the start of a rollout across Texas in 2011. NRG plans to invest approximately $10 million in Houston's EV ecosystem, and will be the first company to equip an entire major market with the privately funded infrastructure needed for successful EV adoption and integration.

On April 8, 2011, NRG inaugurated the first privately funded Freedom Station, including the first high-speed direct current, or DC, charger in Texas. eVgo Freedom Stations will be open 24/7 and, in addition to DC fast charging options enabling EV drivers to add 30 miles of range in as little as 10 minutes, the stations also have level 2 charging which can top off an EV with up to 25 miles of range for every hour. NRG plans to install a total of 70 Freedom Stations in Dallas/Fort Worth and 50 Freedom Stations in Houston by the end of 2012, with half in place by the end of this summer. NRG also plans to electrify the Interstate 45 corridor connecting these two cities in 2012 (Emphasis added).
That last sentence deserves the added emphasis. It's about as cutting edge as it gets for a power company. While it only involves one highway and two major cities at this point, any company that intends to "electrify" a major corridor of a key U.S. Interstate deserves a place in your EV mutual fund. In NRG's latest annual report to shareholders, the company lays out its vision -- and plans to keep EV owners running at home and on the road -- in even more colorful and forward-looking terms.

(Click to enlarge)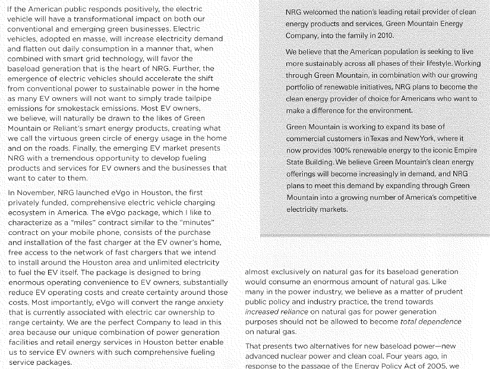 With NRG Energy not only do you get a company with a growing hand in the EV space, but you get a strong 2011 performer. Granted, if you are not a current shareholder, you've missed the incredible run the stock has had so far this year, starting 2011 at $19.72 before reaching its 52-week high of $25.14 just last week.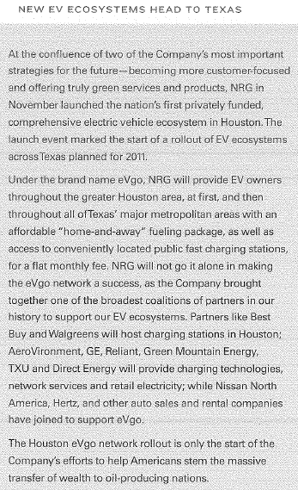 As a long-term play I do not have concerns about getting in at the top. First of all, I think NRG has plenty of room to run this year, but if you have a ten year or longer time horizon -- which you probably should to play this space -- buying around a 52-week high should not matter much. If you intend to dollar-cost average into your position, you have even less to worry about.

To compliment NRG, consider several other EV charging station plays. AeroVironment (NASDAQ:AVAV) partners with NRG while implementing similar charging station plans across the country. EcoTality (ECTY) has been signing contracts to install chargers across the country at a brisk pace. American Electric Power Company (NYSE:AEP) represents a relatively safe, income generator for this segment of the portfolio. AEP is helping "electrify" the nation, plus the company pays a dividend of $1.84 per share. Its nearly 5.0% yield and relatively stable share price make it tough to pass up.

If you don't think there's opportunity in EV charging stations, have a look at this Google map of Southern California. It not only lists location and charger status, but it also includes space for user comments and reviews. The takeaway, however, is that while coverage appears impressive, this is only the beginning.

(Click to enlarge)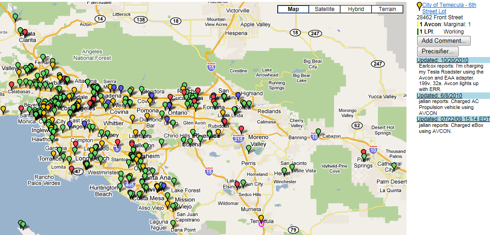 Automakers

Tesla (NASDAQ:TSLA): I have written several articles about Tesla. Most recently, I listened in on the company's Q1 2011 earnings call. Based on the notes I took, the bullish story remains intact:
Tesla continues to provide EV components to Daimler (OTCPK:DDAIF) and Toyota (NYSE:TM). It's practically building the entire electric version of Toyota's RAV-4. Tesla intends to make the RAV-4 the fastest accelerating vehicles of all Toyotas, with the exception of Lexus.
Tesla CEO Elon Musk noted that if you want a Roadster, you probably should place your order now. Model S preorders continue at a brisk pace. And the company will have the ability to increase its intended initial production run of the Model S if demand warrants.
You cannot have a portfolio of EV stocks without TSLA. If the industry thrives, I feel confident saying Tesla will thrive, on its own or as part of another company. While I won't speculate here, I could see anybody from Google (NASDAQ:GOOG) to a traditional automaker taking Tesla out at some point.

Ford (NYSE:F): Speaking of traditional automakers, I like the way Ford has approached the EV space -- cautiously optimistic. In the automotive sector, I am generally bullish on Ford. With the electric Focus about to roll out, I stand by what I said back in mid-March about the company's approach to alternative-fuel vehicles. Eventually, I think Ford will go all-in with EVs. And when it does, I think it will win.

Nissan (OTCPK:NSANY): I am not particularly bullish on Nissan in general. As it stands, I don't expect EV sales to add much to Nissan's bottom line anytime soon. There is, however, something to be said for being an early adopter. Particularly as the company improves on it, I think the Leaf has the potential to become the Toyota Prius of EVs. A small chunk of Nissan represents a good way to wrap up the core portion of your EV mutual fund.

Fringe Play (5 to 10% of the basket)

Best Buy (NYSE:BBY): My recent article about Best Buy's EV plans outlines my bullishness towards the company in general. Given the company's core businesses (not EV-related) and size (billions in sales), it's tough to make the case for BBY as an EV play. That said, I firmly believe if Best Buy likes the results it sees from partnerships with NRG, for example, on EV charging stations and from its agreement to sell, install, and service home charging stations for Ford and Mitsubishi, it will go deeper into the EV market.

And given Best Buy's willingness to talk with startups about partnering, there's tons of upside and innovation that is or could be brewing. Best case scenario: Best Buy becomes a key catalyst in driving EV adoption and generates significant revenue thanks to its work and early investments in the space. If this does not happen, at least the failed venture will not hurt the bottom line. And you have a dividend-paying value play that appears to be getting back on track in other more crucial areas of its business.

Speculation (5 to 10% of basket)

In terms of highly-speculative, low-priced stocks, I thought it made most sense to present them in a chart form and provide a brief summary and direction of the group. These types of stocks sport a high risk/high potential reward scenario. Simply put, if they hit, you stand to win big; if they don't you risk losing your entire investment. While not for everybody, particularly the faint of heart, speculation deserves a place, albeit a small one, in many investor's portfolios. One or more of these stocks might be worth something other than just a look.
| | | |
| --- | --- | --- |
| Company (Ticker) | Price, 5/13/2011 Close | Business |
| Kandi Technologies (NASDAQ:KNDI) | $1.98 | EVs, go-carts, battery technology |
| ZAP (OTCPK:ZAAP) | $0.68 | EVs, ranging from two-wheeled transportation to commercial vehicles |
| Green Automotive (OTCPK:GACR) | $0.74 | EVs, focused on electric SUV in North America |
| Alpha Lujo (OTCPK:ALEV) | $0.12 | EVs, focused on U.S., Australia, Europe (development stage co.) |
| EVCARCO (OTC:EVCA) | $0.016 | EV and alternative fuel auto dealerships (development stage co.) |

Two Seeking Alpha authors, Arthur Porcari and John Petersen, cover Kandi frequently. Porcari is quite bullish. He appears to have a good handle on Kandi's business, having visited the company's headquarters in China.

Kandi has been in a bit of a freefall since late last year, possibly because of guilt by association with other Chinese stocks reporting impressive sales figures. That freefall intensified after a story surfaced calling the company a fraud. For its part, Kandi responded impressively and presented at last week's JMP Securities Research Conference in San Francisco.

If this company is for real, the upside potential is out of this world, particularly at this level. Kandi boasts a 52-week high of $7.25. I tend to trust Porcari's coverage, however, so even though I would still proceed with caution (even Porcari could have been duped), I tend toward being long on this one.

I include ZAP, a Santa Rosa, California-based company on the list only because what it does represents a popular segment of the EV space. That segment's popularity, however, tends to reside in Asia, particularly China. ZAP is developing and sells various types of electric vehicles ranging from two-wheeled models to electric taxicabs and commercial vehicles. If the company can find, or show prospects for success in the latter categories, I might give it a more serious look.

Green Automotive and Alpha Lujo both produce EVs that should hit the U.S. market later in the year. The major challenge for the EV industry outside of Tesla and the major automakers involves bringing vehicles to market that (a) pass U.S. standards and (b) are highway-ready. Each company appears to have viable products ready to hit the pipeline sooner rather than later in 2011.

Of the speculative plays, I am most bullish on the lowest-priced stock, EVCARCO. Based in Forth Worth, Texas, the company will start rolling out dealerships nationwide that sell EVs and other new- and pre-owned alternative fuel vehicles. I've spent quite a bit of time researching and interacting with the company and I think EVCARCO has an achieveable business plan that puts it at the right place at the right time.

If you make a decision to invest in any or all of these stocks as well as other direct or indirect plays on the EV industry, you need to do it with a vision of how things will look 2, 3, 5, 10, 15 years burnin' down the road. From old stalwarts like Ford and Nissan to unlikely inclusions like Best Buy to high-risk speculative plays, every one of these companies will, for better or worse, look completely different at each of the aforementioned sign posts. If it's for the better, undoubtedly the strong emerence of EVs as an auto industry player will assume much of the responsibility for the transformation.

Disclosure: Author holds a substantial long position in EVCA.OB, but no positions in any other stocks mentioned. Author may initiate a long position in any of the stocks mentioned at any time, possibly via the strategy or a strategy similar to what was outlined in the article.