We initiate a buy recommendation of the shares of Enerplus Corporation (NYSE:ERF) for high income yield and exciting resource opportunity in the Bakken oil shale and Marcellus natural gas shale. The ability of Enerplus, a former Canadian Income Trust, to reemerge successfully as an income and growth stock with a strong U.S. operating presence, is testimony to the capable leadership of long-time chief executive Gordon Kerr.
Prized rights to develop Native American lands on the Fort Berthold reservation are in the heart of the North Dakota Bakken trend. Drilling promises to add some 60 million barrels of future production, or 37%, to current proven and probable oil reserves. The company operates on its own behalf under the supervision of U.S. head and former Shell engineer, Dana Johnson. Fellow former Shell (NYSE:RDS.A) engineer Rob Symonds heads Canadian operations, which seek to apply new technology to unlock another 60 million barrels in some of Canada's great old oil fields.
In natural gas, the company's additional future production potential in Pennsylvania is several times current proven and probable reserves. Nor is much of the upside reflected in estimated Net Present Value of $37, a share tied primarily to reserves already booked. ERF's unlevered cash flow multiple (EV/Ebitda) of 7.4 times, the lowest of income-paying peers, is corroborated by its low McDep Ratio. Stimulating upside and low valuation are a good combination for a prospective future winning investment.
Click to enlarge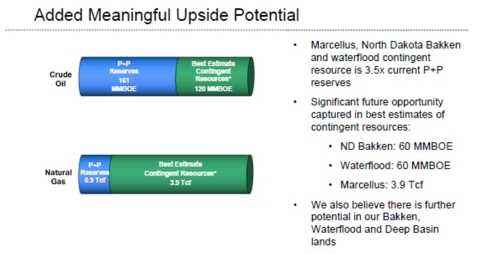 Click to enlarge
Article originally published on April 21, 2011